RS400 RS400 Irish Northern Championships 2019
Strangford Lough | 24/05/2019 - 25/05/2019
The Event Has Started.

Travel
John McKelvie has been working hard on several initiatives to minimise travel costs for mainland UK sailors
We advise sailors to get together and use multi-stackers to minimise ferry costs.
RS Sailing have kindly agreed to loan theirs. We hope to have them ready to load at an event preceeding the Eurocup. Prices TBC.
Please email
[email protected]
for details
Sailboat Deliveries are taking bookings now, £350 per boat, with a minimum of 8 boats needed to make it viable. Please contact
[email protected]
Then all you need to do is book a super cheap flight to Belfast and the club is just a short distance away.
Ferries, including discount

There are four ferry routes you can use:
Liverpool – Belfast
Holyhead – Dublin
Cairnryan – Belfast
Fishguard – Rosslare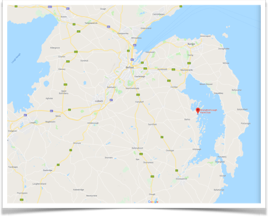 We recommend either one of the first two options. The overnight ferry from Liverpool with a 4 berth cabin is particularly good and the timings usually work out well. Whilst a little more expensive the driving time and petrol/diesel is a lot less.
Journey time from Belfast Port to SLYC is about 45 minutes when towing. From Dublin Port the driving time would be 2 – 2 1/2 hours.
John McKelvie has negotiated a 15% discount with Stena Line - you will be given a booking code with your entry, but if you book before 30th November we have a 20% discount code.
Belfast is served by two airports; the George Best City Airport and the International.
The City Airport is approximately 30 mins from SLYC and the International is about an hour.