RS400 UK National & Irish National Championships 2019
Royal North of Ireland YC | 25/08/2019 - 29/08/2019
The Event Has Started.

Welcome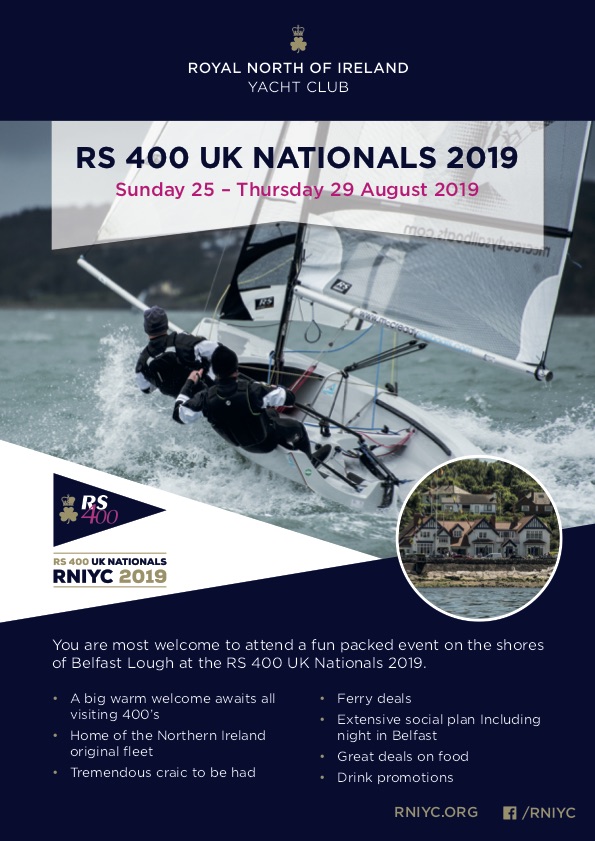 The Royal North of Ireland YC
is a fantastic venue and all visitors are assured of an extremely warm welcome and great racing and socials.
See RNIYC's website at https://www.rniyc.org/
Sailing is in Belfast Lough and there are currently (in January 2019) 26 RS400s in the boat park!
Racing
2 races/day are scheduled, from Sunday 25 to Thursday 29 August. Prizes for Gold, Silver, Bronze fleets, first lady helm, first lady crew, first master, and grandmaster helms, and possibly others. The sailors at the RNIYC also take daily 'Duckham' awards very seriously indeed.
Entry Fee

The entry fee is £195/boat for those entering (including making payment) before 28 July. The Youth entry (for helms under 22 at the start of the championship) is
£175. This includes all your racing, a full social programme and two good quality event polo shirts. There are no polo shirts and a £30 levy for those entering and paying after 28 July. Enter now via this (Championship) website.
Coaching
There will be
Pre-Nationals Coaching
on Saturday 24 August, for those who have not been able to sail as much as they wished during the period leading up to the nationals or are in need of some moral support. This must be booked in advance. The cost is £20/boat and must be booked when you enter, as spaces are limited.
Local Information,
Sailing Club, Ferry Deals, More Accommodation Information, Social Programme, Catering Information

Are available on this website. See the list on left side of page.
Accommodation
There is camping on site for £10/tent for the whole period. There are also a few spaces for campervans for £20. Tents or campervans must be booked with your entry to ensure your space.
Getting your Boat Delivered
Sailboat Deliveries is able to deliver boats to this event.

Then you just get a super cheap flight to Belfast and the club is a very short train or taxi ride away.

The cost is
£450/boat and a
minimum of 8 boats is needed. If you are interetsed, contact Becky on 01243 377633 or

[email protected]

See

https://www.sailboatdeliveries.co.uk/
For
more information
, contact Heather Chipperfield on
[email protected]
or +44 (0)1590 610273.