RS Class Association Strava Challenge
Huge thanks to Will Taylor for setting up and running the RS Classes Strava Challenge - setting up Strava clubs for 10 fleets, checking and publishing the miles each day and setting up the Just Giving page for our chosen charity, the Andrew Simpson Foundation, will have taken far more than just a few minutes each day.
Before you look at the results, can we please suggest that if you took part, or if you didn't, you please give £10 to this worthwhile charity if at all possible and you haven't already. That's enough to give a disadvantaged child a chance to try sailing - what a gift - as well as a thank you to Will for his efforts.
You can donate here.
And here is Will's report -
Final Results for the Strava Challenge - 27,087km Wow!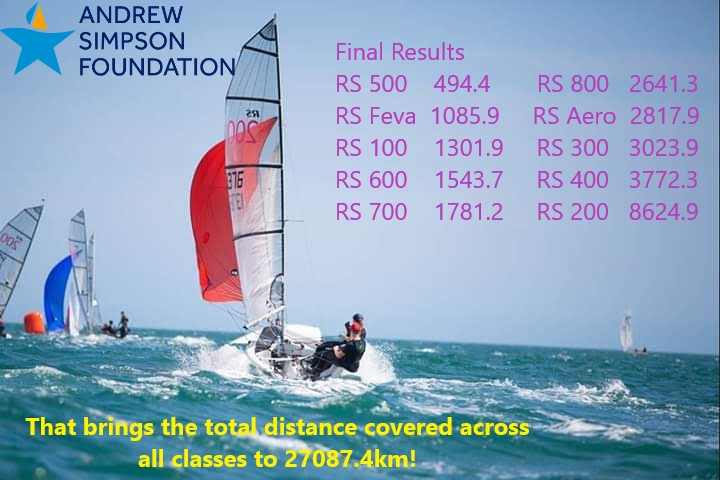 Wow it is clear to see some people have become dedicated Strava users in the past week and have been putting some serious miles down on their bikes, boats or shoes. Although the Challenge is over accumulating distance the challenge to raise money is still going!
It became clear early on that the RS 200s would build a big lead with the largest number of athletes this is not a surprise, especially when you can get the British Sailing Team
sailors involved who have been living on their bikes recently it would appear. In second place is the 400s who with the second-highest athletes showing strength in numbers to maintain their position.

The 300s managed to finish in third with a number of them completing some very long activities (Steve Bolland runs marathons for fun!). Most importantly for the 300s, they managed to beat the Aeros to claim top singlehanded class. The Aeros started slowly and then got into their stride to make 4th place theirs with lots of small activities. Following close behind were the 800s who had managed to find their comfy saddles to ensure the numbers kept going up with the second-highest distance per athlete total.

Taking 6th place was the RS 700s who after a short pep talk (more like orders) from class chair Theo, sorted their act together after starting in 9th to make slow gains to finish in front of their rivals the 600s in 7th. A special mention must go to the 100s who only had 6 athletes yet managed to cover a staggering 1301.9km which equates to 216.98 each in 9 days is fantastic! You definitely deserve a rest but must be eager to jump back in your boats with this new fitness level.
Behind the 100s were the Fevas who started a day late but made steady progress and just managed to get past the 1000km mark by the finish a great achievement.
Bringing up the rear is the 500s who struggled to find willing volunteers but preserved and did not give up.
Thank you to everyone who has competed and please share our post about donating as it would be great to get to our target, without your help and your donations this will not happen. We have done the hard work now it is time to reach into your pockets find those pound coins that haven't been used and donate the cost of those.