RS400 Magic Marine Championship Tour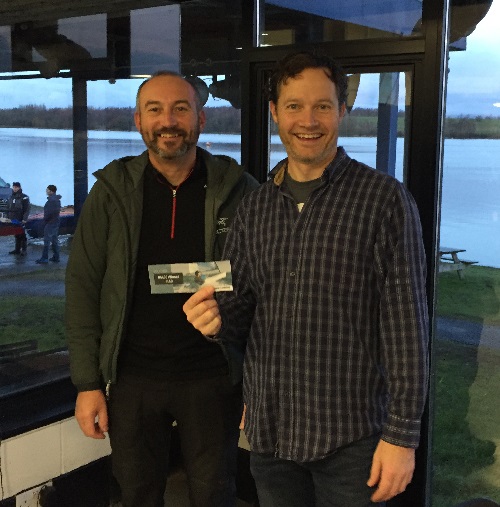 The 2017 RS400 Magic Marine National Tour was a great battle across all weather and wave conditions at six different events and locations
One hundred and five boats competed
The 2017 title of RS400 Magic Marine National Tour Champions deservedly went to Dave Exley and Mark Lunn! CONGRATULATIONS!
Final results below
We look forward to seeing you on the water in your RS400 in 2018!
Thanks to the generous sponsorship of Magic Marine. Dave and Mark are proudly holding their Magic Marine prize voucher.
Sailwave results for RS400 Championship tour at 2017
RS400 Championship tour
Overall
| Rank | SailNo | Club | HelmName | CrewName | Winters | Sprints | Scottish | Southerns | Northerns | Inlands | Total | Nett |
| --- | --- | --- | --- | --- | --- | --- | --- | --- | --- | --- | --- | --- |
| 1st | 1460 | LLSC | Dave Exley | Mark Lunn | 6.0 | 1.0 | (108.0 DNC) | (108.0 DNC) | 2.0 | 4.0 | 229.0 | 13.0 |
| 2nd | 1454 | Llangorse | Jon Heissig | Nicky Griffin | 3.0 | (108.0 DNC) | 4.0 | 7.0 | 3.0 | (108.0 DNC) | 233.0 | 17.0 |
| 3rd | 1202 | Bartley SC | Sam Knight | John Knight | 4.0 | 7.0 | (108.0 DNC) | (9.0) | 5.0 | 6.0 | 139.0 | 22.0 |
| 4th | 1017 | Oxford SC | Sean Cleary | Annalise Nixon | (13.0) | 9.0 | 6.0 | 8.0 | 7.0 | (14.0) | 57.0 | 30.0 |
| 5th | 1414 | Bartley SC | Caroline Whitehouse | Jason McDonnell | (108.0 DNC) | 12.0 | (108.0 DNC) | 11.0 | 6.0 | 12.0 | 257.0 | 41.0 |
| 6th | 1257 | LLSC | Mark Dingsdale | Vanessa Evans | 18.0 | 22.0 | (108.0 DNC) | (108.0 DNC) | 12.0 | 21.0 | 289.0 | 73.0 |
| 7th | 828 | LLSC | Chris Williams | Martin Spencer | 17.0 | 24.0 | (108.0 DNC) | (108.0 DNC) | 16.0 | 23.0 | 296.0 | 80.0 |
| 8th | 1432 | Dalgety Bay SC | Mike Simms | Keith Bedborough | (108.0 DNC) | 4.0 | (108.0 DNC) | 4.0 | 108.0 DNC | 1.0 | 333.0 | 117.0 |
| 9th | 1441 | Portchester SC | Paul Oakey | Mark Oakey | (108.0 DNC) | 2.0 | (108.0 DNC) | 2.0 | 108.0 DNC | 5.0 | 333.0 | 117.0 |
| 10th | 527 | Warsash SC | Andy Powell | Ian Verso | (108.0 DNC) | 29.0 | (108.0 DNC) | 35.0 | 25.0 | 34.0 | 339.0 | 123.0 |
| 11th | 1189 | Downs | Steve Restall | Christ Stubbs | (108.0 DNC) | 5.0 | (108.0 DNC) | 3.0 | 108.0 DNC | 9.0 | 341.0 | 125.0 |
| 12th | 1407 | West Riding SC | Hamish Gledhill | Simon Dowse | 1.0 | 3.0 | (108.0 DNC) | (108.0 DNC) | 14.0 | 108.0 DNC | 342.0 | 126.0 |
| 13th | 1418 | Queen Mary SC | Howard Farbrother | Lou Farbrother | (108.0 DNC) | 11.0 | (108.0 DNC) | 5.0 | 108.0 DNC | 2.0 | 342.0 | 126.0 |
| 14th | 1396 | LLSC | Richard Catchpole | Gary Coop | 5.0 | 10.0 | (108.0 DNC) | (108.0 DNC) | 108.0 DNC | 3.0 | 342.0 | 126.0 |
| 15th | 1215 | Queen Mary SC | Francisco Lobato | Teresa Lobato | 11.0 | 13.0 | (108.0 DNC) | 1.0 | (108.0 DNC) | 108.0 DNC | 349.0 | 133.0 |
| 16th | 1453 | LLSC | Stuart Halman | Ross Southwell | 9.0 | (108.0 DNC) | (108.0 DNC) | 108.0 DNC | 11.0 | 15.0 | 359.0 | 143.0 |
| 17th | 1461 | LLSC | Caroline Exley | Joe Hartigan | 14.0 | 18.0 | (108.0 DNC) | (108.0 DNC) | 9.0 | 108.0 DNC | 365.0 | 149.0 |
| 18th | 1465 | Welton SC | Ben Williamson | Edd Wheldon/ Jon Willars | 15.0 | 15.0 | (108.0 DNC) | (108.0 DNC) | 108.0 DNC | 13.0 | 367.0 | 151.0 |
| 19th | 963 | Weirwood SC | Adam Whitehouse | Sam Pickering | (108.0 DNC) | 14.0 | (108.0 DNC) | 24.0 | 108.0 DNC | 8.0 | 370.0 | 154.0 |
| 20th | 1342 | Queen Mary SC | Max Tosetti | Anna Wallin | 19.0 | 20.0 | (108.0 DNC) | 32.0 | (108.0 DNC) | 108.0 DNC | 395.0 | 179.0 |
| 21st | 1283 | Delph SC | Chris Pickles | Matt Sharman | (108.0 DNC) | (108.0 DNC) | 108.0 DNC | 108.0 DNC | 1.0 | 7.0 | 440.0 | 224.0 |
| 22nd | 1401 | Budworth SC | Bill Kenyon | Mark Lunn | 8.0 | (108.0 DNC) | (108.0 DNC) | 108.0 DNC | 4.0 | 108.0 DNC | 444.0 | 228.0 |
| 23rd | 1309 | Stokes Bay SC | Russell Clark | Penny Clark | (108.0 DNC) | 6.0 | (108.0 DNC) | 6.0 | 108.0 DNC | 108.0 DNC | 444.0 | 228.0 |
| 24th | 1262 | Y Felinheli | Josh Metcalfe | Jack Holden | 7.0 | 8.0 | (108.0 DNC) | (108.0 DNC) | 108.0 DNC | 108.0 DNC | 447.0 | 231.0 |
| 25th | 669 | South Shileds SC | Jacob Ainsworth | Kaylie Roberts | (108.0 DNC) | (108.0 DNC) | 11.0 | 108.0 DNC | 108.0 DNC | 10.0 | 453.0 | 237.0 |
| 26th | 1235 | Bartley SC | Chris Bownes | Claire Bownes | (108.0 DNC) | 21.0 | (108.0 DNC) | 108.0 DNC | 8.0 | 108.0 DNC | 461.0 | 245.0 |
| 27th | 1262 | Welton SC | Jon Willars | Rich Brameld | (108.0 DNC) | (108.0 DNC) | 108.0 DNC | 108.0 DNC | 15.0 | 19.0 | 466.0 | 250.0 |
| 28th | 1450 | Bartley SC | Nick Eaves | Greg Pace | (108.0 DNC) | 19.0 | (108.0 DNC) | 108.0 DNC | 108.0 DNC | 17.0 | 468.0 | 252.0 |
| 29th | 1212 | Bartley SC | Richard Ashwell | Tony Cliff | (108.0 DNC) | 16.0 | (108.0 DNC) | 26.0 | 108.0 DNC | 108.0 DNC | 474.0 | 258.0 |
| 30th | 1210 | HISC | Mike Partridge | Claire Davis | (108.0 DNC) | (108.0 DNC) | 108.0 DNC | 18.0 | 108.0 DNC | 26.0 | 476.0 | 260.0 |
| 31st | 866 | Notts County SC | Paul Reynolds | Cath Reynolds | 22.0 | (108.0 DNC) | (108.0 DNC) | 108.0 DNC | 22.0 | 108.0 DNC | 476.0 | 260.0 |
| 32nd | 1184 | Army Sailing Association | Stuart Williams | Joshua Crisp | (108.0 DNC) | (108.0 DNC) | 108.0 DNC | 108.0 DNC | 17.0 | 30.0 | 479.0 | 263.0 |
| 33rd | 1101 | Queen Mary SC | Simon Baker | Chris Hopkins | (108.0 DNC) | (108.0 DNC) | 108.0 DNC | 30.0 | 18.0 | 108.0 DNC | 480.0 | 264.0 |
| 34th | 1447 | Bowmoor SC | Mike Tustin | Emily Watson | (108.0 DNC) | 23.0 | (108.0 DNC) | 27.0 | 108.0 DNC | 108.0 DNC | 482.0 | 266.0 |
| 35th | 1029 | Carsington SC | John Cunningham | Nicky Cokayne | (108.0 DNC) | (108.0 DNC) | 108.0 DNC | 108.0 DNC | 23.0 | 29.0 | 484.0 | 268.0 |
| 36th | 1435 | Queen Mary SC | Matt Sheahan | Ellie Sheahan | (108.0 DNC) | 28.0 | (108.0 DNC) | 108.0 DNC | 108.0 DNC | 27.0 | 487.0 | 271.0 |
| 37th | 1228 | Grafham Water SC | Andrew Johnson | Paul Blackburn | (108.0 DNC) | (108.0 DNC) | 108.0 DNC | 29.0 | 108.0 DNC | 28.0 | 489.0 | 273.0 |
| 38th | 1463 | Royal Forth YC | Stewart Robertson | Sarah Robertson | (108.0 DNC) | (108.0 DNC) | 1.0 | 108.0 DNC | 108.0 DNC | 108.0 DNC | 541.0 | 325.0 |
| 39th | 1362 | East Lothian YC | Jim Sinclair | Ben Wilcox | (108.0 DNC) | (108.0 DNC) | 2.0 | 108.0 DNC | 108.0 DNC | 108.0 DNC | 542.0 | 326.0 |
| 40th | 703 | Delph | Chris Pickles | Matt Sharman | 2.0 | (108.0 DNC) | (108.0 DNC) | 108.0 DNC | 108.0 DNC | 108.0 DNC | 542.0 | 326.0 |
| 41st | 1319 | Dalgety Bay SC | Ben Robertson | Jenny Douglas | (108.0 DNC) | (108.0 DNC) | 3.0 | 108.0 DNC | 108.0 DNC | 108.0 DNC | 543.0 | 327.0 |
| 42nd | 1370 | Dalgety Bay SC | Neil McLellan | Sarah Meldrum | (108.0 DNC) | (108.0 DNC) | 5.0 | 108.0 DNC | 108.0 DNC | 108.0 DNC | 545.0 | 329.0 |
| 43rd | 1455 | Dalgety Bay SC | John MacKenzie | Andy Box | (108.0 DNC) | (108.0 DNC) | 7.0 | 108.0 DNC | 108.0 DNC | 108.0 DNC | 547.0 | 331.0 |
| 44th | 1124 | ASYC | Robert Yeamans | Nadia Yeamans | (108.0 DNC) | (108.0 DNC) | 8.0 | 108.0 DNC | 108.0 DNC | 108.0 DNC | 548.0 | 332.0 |
| 45th | 768 | Dalgety Bay SC | Angus Marshall | Imogen Barnett | (108.0 DNC) | (108.0 DNC) | 9.0 | 108.0 DNC | 108.0 DNC | 108.0 DNC | 549.0 | 333.0 |
| 46th | 1363 | Notts County SC | Ross Ryan | Oliver Ryan-Moore | (108.0 DNC) | (108.0 DNC) | 108.0 DNC | 108.0 DNC | 10.0 | 108.0 DNC | 550.0 | 334.0 |
| 47th | 1429 | Lee-on-Solent SC | Niel Bevington | Alan Skeens | (108.0 DNC) | (108.0 DNC) | 108.0 DNC | 10.0 | 108.0 DNC | 108.0 DNC | 550.0 | 334.0 |
| 48th | 414 | Dalgety Bay SC | Matt Toymbee | Vasiliki Papapanagiotou | (108.0 DNC) | (108.0 DNC) | 10.0 | 108.0 DNC | 108.0 DNC | 108.0 DNC | 550.0 | 334.0 |
| 49th | 1395 | LLSC | Paul Allen | Jude Allen | 10.0 | (108.0 DNC) | (108.0 DNC) | 108.0 DNC | 108.0 DNC | 108.0 DNC | 550.0 | 334.0 |
| 50th | 1203 | Queen Mary SC | Richard Gray | Jon Dyas | (108.0 DNC) | (108.0 DNC) | 108.0 DNC | 108.0 DNC | 108.0 DNC | 11.0 | 551.0 | 335.0 |
| 51st | 1469 | Parkstone YC | Jon Gorringe | Ben George | (108.0 DNC) | (108.0 DNC) | 108.0 DNC | 12.0 | 108.0 DNC | 108.0 DNC | 552.0 | 336.0 |
| 52nd | 1073 | Yorkshire Dales SC | Jamie Rogers | Neil McLaren | (108.0 DNC) | (108.0 DNC) | 12.0 | 108.0 DNC | 108.0 DNC | 108.0 DNC | 552.0 | 336.0 |
| 53rd | 1191 | LLSC | Louise McKeand | Matt | 12.0 | (108.0 DNC) | (108.0 DNC) | 108.0 DNC | 108.0 DNC | 108.0 DNC | 552.0 | 336.0 |
| 54th | 1336 | Notts County SC | John Parr | Kim Parnham | (108.0 DNC) | (108.0 DNC) | 108.0 DNC | 108.0 DNC | 13.0 | 108.0 DNC | 553.0 | 337.0 |
| 55th | 437 | Warsash SC | David Thomas | Tim Norris | (108.0 DNC) | (108.0 DNC) | 108.0 DNC | 13.0 | 108.0 DNC | 108.0 DNC | 553.0 | 337.0 |
| 56th | 1096 | Dalgety Bay SC | Peter Taylor | Brian Greer | (108.0 DNC) | (108.0 DNC) | 13.0 | 108.0 DNC | 108.0 DNC | 108.0 DNC | 553.0 | 337.0 |
| 57th | 1439 | Lymington Town SC | Pete Vincent | Heather Chipperfield | (108.0 DNC) | (108.0 DNC) | 108.0 DNC | 14.0 | 108.0 DNC | 108.0 DNC | 554.0 | 338.0 |
| 58th | 1129 | Wormit Boating Club | David Webley | Fraser Mulford | (108.0 DNC) | (108.0 DNC) | 14.0 | 108.0 DNC | 108.0 DNC | 108.0 DNC | 554.0 | 338.0 |
| 59th | 1181 | Warsash SC | Bruce Mills | Andrea Jarman | (108.0 DNC) | (108.0 DNC) | 108.0 DNC | 15.0 | 108.0 DNC | 108.0 DNC | 555.0 | 339.0 |
| 60th | 1445 | Dalgety Bay SC | Phil Britton | Mike Atkinson | (108.0 DNC) | (108.0 DNC) | 15.0 | 108.0 DNC | 108.0 DNC | 108.0 DNC | 555.0 | 339.0 |
| 61st | 684 | Pevensay Bay SC | Jonathan White | Rob Woodward | (108.0 DNC) | (108.0 DNC) | 108.0 DNC | 108.0 DNC | 108.0 DNC | 16.0 | 556.0 | 340.0 |
| 62nd | 836 | Thorney Island SC | Adam Humphrey | Jo Humphrey | (108.0 DNC) | (108.0 DNC) | 108.0 DNC | 16.0 | 108.0 DNC | 108.0 DNC | 556.0 | 340.0 |
| 63rd | 476 | Dalgety Bay SC | Martin Booth | Oliver Milling-Smith | (108.0 DNC) | (108.0 DNC) | 16.0 | 108.0 DNC | 108.0 DNC | 108.0 DNC | 556.0 | 340.0 |
| 64th | 1380 | Welton SC | Jon Willars | Richard Brambeld | 16.0 | (108.0 DNC) | (108.0 DNC) | 108.0 DNC | 108.0 DNC | 108.0 DNC | 556.0 | 340.0 |
| 65th | 1105 | HISC | Clive Everest | Helen Everest | (108.0 DNC) | (108.0 DNC) | 108.0 DNC | 17.0 | 108.0 DNC | 108.0 DNC | 557.0 | 341.0 |
| 66th | 1337 | Royal Forth YC | Lewis Smith | Alex McDonald | (108.0 DNC) | (108.0 DNC) | 17.0 | 108.0 DNC | 108.0 DNC | 108.0 DNC | 557.0 | 341.0 |
| 67th | 767 | Bartley SC | Wayne Hancox | Gareth Blakemore | (108.0 DNC) | 17.0 | (108.0 DNC) | 108.0 DNC | 108.0 DNC | 108.0 DNC | 557.0 | 341.0 |
| 68th | 1452 | Bartley SC | Howard Eeles | Chris Hawley | (108.0 DNC) | (108.0 DNC) | 108.0 DNC | 108.0 DNC | 108.0 DNC | 18.0 | 558.0 | 342.0 |
| 69th | 1325 | Notts County SC | James Logan | Pip Logan | (108.0 DNC) | (108.0 DNC) | 108.0 DNC | 108.0 DNC | 19.0 | 108.0 DNC | 559.0 | 343.0 |
| 70th | 1393 | RNSA | Olli George-Taylor | Nick Zammit | (108.0 DNC) | (108.0 DNC) | 108.0 DNC | 19.0 | 108.0 DNC | 108.0 DNC | 559.0 | 343.0 |
| 71st | 1392 | Queen Mary SC | Christopher Stanton | Jules Thorne | (108.0 DNC) | (108.0 DNC) | 108.0 DNC | 108.0 DNC | 108.0 DNC | 20.0 | 560.0 | 344.0 |
| 72nd | 670 | Notts County SC | Timothy Harrison | Tor Harrison | (108.0 DNC) | (108.0 DNC) | 108.0 DNC | 108.0 DNC | 20.0 | 108.0 DNC | 560.0 | 344.0 |
| 73rd | 934 | Warsash SC | David Swift | Rob Burgess | (108.0 DNC) | (108.0 DNC) | 108.0 DNC | 20.0 | 108.0 DNC | 108.0 DNC | 560.0 | 344.0 |
| 74th | 1133 | Yorkshire Dales SC | Lester Mulligan | Mike Raynor | 20.0 | (108.0 DNC) | (108.0 DNC) | 108.0 DNC | 108.0 DNC | 108.0 DNC | 560.0 | 344.0 |
| 75th | 950 | Notts County SC | Alan Elkington | Robert Stevenson | (108.0 DNC) | (108.0 DNC) | 108.0 DNC | 108.0 DNC | 21.0 | 108.0 DNC | 561.0 | 345.0 |
| 76th | 684 | Pevensay Bay SC | Matt Fowler | Greg Shipley | (108.0 DNC) | (108.0 DNC) | 108.0 DNC | 21.0 | 108.0 DNC | 108.0 DNC | 561.0 | 345.0 |
| 77th | 741 | Royal Ulster | Mikey Ferguson | Phillip Adams | 21.0 | (108.0 DNC) | (108.0 DNC) | 108.0 DNC | 108.0 DNC | 108.0 DNC | 561.0 | 345.0 |
| 78th | 1301 | Eastbourne Sovereign SC | Mike Whitmore | Sarah Whitemore | (108.0 DNC) | (108.0 DNC) | 108.0 DNC | 108.0 DNC | 108.0 DNC | 22.0 | 562.0 | 346.0 |
| 79th | 854 | Weston/ RORC | Chris Brown | Amber-Maria Brown | (108.0 DNC) | (108.0 DNC) | 108.0 DNC | 22.0 | 108.0 DNC | 108.0 DNC | 562.0 | 346.0 |
| 80th | 1007 | Warsash SC | Nick Daniels | Mark Aitken | (108.0 DNC) | (108.0 DNC) | 108.0 DNC | 23.0 | 108.0 DNC | 108.0 DNC | 563.0 | 347.0 |
| 81st | 1175 | Carsington SC | Sam Leiper | Elliot Fisher | (108.0 DNC) | (108.0 DNC) | 108.0 DNC | 108.0 DNC | 108.0 DNC | 24.0 | 564.0 | 348.0 |
| 82nd | 1048 | Notts County SC | Martin Hart | Moira Hart | (108.0 DNC) | (108.0 DNC) | 108.0 DNC | 108.0 DNC | 24.0 | 108.0 DNC | 564.0 | 348.0 |
| 83rd | 763 | South Shileds SC | liam Alcock | Eve Wyatt | (108.0 DNC) | (108.0 DNC) | 108.0 DNC | 108.0 DNC | 108.0 DNC | 25.0 | 565.0 | 349.0 |
| 84th | 421 | Castle Cove SC | Adrian Neal | Tracy Neal | (108.0 DNC) | (108.0 DNC) | 108.0 DNC | 25.0 | 108.0 DNC | 108.0 DNC | 565.0 | 349.0 |
| 85th | 1380 | Welton SC | Richard Wharram | Hannah Wharram | (108.0 DNC) | 25.0 | (108.0 DNC) | 108.0 DNC | 108.0 DNC | 108.0 DNC | 565.0 | 349.0 |
| 86th | 1122 | Notts County SC | Jeremy Coupland | Clare Coupland | (108.0 DNC) | (108.0 DNC) | 108.0 DNC | 108.0 DNC | 26.0 | 108.0 DNC | 566.0 | 350.0 |
| 87th | 1313 | Hollowell | Rob Dunkley | Angie Grimes | (108.0 DNC) | 26.0 | (108.0 DNC) | 108.0 DNC | 108.0 DNC | 108.0 DNC | 566.0 | 350.0 |
| 88th | 1121 | Notts County SC | Mark Ehler | Asher Ehler | (108.0 DNC) | (108.0 DNC) | 108.0 DNC | 108.0 DNC | 27.0 | 108.0 DNC | 567.0 | 351.0 |
| 89th | 1156 | | Uel Webb | Stephen Webb | (108.0 DNC) | 27.0 | (108.0 DNC) | 108.0 DNC | 108.0 DNC | 108.0 DNC | 567.0 | 351.0 |
| 90th | 1400 | Burghfield SC | Steve Middleton | Chris Rowland | (108.0 DNC) | (108.0 DNC) | 108.0 DNC | 28.0 | 108.0 DNC | 108.0 DNC | 568.0 | 352.0 |
| 91st | 1272 | Grafham Water SC | Andy Wilcox | Hannah Wilcox | (108.0 DNC) | (108.0 DNC) | 108.0 DNC | 108.0 DNC | 108.0 DNC | 31.0 | 571.0 | 355.0 |
| 92nd | 1357 | Rock SC | Simon Coleridge | Tim Collins | (108.0 DNC) | (108.0 DNC) | 108.0 DNC | 31.0 | 108.0 DNC | 108.0 DNC | 571.0 | 355.0 |
| 93rd | 1340 | Grafham Water SC | Sam Neal | Alayne Seymour | (108.0 DNC) | (108.0 DNC) | 108.0 DNC | 108.0 DNC | 108.0 DNC | 32.0 | 572.0 | 356.0 |
| 94th | 872 | Carsington SC | James Cokayne | Emily Cokayne | (108.0 DNC) | (108.0 DNC) | 108.0 DNC | 108.0 DNC | 108.0 DNC | 33.0 | 573.0 | 357.0 |
| 95th | 1022 | Lancing SC | Andy Clark | Lukasz Sieniawski | (108.0 DNC) | (108.0 DNC) | 108.0 DNC | 33.0 | 108.0 DNC | 108.0 DNC | 573.0 | 357.0 |
| 96th | 1060 | Thorne Island SC | Pete Pickford | Ben | (108.0 DNC) | (108.0 DNC) | 108.0 DNC | 34.0 | 108.0 DNC | 108.0 DNC | 574.0 | 358.0 |
| 97th | 676 | Thorpe Bay Yacht Club | Michael Marriott | Maurice Barnes | (108.0 DNC) | (108.0 DNC) | 108.0 DNC | 108.0 DNC | 108.0 DNC | 35.0 | 575.0 | 359.0 |
| 98th | 1092 | Grafham Water SC | Marc Walford | Alan Cooke | (108.0 DNC) | (108.0 DNC) | 108.0 DNC | 108.0 DNC | 108.0 DNC | 36.0 | 576.0 | 360.0 |
| 99th | 759 | Dell Quay SC | Peter King | Rob Cornfield | (108.0 DNC) | (108.0 DNC) | 108.0 DNC | 36.0 | 108.0 DNC | 108.0 DNC | 576.0 | 360.0 |
| 100th | 1382 | Eastbourne Sovereign SC | Andrew Hunt | Matthew Hunt | (108.0 DNC) | (108.0 DNC) | 108.0 DNC | 108.0 DNC | 108.0 DNC | 37.0 | 577.0 | 361.0 |
| 101st | 1241 | RNSA | Joe Henry | Roly Wilson | (108.0 DNC) | (108.0 DNC) | 108.0 DNC | 37.0 | 108.0 DNC | 108.0 DNC | 577.0 | 361.0 |
| 102nd | 915 | Emsworth Slipper SC | Sean Curtis | Simon Goldfarb | (108.0 DNC) | (108.0 DNC) | 108.0 DNC | 38.0 | 108.0 DNC | 108.0 DNC | 578.0 | 362.0 |
| 103rd | 1333 | Dell Quay SC | Rob Cornfield | Chris Cornfield | (108.0 DNC) | (108.0 DNC) | 108.0 DNC | 39.0 | 108.0 DNC | 108.0 DNC | 579.0 | 363.0 |
| 104th | 579 | Burghfield SC | Tim Shuttleworth | James Shuttleworth | (108.0 DNC) | (108.0 DNC) | 108.0 DNC | 40.0 | 108.0 DNC | 108.0 DNC | 580.0 | 364.0 |
| 105th | 975 | RNSA | Simon McGee | James Macknight | (108.0 DNC) | (108.0 DNC) | 108.0 DNC | 41.0 | 108.0 DNC | 108.0 DNC | 581.0 | 365.0 |
| 106th | | | | | (108.0 DNC) | (108.0 DNC) | 108.0 DNC | 108.0 DNC | 108.0 DNC | 108.0 DNC | 648.0 | 432.0 |
| 106th | | | | | (108.0 DNC) | (108.0 DNC) | 108.0 DNC | 108.0 DNC | 108.0 DNC | 108.0 DNC | 648.0 | 432.0 |
Sailwave Scoring Software 2.19.8
www.sailwave.com