Results / Lee on the Solent SC - 21/05/2022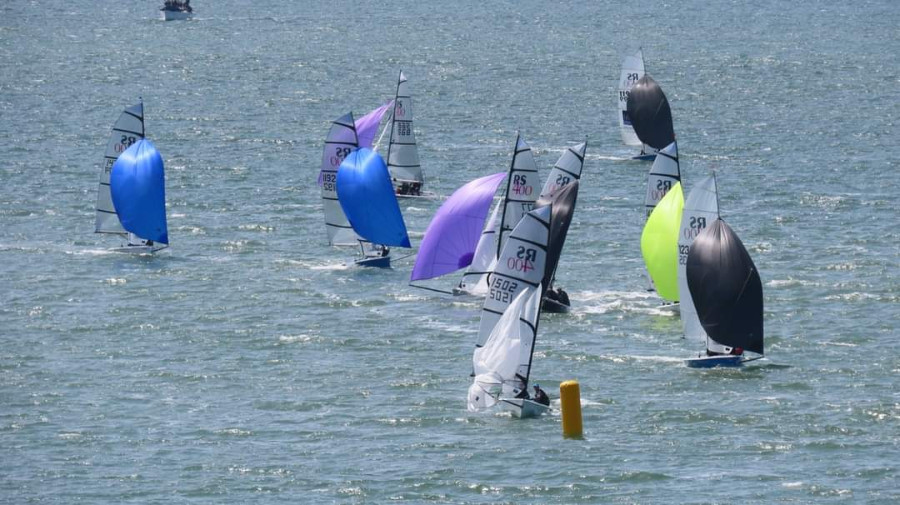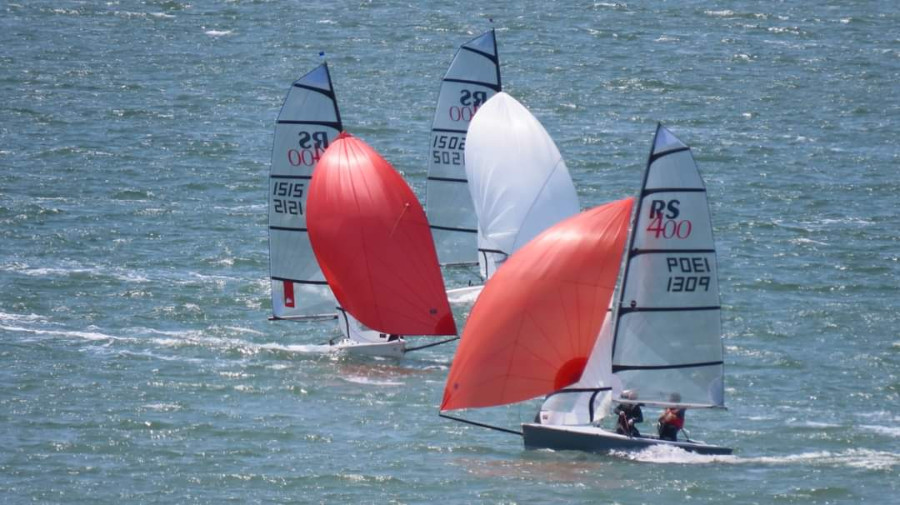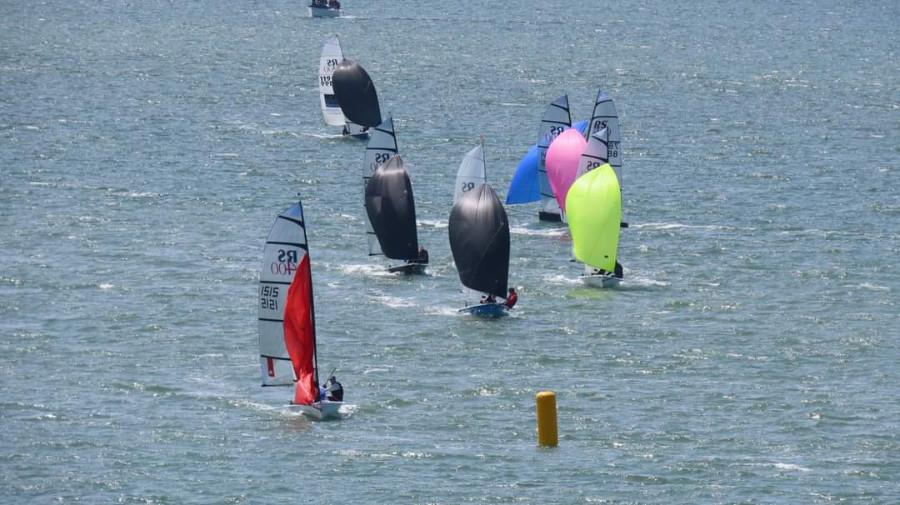 McGrane Masterclass at Sparkling Lee
Rooster West Country Boat Repairs RS400 Southern Tour
Attracted by the forecast of sunshine and moderate southerly breezes and in preparation for the Carnac Eurocup in 10 days time, no fewer than 25 boats gathered at Lee on Solent Sailing Club on 21/22 May, one of the oldest and most iconic south coast clubs which many, like me, hadn't revisted for years. After 2 years of disruption, their desire to renew old friendships in good competition at a well-run local venue was met in spades.
The 5th placed competitor is invited to report on each event presumably because they will have been 'in the mix' while still in touch with the leading boats. I can only say that even when we got away from the start line in good shape we had a consistent view of Ben McGrane and James Stewart's fast receding transom, followed by that of Steve and Sarah Cockerill. Despite wind fluctuations between 8 and 15 knots, some periods of shifts and bends, not to mention some mystifying tidal stream effects and depth variations to catch out the visitor, the 'Ben Steve 1 2' was the plot line of 5 of the 6 races, while Sam and Ben Pickering and Jack Munnely and Sarah Mitchel from Chichester SC did a great job of fending off the 'old guard' of Podger/Chipperfield and Mick and Sarah Whitmore. Although it's possible to feel that your straight line speed is comparable to the top boats, the steady accumulation of shifts not spotted and small mistakes made is such that Ben was patiently waiting for several minutes for the rest of us to finish after a 40 minute race – must do better!
My old Navy sparring partner Rick Hanslip, helping Race Officer Kathryn Clark set excellent lines and courses on the start boat, said that he finds 3 races back-to-back a bit of a challenge. After capsizing twice between the final windward mark of the event and the finish, prompting a stream of inevitable 'if onlys', and nursing some aches and pains this morning, we can certainly see where he's coming from!
We all echo Ben's thanks after the prizegiving in the gorgeous new LOSSC clubhouse to the many staff and volunteers who helped to make it the superbly run 'feelgood early summer reunion event' we were hoping for.
Next stop on the Southern Tour - Warsash, 11-12 June
Kevin Podger and Heather Chipperfield
125 years in the boat!
Photos: Jenny Taw
Overall
Rank
Class
SailNo
Club
HelmName
CrewName
PY
R1
21/05/2022 13:15
R2
21/05/2022 14:35
R3
21/05/2022 15:30
R4
22/05/2022 10:35
R5
22/05/2022 11:35
R6
22/05/2022 12:35
Total
Nett
1st
RS 400
1309
Netley SC
Ben MCGRANE
James STEWART
942
1.0
(3.0)
1.0
1.0
1.0
1.0
8.0
5.0
2nd
RS 400
1515
Stokes Bay SC
Stephen COCKERILL
Sarah COCKERILL
942
(2.0)
1.0
2.0
2.0
2.0
2.0
11.0
9.0
3rd
RS 400
1235
Chichester SC
Sam PICKERING
Ben PICKERING
942
3.0
5.0
7.0
(13.0)
5.0
4.0
37.0
24.0
4th
RS 400
1192
Chichester SC
Jack MUNNELY
Sarah MITCHELL
942
8.0
(14.0)
8.0
4.0
3.0
5.0
42.0
28.0
5th
RS 400
1439
Lymington Town Sailing Club
Kevin PODGER
Heather CHIPPERFIELD
942
6.0
11.0
3.0
5.0
4.0
(19.0)
48.0
29.0
6th
RS 400
1479
Eastbourne Sovereign
Mick WHITMORE
Sarah WHITMORE
942
(9.0)
2.0
6.0
6.0
8.0
9.0
40.0
31.0
7th
RS 400
1377
LOSSC
Neil BEVINGTON
Alan SKEENS
942
7.0
6.0
(9.0)
3.0
9.0
6.0
40.0
31.0
8th
RS 400
1489
Warsash Sailing Club
David SWIFT
Rob BURGESS
942
5.0
4.0
5.0
10.0
(14.0)
11.0
49.0
35.0
9th
RS 400
1502
Llangorse SC
Jon HEISSIG
Nicky GRIFFIN
942
4.0
9.0
10.0
(12.0)
10.0
3.0
48.0
36.0
10th
RS 400
1444
LOSSC
Nick MARTIN
Claire DARCH
942
11.0
(15.0)
11.0
8.0
6.0
10.0
61.0
46.0
11th
RS 400
568
Warsash Sailing Club
Rob JONES
Paul CAIGER-WATSON
942
13.0
7.0
(14.0)
14.0
11.0
7.0
66.0
52.0
12th
RS 400
1263
Wimble SC
Dave STOCKTON
Sophie STOCKTON
942
14.0
(19.0)
15.0
9.0
7.0
12.0
76.0
57.0
13th
RS 400
1493
Locks SC
Geoff HOLDEN
Bernice HOLDEN
942
15.0
(18.0)
17.0
7.0
12.0
8.0
77.0
59.0
14th
RS 400
1422
Warsash Sailing Club
Bruce MILLS
Andrea JARMAN
942
12.0
12.0
(16.0)
11.0
13.0
14.0
78.0
62.0
15th
RS 400
1481
Lymington Town Sailing Club
Howard FARBROTHER
Lou HOSKIN
942
10.0
8.0
4.0
(26.0 DNC)
26.0 DNC
26.0 DNC
100.0
74.0
16th
RS 400
1521
Warsash Sailing Club
Andy POWELL
Robert BAILEY
942
(22.0)
16.0
21.0
16.0
16.0
15.0
106.0
84.0
17th
RS 400
1384
Emsworth Sailing Club
Trevor NEWLEY
Martin WILSON
942
18.0
(22.0)
18.0
19.0
17.0
13.0
107.0
85.0
18th
RS 400
788
LOSSC
Alex CORY
Ellen CORY
942
17.0
20.0
12.0
18.0
20.0
(21.0)
108.0
87.0
19th
RS 400
1435
Warsash Sailing Club
Matt SHEAHAN
Ellie SHEAHAN
942
19.0
(21.0)
20.0
17.0
15.0
16.0
108.0
87.0
20th
RS 400
1199
LOSSC
Stephen PORTER
Nick ALLEN
942
(23.0)
17.0
22.0
15.0
18.0
17.0
112.0
89.0
21st
RS 400
1519
Lymington Town Sailing Club
Steven BROOMFIELD
Jeni LEWIS
942
16.0
10.0
13.0
(26.0 DNC)
26.0 DNC
26.0 DNC
117.0
91.0
22nd
RS 400
1213
LOSSC
Paul ATKINSON
Roger COLES
942
21.0
23.0
(24.0)
21.0
19.0
18.0
126.0
102.0
23rd
RS 400
1487
LOSSC
Andrew BRAY
Sarah KINGSTON
942
20.0
13.0
19.0
(26.0 DNC)
26.0 DNC
26.0 DNC
130.0
104.0
24th
RS 400
1231
LOSSC
Tommy RUSSELL
Ethan WHITING
942
(25.0)
24.0
23.0
20.0
21.0
20.0
133.0
108.0
25th
RS 400
976
LOSSC
Annabel D'ARCH
Tom HANSLIP
942
24.0
(26.0 DNF)
25.0
26.0 DNC
26.0 DNC
26.0 DNC
153.0
127.0
R1 - 21/05/2022 at 13:15
| Rank | Class | SailNo | Club | HelmName | CrewName | PY | Place | Points |
| --- | --- | --- | --- | --- | --- | --- | --- | --- |
| 1 | RS 400 | 1309 | Netley SC | Ben MCGRANE | James STEWART | 942 | 1 | 1.0 |
| 2 | RS 400 | 1515 | Stokes Bay SC | Stephen COCKERILL | Sarah COCKERILL | 942 | 2 | 2.0 |
| 3 | RS 400 | 1235 | Chichester SC | Sam PICKERING | Ben PICKERING | 942 | 3 | 3.0 |
| 4 | RS 400 | 1502 | Llangorse SC | Jon HEISSIG | Nicky GRIFFIN | 942 | 4 | 4.0 |
| 5 | RS 400 | 1489 | Warsash Sailing Club | David SWIFT | Rob BURGESS | 942 | 5 | 5.0 |
| 6 | RS 400 | 1439 | Lymington Town Sailing Club | Kevin PODGER | Heather CHIPPERFIELD | 942 | 6 | 6.0 |
| 7 | RS 400 | 1377 | LOSSC | Neil BEVINGTON | Alan SKEENS | 942 | 7 | 7.0 |
| 8 | RS 400 | 1192 | Chichester SC | Jack MUNNELY | Sarah MITCHELL | 942 | 8 | 8.0 |
| 9 | RS 400 | 1479 | Eastbourne Sovereign | Mick WHITMORE | Sarah WHITMORE | 942 | 9 | 9.0 |
| 10 | RS 400 | 1481 | Lymington Town Sailing Club | Howard FARBROTHER | Lou HOSKIN | 942 | 10 | 10.0 |
| 11 | RS 400 | 1444 | LOSSC | Nick MARTIN | Claire DARCH | 942 | 11 | 11.0 |
| 12 | RS 400 | 1422 | Warsash Sailing Club | Bruce MILLS | Andrea JARMAN | 942 | 12 | 12.0 |
| 13 | RS 400 | 568 | Warsash Sailing Club | Rob JONES | Paul CAIGER-WATSON | 942 | 13 | 13.0 |
| 14 | RS 400 | 1263 | Wimble SC | Dave STOCKTON | Sophie STOCKTON | 942 | 14 | 14.0 |
| 15 | RS 400 | 1493 | Locks SC | Geoff HOLDEN | Bernice HOLDEN | 942 | 15 | 15.0 |
| 16 | RS 400 | 1519 | Lymington Town Sailing Club | Steven BROOMFIELD | Jeni LEWIS | 942 | 16 | 16.0 |
| 17 | RS 400 | 788 | LOSSC | Alex CORY | Ellen CORY | 942 | 17 | 17.0 |
| 18 | RS 400 | 1384 | Emsworth Sailing Club | Trevor NEWLEY | Martin WILSON | 942 | 18 | 18.0 |
| 19 | RS 400 | 1435 | Warsash Sailing Club | Matt SHEAHAN | Ellie SHEAHAN | 942 | 19 | 19.0 |
| 20 | RS 400 | 1487 | LOSSC | Andrew BRAY | Sarah KINGSTON | 942 | 20 | 20.0 |
| 21 | RS 400 | 1213 | LOSSC | Paul ATKINSON | Roger COLES | 942 | 21 | 21.0 |
| 22 | RS 400 | 1521 | Warsash Sailing Club | Andy POWELL | Robert BAILEY | 942 | 22 | 22.0 |
| 23 | RS 400 | 1199 | LOSSC | Stephen PORTER | Nick ALLEN | 942 | 23 | 23.0 |
| 24 | RS 400 | 976 | LOSSC | Annabel D'ARCH | Tom HANSLIP | 942 | 24 | 24.0 |
| 25 | RS 400 | 1231 | LOSSC | Tommy RUSSELL | Ethan WHITING | 942 | 25 | 25.0 |
R2 - 21/05/2022 at 14:35
| Rank | Class | SailNo | Club | HelmName | CrewName | PY | Place | Points |
| --- | --- | --- | --- | --- | --- | --- | --- | --- |
| 1 | RS 400 | 1515 | Stokes Bay SC | Stephen COCKERILL | Sarah COCKERILL | 942 | 1 | 1.0 |
| 2 | RS 400 | 1479 | Eastbourne Sovereign | Mick WHITMORE | Sarah WHITMORE | 942 | 2 | 2.0 |
| 3 | RS 400 | 1309 | Netley SC | Ben MCGRANE | James STEWART | 942 | 3 | 3.0 |
| 4 | RS 400 | 1489 | Warsash Sailing Club | David SWIFT | Rob BURGESS | 942 | 4 | 4.0 |
| 5 | RS 400 | 1235 | Chichester SC | Sam PICKERING | Ben PICKERING | 942 | 5 | 5.0 |
| 6 | RS 400 | 1377 | LOSSC | Neil BEVINGTON | Alan SKEENS | 942 | 6 | 6.0 |
| 7 | RS 400 | 568 | Warsash Sailing Club | Rob JONES | Paul CAIGER-WATSON | 942 | 7 | 7.0 |
| 8 | RS 400 | 1481 | Lymington Town Sailing Club | Howard FARBROTHER | Lou HOSKIN | 942 | 8 | 8.0 |
| 9 | RS 400 | 1502 | Llangorse SC | Jon HEISSIG | Nicky GRIFFIN | 942 | 9 | 9.0 |
| 10 | RS 400 | 1519 | Lymington Town Sailing Club | Steven BROOMFIELD | Jeni LEWIS | 942 | 10 | 10.0 |
| 11 | RS 400 | 1439 | Lymington Town Sailing Club | Kevin PODGER | Heather CHIPPERFIELD | 942 | 11 | 11.0 |
| 12 | RS 400 | 1422 | Warsash Sailing Club | Bruce MILLS | Andrea JARMAN | 942 | 12 | 12.0 |
| 13 | RS 400 | 1487 | LOSSC | Andrew BRAY | Sarah KINGSTON | 942 | 13 | 13.0 |
| 14 | RS 400 | 1192 | Chichester SC | Jack MUNNELY | Sarah MITCHELL | 942 | 14 | 14.0 |
| 15 | RS 400 | 1444 | LOSSC | Nick MARTIN | Claire DARCH | 942 | 15 | 15.0 |
| 16 | RS 400 | 1521 | Warsash Sailing Club | Andy POWELL | Robert BAILEY | 942 | 16 | 16.0 |
| 17 | RS 400 | 1199 | LOSSC | Stephen PORTER | Nick ALLEN | 942 | 17 | 17.0 |
| 18 | RS 400 | 1493 | Locks SC | Geoff HOLDEN | Bernice HOLDEN | 942 | 18 | 18.0 |
| 19 | RS 400 | 1263 | Wimble SC | Dave STOCKTON | Sophie STOCKTON | 942 | 19 | 19.0 |
| 20 | RS 400 | 788 | LOSSC | Alex CORY | Ellen CORY | 942 | 20 | 20.0 |
| 21 | RS 400 | 1435 | Warsash Sailing Club | Matt SHEAHAN | Ellie SHEAHAN | 942 | 21 | 21.0 |
| 22 | RS 400 | 1384 | Emsworth Sailing Club | Trevor NEWLEY | Martin WILSON | 942 | 22 | 22.0 |
| 23 | RS 400 | 1213 | LOSSC | Paul ATKINSON | Roger COLES | 942 | 23 | 23.0 |
| 24 | RS 400 | 1231 | LOSSC | Tommy RUSSELL | Ethan WHITING | 942 | 24 | 24.0 |
| 25 | RS 400 | 976 | LOSSC | Annabel D'ARCH | Tom HANSLIP | 942 | DNF | 26.0 |
R3 - 21/05/2022 at 15:30
| Rank | Class | SailNo | Club | HelmName | CrewName | PY | Place | Points |
| --- | --- | --- | --- | --- | --- | --- | --- | --- |
| 1 | RS 400 | 1309 | Netley SC | Ben MCGRANE | James STEWART | 942 | 1 | 1.0 |
| 2 | RS 400 | 1515 | Stokes Bay SC | Stephen COCKERILL | Sarah COCKERILL | 942 | 2 | 2.0 |
| 3 | RS 400 | 1439 | Lymington Town Sailing Club | Kevin PODGER | Heather CHIPPERFIELD | 942 | 3 | 3.0 |
| 4 | RS 400 | 1481 | Lymington Town Sailing Club | Howard FARBROTHER | Lou HOSKIN | 942 | 4 | 4.0 |
| 5 | RS 400 | 1489 | Warsash Sailing Club | David SWIFT | Rob BURGESS | 942 | 5 | 5.0 |
| 6 | RS 400 | 1479 | Eastbourne Sovereign | Mick WHITMORE | Sarah WHITMORE | 942 | 6 | 6.0 |
| 7 | RS 400 | 1235 | Chichester SC | Sam PICKERING | Ben PICKERING | 942 | 7 | 7.0 |
| 8 | RS 400 | 1192 | Chichester SC | Jack MUNNELY | Sarah MITCHELL | 942 | 8 | 8.0 |
| 9 | RS 400 | 1377 | LOSSC | Neil BEVINGTON | Alan SKEENS | 942 | 9 | 9.0 |
| 10 | RS 400 | 1502 | Llangorse SC | Jon HEISSIG | Nicky GRIFFIN | 942 | 10 | 10.0 |
| 11 | RS 400 | 1444 | LOSSC | Nick MARTIN | Claire DARCH | 942 | 11 | 11.0 |
| 12 | RS 400 | 788 | LOSSC | Alex CORY | Ellen CORY | 942 | 12 | 12.0 |
| 13 | RS 400 | 1519 | Lymington Town Sailing Club | Steven BROOMFIELD | Jeni LEWIS | 942 | 13 | 13.0 |
| 14 | RS 400 | 568 | Warsash Sailing Club | Rob JONES | Paul CAIGER-WATSON | 942 | 14 | 14.0 |
| 15 | RS 400 | 1263 | Wimble SC | Dave STOCKTON | Sophie STOCKTON | 942 | 15 | 15.0 |
| 16 | RS 400 | 1422 | Warsash Sailing Club | Bruce MILLS | Andrea JARMAN | 942 | 16 | 16.0 |
| 17 | RS 400 | 1493 | Locks SC | Geoff HOLDEN | Bernice HOLDEN | 942 | 17 | 17.0 |
| 18 | RS 400 | 1384 | Emsworth Sailing Club | Trevor NEWLEY | Martin WILSON | 942 | 18 | 18.0 |
| 19 | RS 400 | 1487 | LOSSC | Andrew BRAY | Sarah KINGSTON | 942 | 19 | 19.0 |
| 20 | RS 400 | 1435 | Warsash Sailing Club | Matt SHEAHAN | Ellie SHEAHAN | 942 | 20 | 20.0 |
| 21 | RS 400 | 1521 | Warsash Sailing Club | Andy POWELL | Robert BAILEY | 942 | 21 | 21.0 |
| 22 | RS 400 | 1199 | LOSSC | Stephen PORTER | Nick ALLEN | 942 | 22 | 22.0 |
| 23 | RS 400 | 1231 | LOSSC | Tommy RUSSELL | Ethan WHITING | 942 | 23 | 23.0 |
| 24 | RS 400 | 1213 | LOSSC | Paul ATKINSON | Roger COLES | 942 | 24 | 24.0 |
| 25 | RS 400 | 976 | LOSSC | Annabel D'ARCH | Tom HANSLIP | 942 | 25 | 25.0 |
R4 - 22/05/2022 at 10:35
| Rank | Class | SailNo | Club | HelmName | CrewName | PY | Place | Points |
| --- | --- | --- | --- | --- | --- | --- | --- | --- |
| 1 | RS 400 | 1309 | Netley SC | Ben MCGRANE | James STEWART | 942 | 1 | 1.0 |
| 2 | RS 400 | 1515 | Stokes Bay SC | Stephen COCKERILL | Sarah COCKERILL | 942 | 2 | 2.0 |
| 3 | RS 400 | 1377 | LOSSC | Neil BEVINGTON | Alan SKEENS | 942 | 3 | 3.0 |
| 4 | RS 400 | 1192 | Chichester SC | Jack MUNNELY | Sarah MITCHELL | 942 | 4 | 4.0 |
| 5 | RS 400 | 1439 | Lymington Town Sailing Club | Kevin PODGER | Heather CHIPPERFIELD | 942 | 5 | 5.0 |
| 6 | RS 400 | 1479 | Eastbourne Sovereign | Mick WHITMORE | Sarah WHITMORE | 942 | 6 | 6.0 |
| 7 | RS 400 | 1493 | Locks SC | Geoff HOLDEN | Bernice HOLDEN | 942 | 7 | 7.0 |
| 8 | RS 400 | 1444 | LOSSC | Nick MARTIN | Claire DARCH | 942 | 8 | 8.0 |
| 9 | RS 400 | 1263 | Wimble SC | Dave STOCKTON | Sophie STOCKTON | 942 | 9 | 9.0 |
| 10 | RS 400 | 1489 | Warsash Sailing Club | David SWIFT | Rob BURGESS | 942 | 10 | 10.0 |
| 11 | RS 400 | 1422 | Warsash Sailing Club | Bruce MILLS | Andrea JARMAN | 942 | 11 | 11.0 |
| 12 | RS 400 | 1502 | Llangorse SC | Jon HEISSIG | Nicky GRIFFIN | 942 | 12 | 12.0 |
| 13 | RS 400 | 1235 | Chichester SC | Sam PICKERING | Ben PICKERING | 942 | 13 | 13.0 |
| 14 | RS 400 | 568 | Warsash Sailing Club | Rob JONES | Paul CAIGER-WATSON | 942 | 14 | 14.0 |
| 15 | RS 400 | 1199 | LOSSC | Stephen PORTER | Nick ALLEN | 942 | 15 | 15.0 |
| 16 | RS 400 | 1521 | Warsash Sailing Club | Andy POWELL | Robert BAILEY | 942 | 16 | 16.0 |
| 17 | RS 400 | 1435 | Warsash Sailing Club | Matt SHEAHAN | Ellie SHEAHAN | 942 | 17 | 17.0 |
| 18 | RS 400 | 788 | LOSSC | Alex CORY | Ellen CORY | 942 | 18 | 18.0 |
| 19 | RS 400 | 1384 | Emsworth Sailing Club | Trevor NEWLEY | Martin WILSON | 942 | 19 | 19.0 |
| 20 | RS 400 | 1231 | LOSSC | Tommy RUSSELL | Ethan WHITING | 942 | 20 | 20.0 |
| 21 | RS 400 | 1213 | LOSSC | Paul ATKINSON | Roger COLES | 942 | 21 | 21.0 |
R5 - 22/05/2022 at 11:35
| Rank | Class | SailNo | Club | HelmName | CrewName | PY | Place | Points |
| --- | --- | --- | --- | --- | --- | --- | --- | --- |
| 1 | RS 400 | 1309 | Netley SC | Ben MCGRANE | James STEWART | 942 | 1 | 1.0 |
| 2 | RS 400 | 1515 | Stokes Bay SC | Stephen COCKERILL | Sarah COCKERILL | 942 | 2 | 2.0 |
| 3 | RS 400 | 1192 | Chichester SC | Jack MUNNELY | Sarah MITCHELL | 942 | 3 | 3.0 |
| 4 | RS 400 | 1439 | Lymington Town Sailing Club | Kevin PODGER | Heather CHIPPERFIELD | 942 | 4 | 4.0 |
| 5 | RS 400 | 1235 | Chichester SC | Sam PICKERING | Ben PICKERING | 942 | 5 | 5.0 |
| 6 | RS 400 | 1444 | LOSSC | Nick MARTIN | Claire DARCH | 942 | 6 | 6.0 |
| 7 | RS 400 | 1263 | Wimble SC | Dave STOCKTON | Sophie STOCKTON | 942 | 7 | 7.0 |
| 8 | RS 400 | 1479 | Eastbourne Sovereign | Mick WHITMORE | Sarah WHITMORE | 942 | 8 | 8.0 |
| 9 | RS 400 | 1377 | LOSSC | Neil BEVINGTON | Alan SKEENS | 942 | 9 | 9.0 |
| 10 | RS 400 | 1502 | Llangorse SC | Jon HEISSIG | Nicky GRIFFIN | 942 | 10 | 10.0 |
| 11 | RS 400 | 568 | Warsash Sailing Club | Rob JONES | Paul CAIGER-WATSON | 942 | 11 | 11.0 |
| 12 | RS 400 | 1493 | Locks SC | Geoff HOLDEN | Bernice HOLDEN | 942 | 12 | 12.0 |
| 13 | RS 400 | 1422 | Warsash Sailing Club | Bruce MILLS | Andrea JARMAN | 942 | 13 | 13.0 |
| 14 | RS 400 | 1489 | Warsash Sailing Club | David SWIFT | Rob BURGESS | 942 | 14 | 14.0 |
| 15 | RS 400 | 1435 | Warsash Sailing Club | Matt SHEAHAN | Ellie SHEAHAN | 942 | 15 | 15.0 |
| 16 | RS 400 | 1521 | Warsash Sailing Club | Andy POWELL | Robert BAILEY | 942 | 16 | 16.0 |
| 17 | RS 400 | 1384 | Emsworth Sailing Club | Trevor NEWLEY | Martin WILSON | 942 | 17 | 17.0 |
| 18 | RS 400 | 1199 | LOSSC | Stephen PORTER | Nick ALLEN | 942 | 18 | 18.0 |
| 19 | RS 400 | 1213 | LOSSC | Paul ATKINSON | Roger COLES | 942 | 19 | 19.0 |
| 20 | RS 400 | 788 | LOSSC | Alex CORY | Ellen CORY | 942 | 20 | 20.0 |
| 21 | RS 400 | 1231 | LOSSC | Tommy RUSSELL | Ethan WHITING | 942 | 21 | 21.0 |
R6 - 22/05/2022 at 12:35
| Rank | Class | SailNo | Club | HelmName | CrewName | PY | Place | Points |
| --- | --- | --- | --- | --- | --- | --- | --- | --- |
| 1 | RS 400 | 1309 | Netley SC | Ben MCGRANE | James STEWART | 942 | 1 | 1.0 |
| 2 | RS 400 | 1515 | Stokes Bay SC | Stephen COCKERILL | Sarah COCKERILL | 942 | 2 | 2.0 |
| 3 | RS 400 | 1502 | Llangorse SC | Jon HEISSIG | Nicky GRIFFIN | 942 | 3 | 3.0 |
| 4 | RS 400 | 1235 | Chichester SC | Sam PICKERING | Ben PICKERING | 942 | 4 | 4.0 |
| 5 | RS 400 | 1192 | Chichester SC | Jack MUNNELY | Sarah MITCHELL | 942 | 5 | 5.0 |
| 6 | RS 400 | 1377 | LOSSC | Neil BEVINGTON | Alan SKEENS | 942 | 6 | 6.0 |
| 7 | RS 400 | 568 | Warsash Sailing Club | Rob JONES | Paul CAIGER-WATSON | 942 | 7 | 7.0 |
| 8 | RS 400 | 1493 | Locks SC | Geoff HOLDEN | Bernice HOLDEN | 942 | 8 | 8.0 |
| 9 | RS 400 | 1479 | Eastbourne Sovereign | Mick WHITMORE | Sarah WHITMORE | 942 | 9 | 9.0 |
| 10 | RS 400 | 1444 | LOSSC | Nick MARTIN | Claire DARCH | 942 | 10 | 10.0 |
| 11 | RS 400 | 1489 | Warsash Sailing Club | David SWIFT | Rob BURGESS | 942 | 11 | 11.0 |
| 12 | RS 400 | 1263 | Wimble SC | Dave STOCKTON | Sophie STOCKTON | 942 | 12 | 12.0 |
| 13 | RS 400 | 1384 | Emsworth Sailing Club | Trevor NEWLEY | Martin WILSON | 942 | 13 | 13.0 |
| 14 | RS 400 | 1422 | Warsash Sailing Club | Bruce MILLS | Andrea JARMAN | 942 | 14 | 14.0 |
| 15 | RS 400 | 1521 | Warsash Sailing Club | Andy POWELL | Robert BAILEY | 942 | 15 | 15.0 |
| 16 | RS 400 | 1435 | Warsash Sailing Club | Matt SHEAHAN | Ellie SHEAHAN | 942 | 16 | 16.0 |
| 17 | RS 400 | 1199 | LOSSC | Stephen PORTER | Nick ALLEN | 942 | 17 | 17.0 |
| 18 | RS 400 | 1213 | LOSSC | Paul ATKINSON | Roger COLES | 942 | 18 | 18.0 |
| 19 | RS 400 | 1439 | Lymington Town Sailing Club | Kevin PODGER | Heather CHIPPERFIELD | 942 | 19 | 19.0 |
| 20 | RS 400 | 1231 | LOSSC | Tommy RUSSELL | Ethan WHITING | 942 | 20 | 20.0 |
| 21 | RS 400 | 788 | LOSSC | Alex CORY | Ellen CORY | 942 | 21 | 21.0 |
www.lossc.org.uk
[email protected]
www.lossc.org.uk
[email protected]
Sailwave Scoring Software 2.29.0
www.sailwave.com