Results / Open Tynemouth Sailing Club - 11/06/2022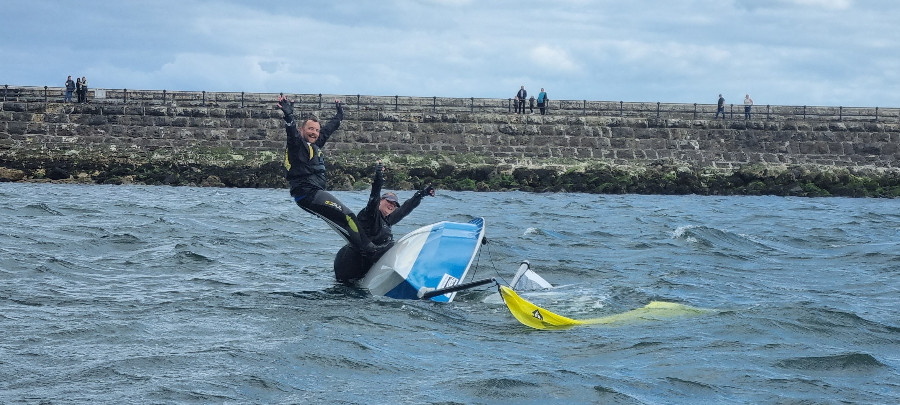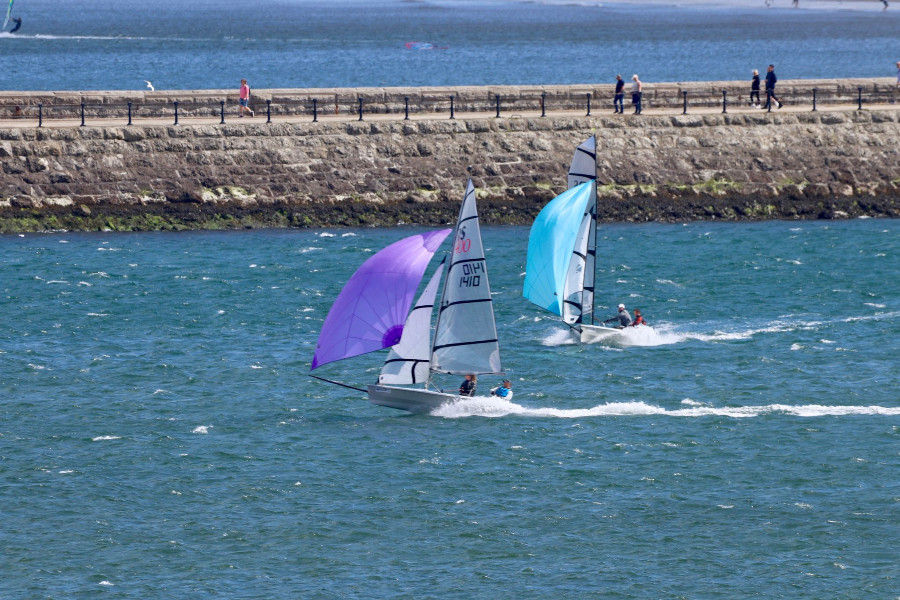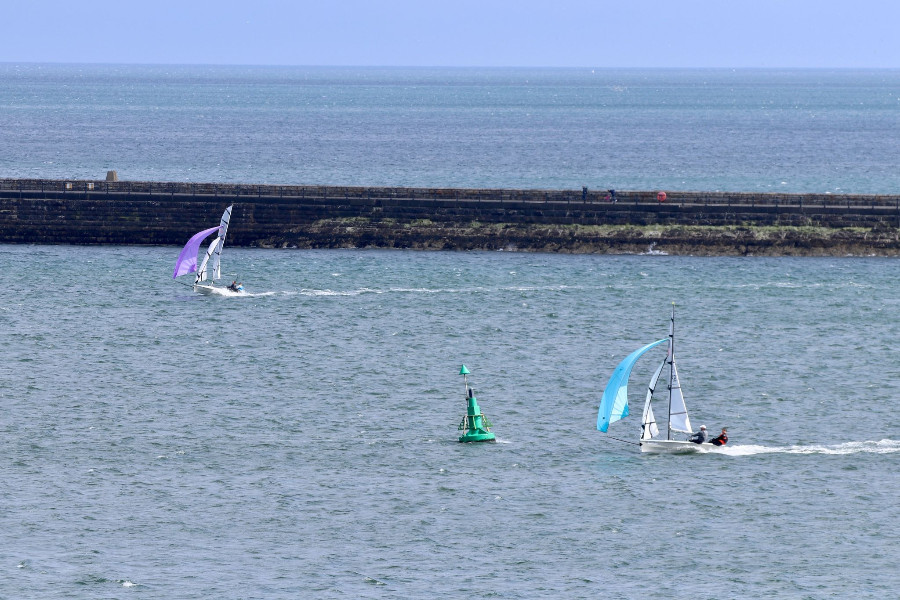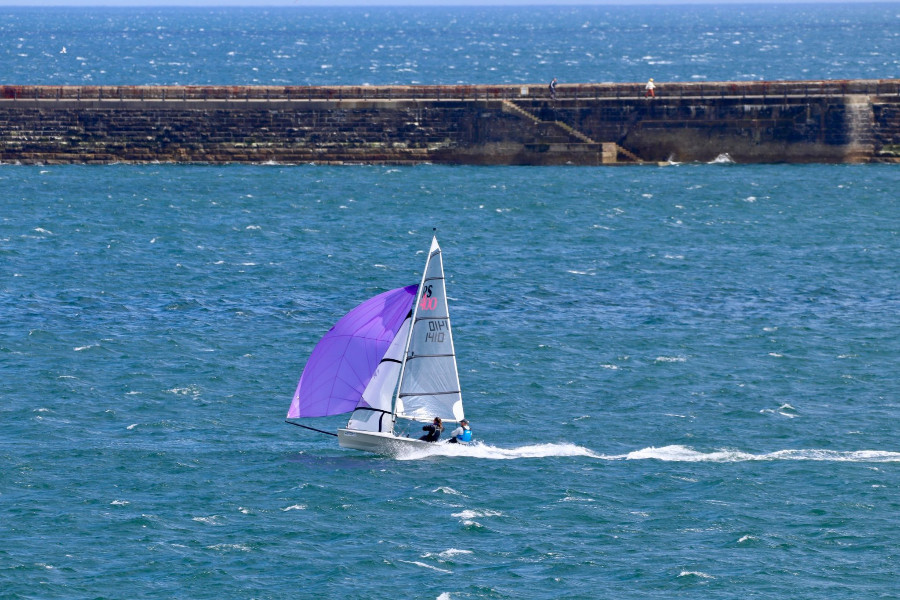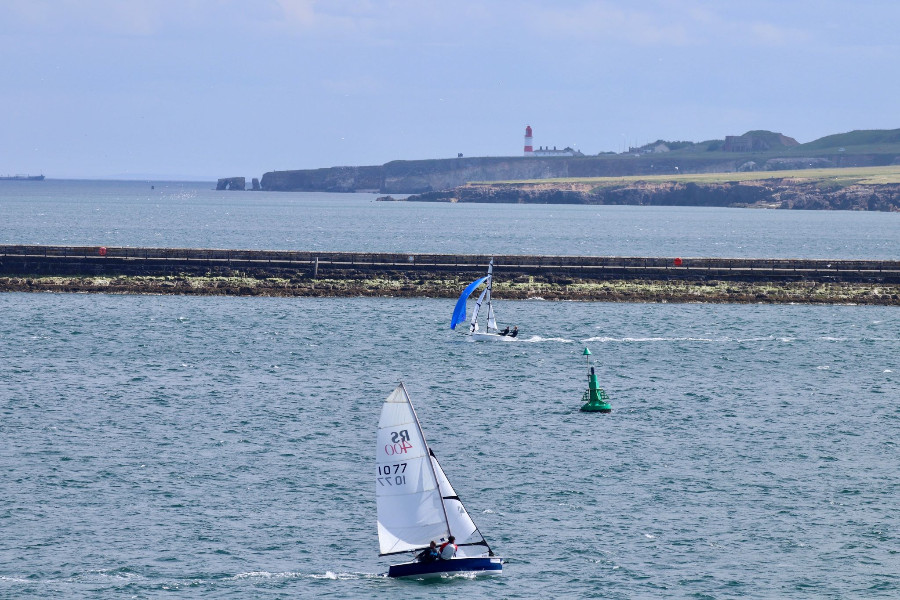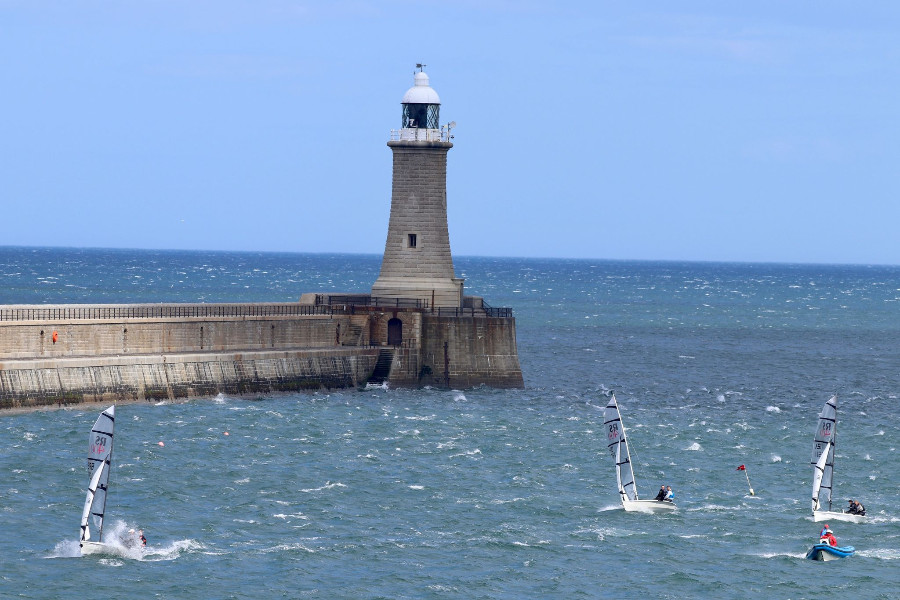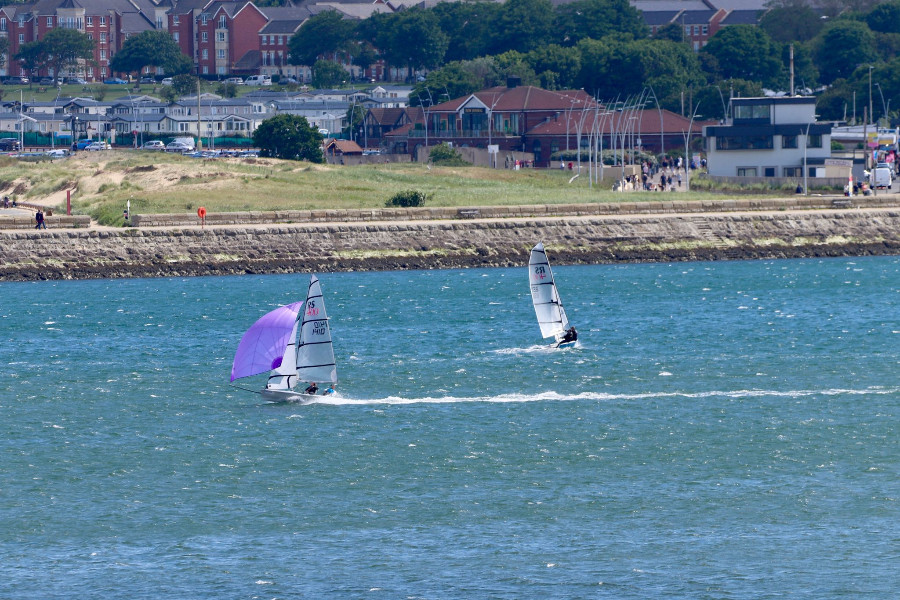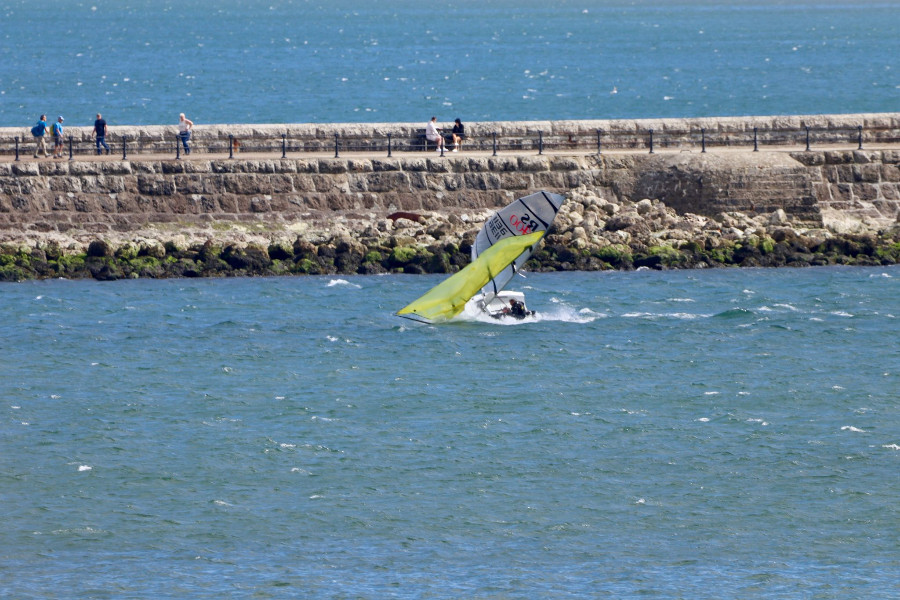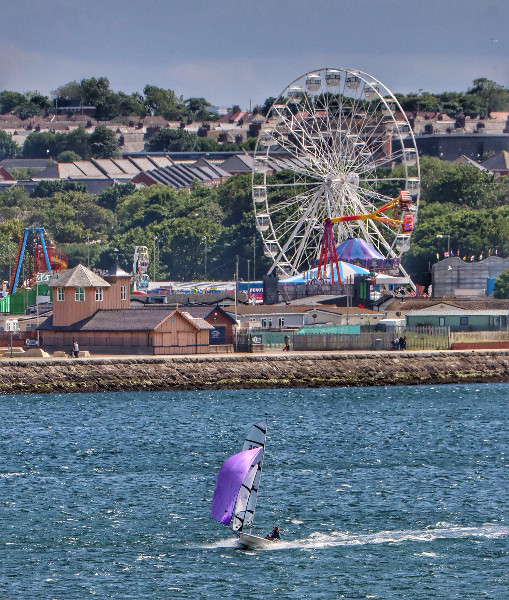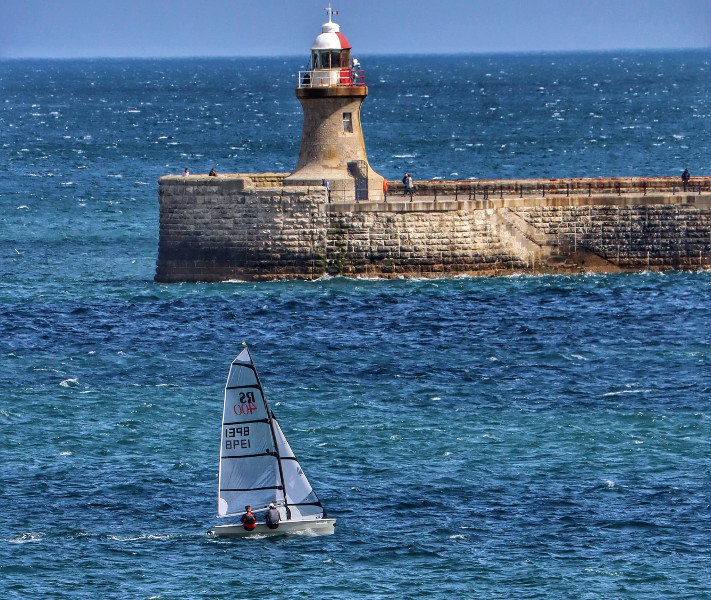 RS400 Trident UK Northern Tour Tynemouth Open. 11th-12th June
12 committed boats were greeted in Tynemouth by beaming sunshine and a strong Force 5 gusting 7 south westerly breeze. Therefore, the decision was made early on to race within the harbour due to the smaller sea state, a marginally lighter breeze and a rare ship free Saturday. Competitors were held ashore for a short postponement due to a particularly peaky half hour just prior to launching. As soon as the boats stopped bouncing on trolleys, we received word ashore from RO Howard Stevenson that it was time to give it a go!
One by one as each boat launched off the beach from under the lea of the sheltered Tynemouth Priory, they were lulled into a false sense of security until they turned the corner into the channel to be slammed by a particularly punchy 20 knots + of wind. With everyone particularly keen to test their kites out, many headed off upwind to enjoy the first of many sleigh rides pre-start, only to find out that they were well into start sequence. This left Hamish Gledhill / Ross Southwell and Jacob Ainsworth/ Kayleigh Roberts to battle it out for an Americas cup style start approaching the start from either end of the line as other competitors chased back to make the start. It was closely fought between Gledhill/Southwell and Ainsworth/Roberts up the first beat with Ainsworth/Roberts rounding first. From there it was a case of hang on and gybe when the opportunity arose! After 2 laps and upturned boats across the course the RO decided that was enough and shortened to finish with Ainsworth/Roberts taking the win followed by Gledhill/Southwell in second and Murray/Schofield in third.
Race 2 got underway with a somewhat depleted fleet of 5 boats after a handful of broken bodies, boats and souls returned to shore! Gledhill/Southwell got off to a good start leading for the first lap followed by Ainsworth/Roberts until Murray/Schofield utilised local knowledge to split off on the beat to avoid the oncoming tide bringing them back into the reckoning, after a further 2 laps of tight racing which included a typhoon fighter jet flyover downwind (or possibly mistaken for an airborn 400!) Murray/Schofield passed Gledhill/ Southwell to take the win followed by Ainsworth/Roberts.
Race 3 seemingly became a game of chicken with the shore as to who could get closest to avoid the now ripping tide in the opposite direction, seemingly ignorance was bliss with how closely Hamish came to the rocks at times! After 3 laps in a solid force 6 with some punishing gusts of 7 Murray and Schofield took a second win of the day followed by Gledhill/Southwell. It was safe to say that all sailors were now ready for some well-earned refreshments whilst capsize techniques was discussed at length!
Most sailors lived in hope that Sunday would be slightly more manageable wind wise, however clearly the wind gods did not receive the memo!
With a sense of déjà vu, sailors were again held ashore as gusts were peaking well over 30 knots. Once it had dropped a couple of notches, boats were released from the shore into a strong flooding tide. The flooding tide now meant that it was a race to head right out into the shipping channel to get into the tide and a monstrous chop at times due to the wind against tide. The race to the windward mark was won by Gledhill/ Southwell who showed good pace upwind and proceeded to hold this lead for 3 laps until the final gybe to the finish when Murray/Schofield snuck in front at the leeward mark causing a crash gybe for Gledhill/Southwell who went for a swim leaving Ainsworth/Roberts to sneak through at the finish in 2nd whilst Oyston/Hiermeier showed good pace throughout to come through in 3rd only to be judged OCS.
By Race 5 the wind had built again to what we were later told was a solid 25-28 knots up the first beat into an even stronger tide which made sailing through the chop feel like hitting a brick wall at times! Ainsworth/Roberts led around the windward mark and accelerated off downwind toward the fast-approaching harbour wall forcing a gybe which resulted in their first swim of the weekend letting Murray/Schofield and Gledhill/Southwell through. Murray/Schofield extended their lead to win whilst Gledhill/Southwell came in second, followed by Ainsworth/ Roberts meanwhile there was close racing between Smith/Kincaid, Ovington/Robodopolous and Riby/Bowdler for the following positions.
Going into the last race, Murray/Schofield had secured victory therefore returned to shore to rest legs and Gledhill/Southwell was also to tempted by the idea of an early shower! This left the hardcore few to battle it out for the final race of the series.
Ainsworth/Roberts led around the windward mark followed by Riby/Bowdler and Smith/Kincaid. Ainsworth/Roberts managed to break away from the pack to take the win. Smith/Kincaid had finally found their groove and came through in second followed by Riby/Bowdler in third. The win left Ainsworth/ Roberts in second overall on countback followed by Gledhill/Southwell in third.
All in all, an epic weekend of sailing which was said by many to be the windiest 6 race series that they have sailed in! Murray/ Schofield thanked the RO team, safety crew and galley team for putting on some excellent racing and hospitality.
Trident-UK vouchers were won by Ovington/ Robodopolous, Oyston/ Hiermeier and Whitehead/Milner.
The Trident UK Northern tour moves onto the famous Birkett trophy on Ullswater, 2nd & 3rd July followed by Yorkshire Dales on 23rd & 24th July.
Jacob Ainsworth
Photos: Andrew Nel, Bethany Mary and Pauline Murphy
Overall
| Rank | Class | SailNo | HelmName | CrewName | Club | Race 1 | Race 2 | Race 3 | Race 4 | Race 5 | Race 6 | Total | Nett |
| --- | --- | --- | --- | --- | --- | --- | --- | --- | --- | --- | --- | --- | --- |
| 1 | RS400 | 1398 | Philip Murray | Neil Schofield | Tynemouth SC | 3.0 | 1.0 | 1.0 | 1.0 | 1.0 | (15.0 DNC) | 22.0 | 7.0 |
| 2 | RS400 | 1410 | Jacob Ainsworth | Kayleigh Roberts | Tynemouth SC | 1.0 | (3.0) | 3.0 | 2.0 RDG | 3.0 | 1.0 | 13.0 | 10.0 |
| 3 | RS400 | 1511 | Hamish Gledhill | Ross Southwell | West Riding SC | 2.0 | 2.0 | 2.0 | 2.0 | 2.0 | (15.0 DNC) | 25.0 | 10.0 |
| 4 | RS400 | 1427 | Neal Piper | Mike Smith | Tynemouth SC | 4.0 | 4.0 | 4.0 | 4.0 | 7.0 | (15.0 DNC) | 38.0 | 23.0 |
| 5 | RS400 | 1136 | Justin Smith | Sarah Kincaid | Tynemouth SC | 5.0 | (15.0 DNF) | 15.0 DNC | 3.0 | 4.0 | 2.0 | 44.0 | 29.0 |
| 6 | RS400 | 1197 | Adam Ovington | Drew Robertson | Tynemouth SC | (15.0 DNC) | 15.0 DNC | 15.0 DNC | 5.0 | 5.0 | 4.0 | 59.0 | 44.0 |
| 7 | RS400 | 1048 | Jason Riby | Esther Bowdler | South Shields SC | (15.0 DNC) | 15.0 DNC | 15.0 DNC | 6.0 | 6.0 | 3.0 | 60.0 | 45.0 |
| 8 | RS400 | 1077 | Sven Richards | Graham Fraser | Tynemouth SC | (15.0 DNC) | 15.0 DNC | 15.0 DNC | 15.0 DNF | 15.0 DNC | 15.0 DNC | 90.0 | 75.0 |
| 8 | RS400 | 1513 | Neil Parkhurst | Ian Parkhurst | Beaver SC | (15.0 DNC) | 15.0 DNC | 15.0 DNC | 15.0 DNC | 15.0 DNC | 15.0 DNC | 90.0 | 75.0 |
| 8 | RS400 | 1316 | Ollie Groves | Esther Paekhurst | Beaver SC | (15.0 DNC) | 15.0 DNC | 15.0 DNC | 15.0 DNC | 15.0 DNC | 15.0 DNC | 90.0 | 75.0 |
| 8 | RS400 | 603 | Graham Fraser | Olly Cornforth | Tynemouth SC | (15.0 DNC) | 15.0 DNC | 15.0 DNC | 15.0 DNC | 15.0 DNC | 15.0 DNC | 90.0 | 75.0 |
| 8 | RS400 | 810 | Richard Fahey | Jonny Holliday | Tynemouth SC | (15.0 DNC) | 15.0 DNC | 15.0 DNC | 15.0 DNF | 15.0 DNC | 15.0 DNC | 90.0 | 75.0 |
| 8 | RS400 | 1123 | Carl Whitehead | Carol Milner | Filey SC | (15.0 DNC) | 15.0 DNC | 15.0 DNC | 15.0 DNC | 15.0 DNC | 15.0 DNC | 90.0 | 75.0 |
| 8 | RS400 | 572 | Alex Oyston | Uschi Hiermeier | Tynemouth SC | (15.0 DNC) | 15.0 DNC | 15.0 DNC | 15.0 OCS | 15.0 DNF | 15.0 DNC | 90.0 | 75.0 |