Results / RS Games: RS Vareo Noble Marine Nationals and RS400 Regatta Weymouth & Portland National Sailing Academy - 29/07/2022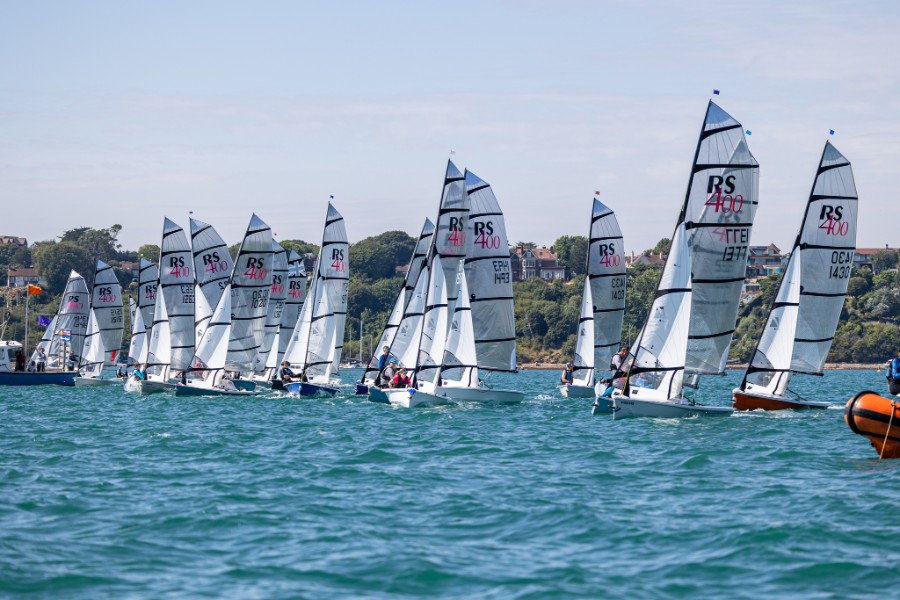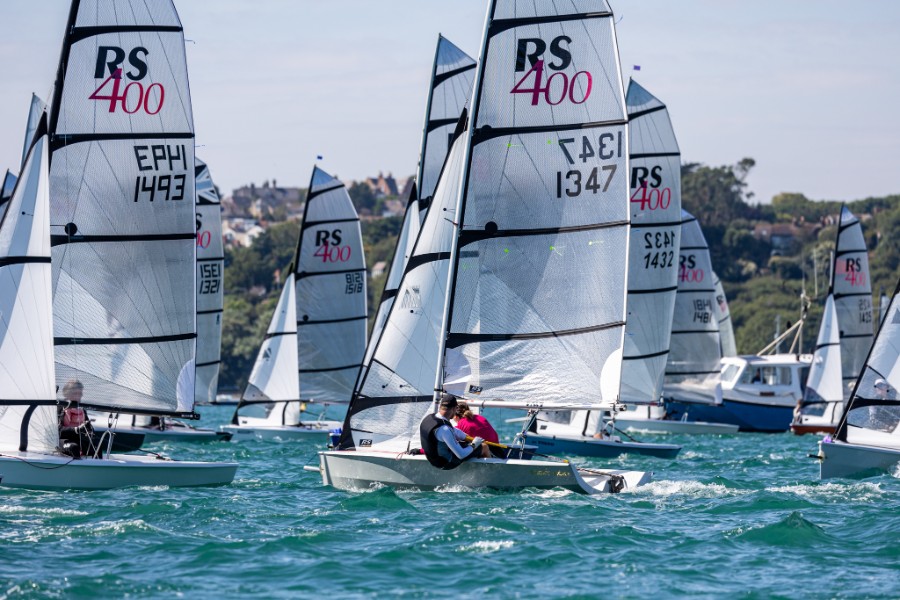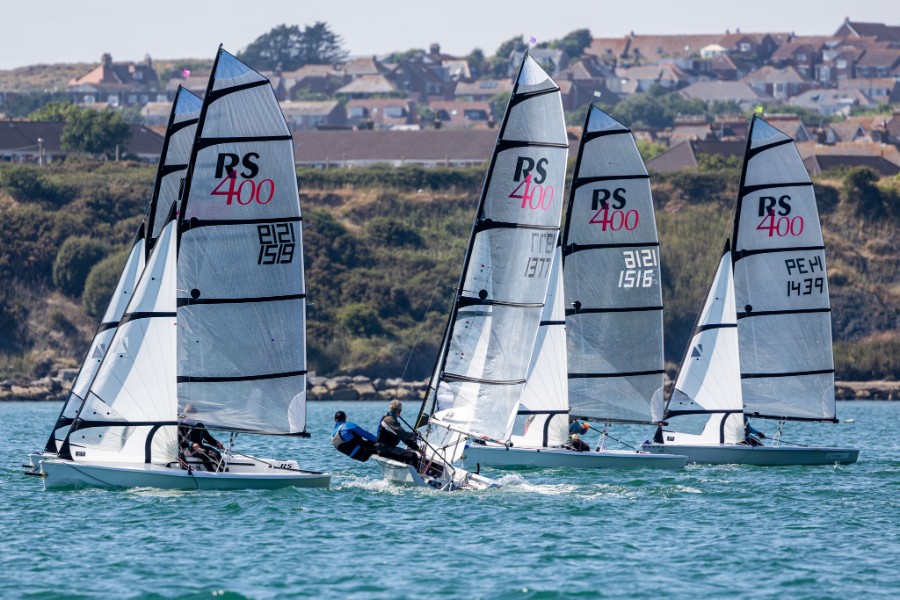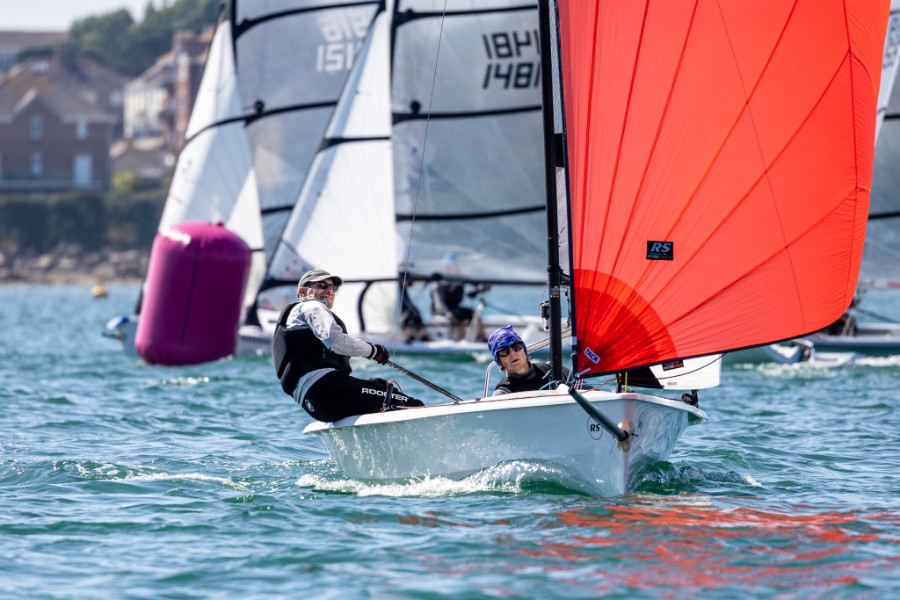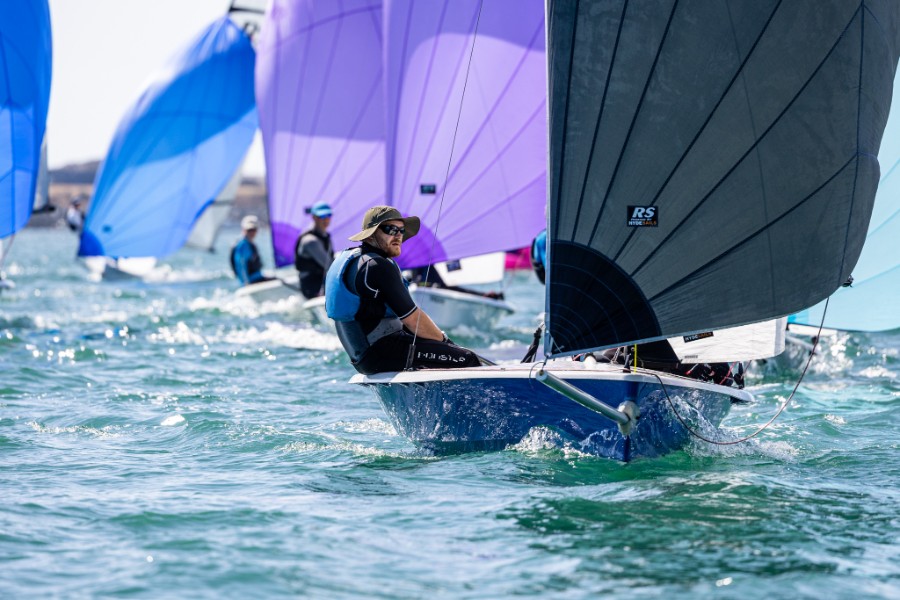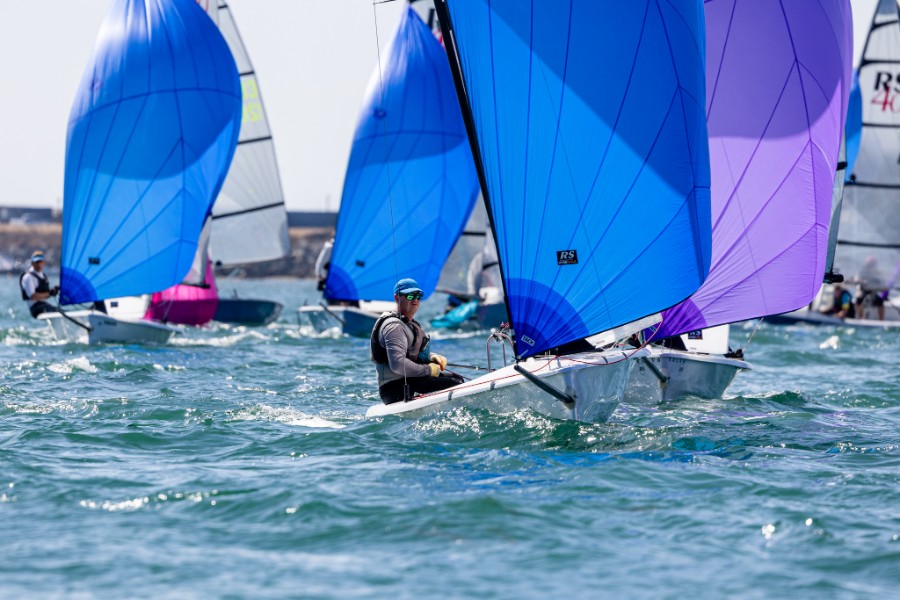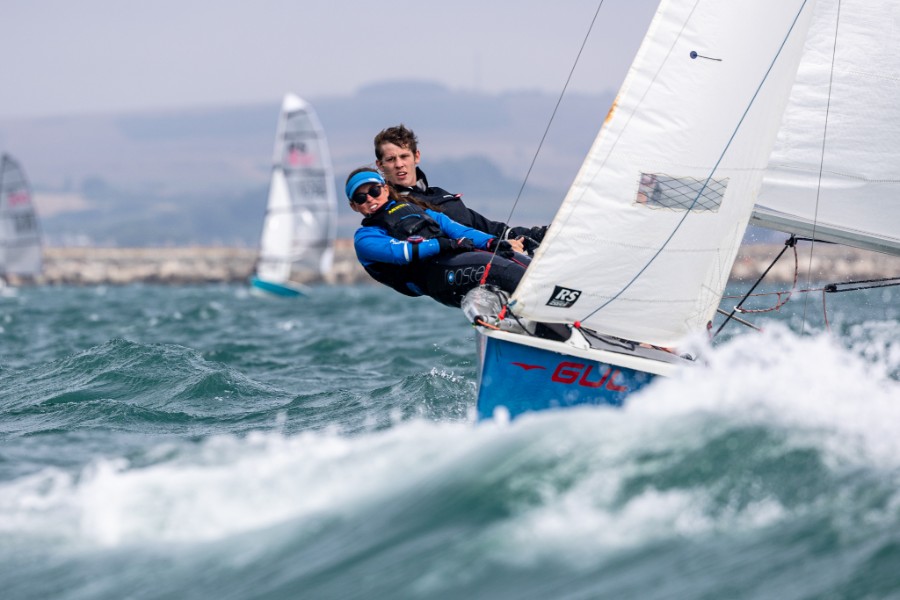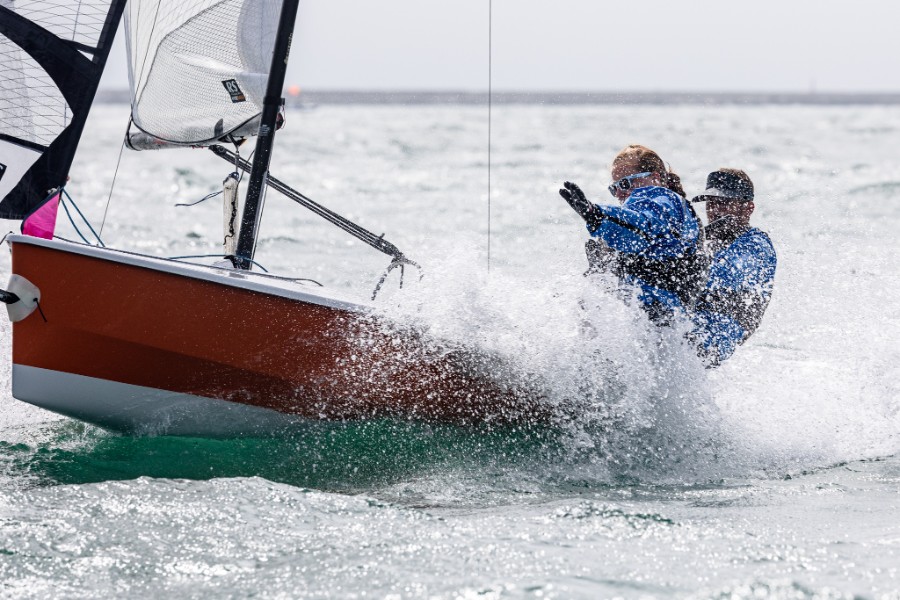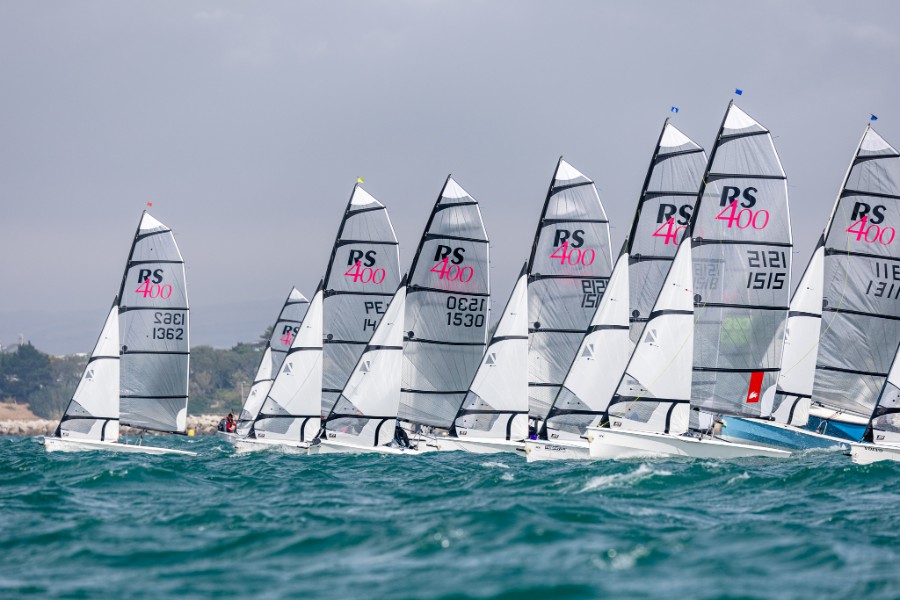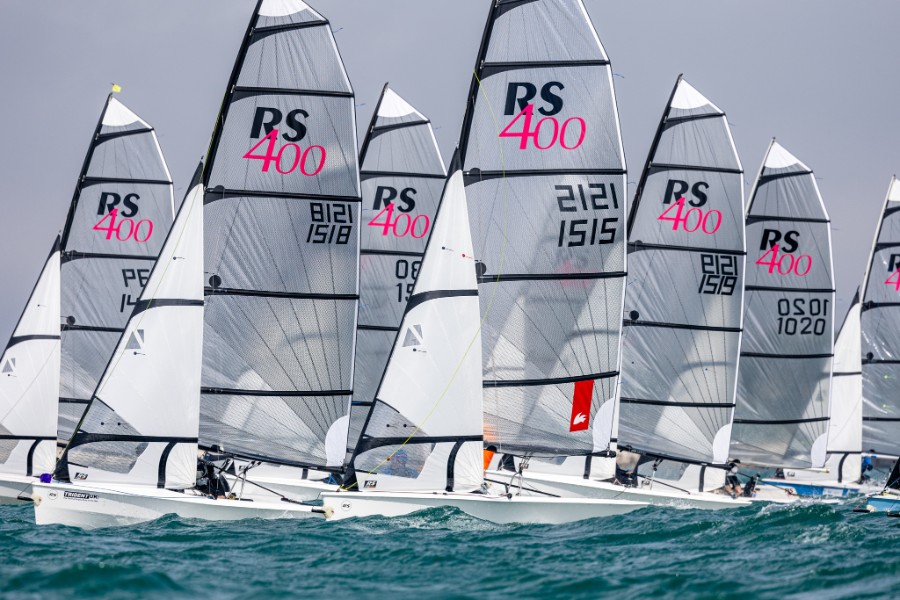 Congratulations to Ollie Groves and Sam Waller, RS Games RS400 Celebration Regatta Winners!
The 400s joined the RS Games for 3 days of racing for a Celebration Regatta that certainly reminded us all of everything great about the enduring RS400 fleet. Weymouth delivered perfect weather, loads of sunshine with a mix of conditions light, medium and a full on foam up super Sunday to give something to everyone. This coupled with relaxed and friendly camaraderie amongst the fleet both on and off the water made for a memorable event.
A short delay before the forecast breeze set in on the Friday afternoon got us away in a light wind. Good starts and eyes out the boat was order of the day. Steve and Sarah Cockerill, got off to a fast start and did the best job of reading a 90 degree wind shift halfway through the first downwind leg to deliver a convincing win, which they followed up with a second bullet in race 2 which saw the breeze build from the new direction. Howard Farbrother and Louise Hosken were looking very quick with a second and third and Kevin Podger with Heather Chipperfield sailed consistently to round out the top 3 at the end of day 1.
Saturday dawned with more wind forecast, racing was started on schedule by the super on the water race team who didn't put a foot wrong all regatta to deliver superb and fair racing for the fleet. Steve and Sarah's ominous start continued with another convincing win in race 3, followed by Howard and Louise with Ollie Groves and Sam Waller starting to get their new boat going in third place. Were the Cockerill's going to storm away or could any of the fleet step up and challenge the momentum they were building. The breeze started to build a little more for races 4 and 5 and with that Ollie and Sam found their form and delivered two bullets that would propel them up the leaderboard. Howard and Louise continued to sail consistently to keep in the fight and Kevin and Heather were always there or thereabouts to keep in the game.
The fleet headed out on Sunday morning to be greeted by a solid mid twenties breeze and a rapid ride down to the start line towards the West end of Portland harbour. Sam and Ollie set out their intent from the off and reveled in the conditions with a faultless day that earned them three wins from three. Heavy weights Ben Williamson and Jon Willars were keeping the pressure on Ollie and Sam with two seconds and a third and lightweights Steve and Sarah sailed skillfully to keep around the front of the fleet throughout the day. Neil Bevington and Alan Skeens and Paul Smalley and Anna Kerslake also found the conditions to their liking and were consistently knocking around the front of the fleet all day to move up the leaderboard.
So after 8 fabulous races, Ollie and Sam took the regatta by 1 point from Steve and Sarah, with Ben and Jon finishing third overall.
A massive thank you to everyone at WPNSA, all the on the water race teams, RS Sailing, the RS Class Association and sponsors Rooster for delivering a superb Celebration Regatta at the RS Games.
Bring on 2026 and we can do it all again!
Ben Williamson
Day 2 photos to follow soon
Day 1 video here
Full RS Games gallery by Digital Sailing here
Get 50% off with the code RSGAMES until 20 Aug!
Follow the RS Games RS Sailing social media for all the action here
Fernhurst Books Endeavour Prize
The RS Games are brought to you by RS Sailing - follow their social media for all the action!
RS400 Class
Rank

Tally

Class

Country

Sail no

Helm Name

Crew Name

Helm Club

R1 - PH

R2 - PH

R3 - PH

R4 - PH

R5 - PH

R6 - PH

R7 - PH

R8 - PH

Total

Nett

1
43 / 44
RS400



GBR

1362
Ollie Groves
Sam Waller
Beaver SC
(5.0)
(3.0)
3.0
1.0
1.0
1.0
1.0
1.0
16.0
8.0
2
51 / 52
RS400



GBR

1515
Steve Cockerill
Sarah Cockerill
Stokes Bay SC
1.0
1.0
1.0
2.0
2.0
(4.0)
(4.0)
2.0
17.0
9.0
3
63 / 64
RS400



GBR

1518
Ben Williamson
Jon Willars
Ripon SC
(6.0)
4.0
(6.0)
6.0
3.0
2.0
2.0
3.0
32.0
20.0
4
23 / 24
RS400



GBR

1481
Howard Farbrother
Louise Hosken
Lymington Town SC
3.0
2.0
2.0
4.0
5.0
(7.0)
(7.0)
5.0
35.0
21.0
5
53 / 54
RS400



GBR

1377
Neil Bevington
Alan Skeens
Lee-on-Solent SC
(8.0)
7.0
(11.0)
5.0
4.0
5.0
3.0
4.0
47.0
28.0
6
61 / 62
RS400



GBR

1439
Kevin Podger
Heather Chipperfield
Lymington Town SC
2.0
5.0
5.0
3.0
7.0
8.0
(DNC[30.0])
(DNC[30.0])
90.0
30.0
7
65 / 66
RS400



GBR

1020
Paul Smalley
Anna Kerslake
Chew Valley Lake SC
(17.0)
(UFD[29.0])
8.0
9.0
6.0
3.0
5.0
6.0
83.0
37.0
8
29 / 30
RS400



GBR

979
Charlie Sansom
David Nunn
Bowmoor SC
10.0
9.0
7.0
(14.0)
9.0
(13.0)
10.0
7.0
79.0
52.0
9
31 / 32
RS400



GBR

1263
David Stockton
Sophie Stockton
Wimbleball
11.0
(UFD[29.0])
4.0
7.0
12.0
15.0
9.0
(RET[22.0])
109.0
58.0
10
13 / 14
RS400



GBR

1469
Martin Powell
Arun Powell
Parkstone YC
(20.0)
13.0
(14.0)
8.0
8.0
9.0
14.0
9.0
95.0
61.0
11
19 / 20
RS400



GBR

1363
Ross Ryan
Oliver Ryan-Moore
Nottinghamshire County SC
13.0
12.0
9.0
10.0
(16.0)
11.0
13.0
(14.0)
98.0
68.0
12
21 / 22
RS400



GBR

1493
Geoffrey Holden
Bernice Holden
Locks SC
9.0
(16.0)
(18.0)
12.0
10.0
12.0
12.0
13.0
102.0
68.0
13
41 / 42
RS400



GBR

1503
Peter Snowdon
Louise Carr
Shoreham SC
4.0
6.0
13.0
17.0
11.0
DNS[23.0]
(DNC[30.0])
(DNC[30.0])
134.0
74.0
14
33 / 34
RS400



GBR

1311
Michael Gorzkowski
Anna Dobson
Queen Mary SC
14.0
18.0
15.0
(19.0)
(20.0)
10.0
8.0
11.0
115.0
76.0
15
45 / 46
RS400



GBR

1425
Mike Green
Sophie Green
Eastbourne
(24.0)
19.0
(DNF[30.0])
18.0
15.0
6.0
11.0
12.0
135.0
81.0
16
59 / 60
RS400



GBR

1479
Mick Whitmore
Sarah Whitmore
Eastbourne Sovereign SC
7.0
8.0
12.0
11.0
13.0
(DNC[30.0])
(DNC[30.0])
DNC[30.0]
141.0
81.0
17
67 / 68
RS400



GBR

1530
Victor Matthews
Guy Rivington
Hayling Island SC
(DNC[30.0])
(DNC[30.0])
16.0
20.0
22.0
14.0
6.0
8.0
146.0
86.0
18
27 / 28
RS400



GBR

1432
James Alsop
Simon Edwards
Queen Mary SC
16.0
15.0
(22.0)
16.0
17.0
(20.0)
18.0
10.0
134.0
92.0
19
35 / 36
RS400



GBR

1516
John Hobson
Rebecca Ogden
Notts County S C
15.0
11.0
19.0
(23.0)
(21.0)
16.0
16.0
15.0
136.0
92.0
20
47 / 48
RS400



GBR

971
Simon Kitchen
Abbi Hooper
Grafham Water SC
12.0
10.0
20.0
(21.0)
18.0
18.0
15.0
(RET[22.0])
136.0
93.0
21
15 / 16
RS400



GBR

1519
Steven Broomfield
Oliver Pettifer
Lymington Town SC
(21.0)
17.0
10.0
15.0
14.0
17.0
20.0
(RET[22.0])
136.0
93.0
22
17 / 18
RS400



GBR

1430
Simon Mathews
Jack Fussey
Lancing SC
18.0
20.0
17.0
13.0
(26.0)
19.0
17.0
(RET[22.0])
152.0
104.0
23
25 / 26
RS400



GBR

1283
Richard Wharram
Hannah Wharram
Welton SC
19.0
(22.0)
(23.0)
22.0
19.0
21.0
19.0
RET[22.0]
167.0
122.0
24
39 / 40
RS400



GBR

1346
Daniel Snook
Laura Swallow
Hardway SC
sle of Sheppey SC
22.0
14.0
26.0
25.0
(27.0)
(DNC[30.0])
UFD[22.0]
RET[22.0]
188.0
131.0
25
37 / 38
RS400



GBR

1433
Richard Hall
Alicia Andrews
Parkstone YC
23.0
21.0
21.0
24.0
23.0
(DNC[30.0])
(DNC[30.0])
DNC[30.0]
202.0
142.0
26
57 / 58
RS400



GBR

1321
Mark Cockrill
Lizzi Blackwell
Netley SC
26.0
24.0
25.0
26.0
24.0
(DNC[30.0])
(DNC[30.0])
DNC[30.0]
215.0
155.0
27
11 / 12
RS400



GBR

1347
Jason Rickards
Liz Penney
Chew Valley Lake SC
27.0
23.0
24.0
27.0
25.0
(DNC[30.0])
(DNC[30.0])
DNC[30.0]
216.0
156.0
28
55 / 56
RS400



GBR

859
Robert Trevis
Ian Sykes
Lancing
25.0
25.0
28.0
28.0
29.0
(DNC[30.0])
(DNC[30.0])
DNC[30.0]
225.0
165.0
29
49 / 50
RS400



GBR

1382
Andrew Hunt
Matthew Hunt
ESSC
28.0
26.0
27.0
29.0
28.0
(DNC[30.0])
(DNC[30.0])
DNC[30.0]
228.0
168.0
Scoring codes used
| Code | Description |
| --- | --- |
| DNC | Did not come to the starting area |
| DNF | Started but did not finish |
| DNS | Came to the start area but did not start |
| RET | Retired |
| UFD | U flag disqualification under rule 30.3 |
Sailwave Scoring Software 2.29.6
www.sailwave.com