RS400 Rooster National Tour 2019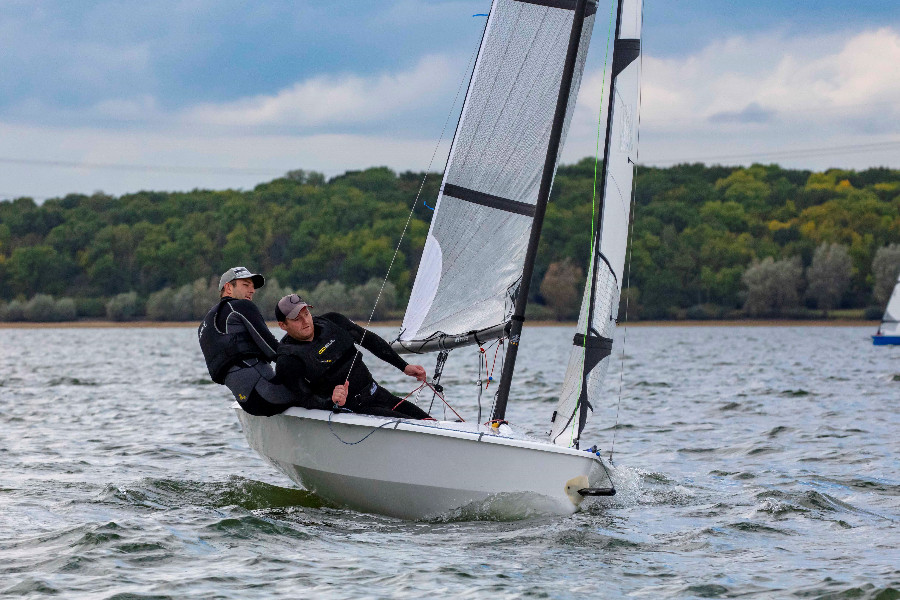 Congratulatiuons to our RS400 Rooster National Tour 2019 winners Mike Sims and Jack Holden / Keith Bedborough! What a fantastic season they had.
As the sun sets on the 2019 tour, the Rooster National Tour dates for 2020 have just been published (some regioanl events still tbc) - time to get them in your diary...
Many thanks to Paul Oakey for the results and of course to Rooster for the support, individual event and final tour prizes.
Photo: Tim Olin
RS400 Rooster Tour 2019
Tour Including Summer Champs
RS400 Rooster Tour 2019 - V03
Overall
| Rank | SailNo | Club | HelmName | CrewName | Winters | Sprints | Northerns | Scottish | Summer | Inlands | End of seasons | Total | Nett |
| --- | --- | --- | --- | --- | --- | --- | --- | --- | --- | --- | --- | --- | --- |
| 1st | 1488 | Carsington SC | Mike Sims | Jack Holden/Keith Bedborough/Mark Lunn | (4.0) | (1.0) | (1.0) | 1.0 | 1.0 | 1.0 | 1.0 | 10.0 | 4.0 |
| 2nd | 1377 | Oxford SC | Sean Cleary | Annalise Nixon | 5.0 | 5.0 | 3.0 | (100.0 DNC) | (9.0) | 4.0 | (7.0) | 133.0 | 17.0 |
| 3rd | 1202 | Bartley SC | Sam Knight | John Knight/Chris Bownes | (10.0) | 3.0 | 6.0 | (100.0 DNC) | 4.0 | (100.0 DNC) | 5.0 | 228.0 | 18.0 |
| 4th | 874 | Lochabar YC | John Gay | Amanda Henderson | 11.0 | (100.0 DNC) | 5.0 | 3.0 | (100.0 DNC) | 7.0 | (100.0 DNC) | 326.0 | 26.0 |
| 5th | 1363 | Notts County SC | Ross Ryan | Oliver Ryan-Moore | 15.0 | 6.0 | (100.0 DNC) | (100.0 DNC) | (100.0 DNC) | 27.0 | 15.0 | 363.0 | 63.0 |
| 6th | 1435 | Queen Mary SC | Matt Sheahan | Ellie Sheahan | (100.0 DNC) | 11.0 | (100.0 DNC) | (100.0 DNC) | 20.0 | 19.0 | 19.0 | 369.0 | 69.0 |
| 7th | 527 | Warsash SC | Andy Powell | Ian Verso/Jon Costin | (100.0 DNC) | 10.0 | (100.0 DNC) | (100.0 DNC) | 22.0 | 28.0 | 20.0 | 380.0 | 80.0 |
| 8th | 1489 | Stokes Bay SC | Stephen Cockerill | Sarah Cockerill | (100.0 DNC) | (100.0 DNC) | (100.0 DNC) | 100.0 DNC | 2.0 | 2.0 | 3.0 | 407.0 | 107.0 |
| 9th | 1454 | Llangorse | Jon Heissig | Nicky Griffin | 7.0 | 2.0 | (100.0 DNC) | (100.0 DNC) | 3.0 | (100.0 DNC) | 100.0 DNC | 412.0 | 112.0 |
| 10th | 1407 | West Riding SC | Hamish Gledhill | Simon Dowse/Andy Dawson | 1.0 | (100.0 DNC) | 9.0 | (100.0 DNC) | (100.0 DNC) | 5.0 | 100.0 DNC | 415.0 | 115.0 |
| 11th | 8 | Welton SC | Wayne Flecher | Mertin Cooper | (100.0 DNC) | (100.0 DNC) | 10.0 | (100.0 DNC) | 100.0 DNC | 10.0 | 4.0 | 424.0 | 124.0 |
| 12th | 1254/1355 | Tynemouth SC | Philip Murray | Neil Schofield | (100.0 DNC) | (100.0 DNC) | 15.0 | 2.0 | (100.0 DNC) | 100.0 DNC | 8.0 | 425.0 | 125.0 |
| 13th | 1465 | Welton SC | Ben Williamson | Charlie Ticehurst | 8.0 | (100.0 DNC) | 8.0 | (100.0 DNC) | (100.0 DNC) | 9.0 | 100.0 DNC | 425.0 | 125.0 |
| 14th | 1437 | Scaling Dam SC | Barrie Thornton | Nick Hunt | 9.0 | (100.0 DNC) | 4.0 | (100.0 DNC) | (100.0 DNC) | 33.0 | 100.0 DNC | 446.0 | 146.0 |
| 15th | 1447 | Welton SC | Jon Willars | Richard Brameld | (100.0 DNC) | (100.0 DNC) | 12.0 | (100.0 DNC) | 100.0 DNC | 21.0 | 13.0 | 446.0 | 146.0 |
| 16th | 971 | Grantham Water SC | Simon Kitchen | Abbi Hooper | (100.0 DNC) | (100.0 DNC) | (100.0 DNC) | 100.0 DNC | 14.0 | 23.0 | 11.0 | 448.0 | 148.0 |
| 17th | 1460 | LLSC | Dave Exley | Nigel Hall/Mark Lunn | 6.0 | (100.0 DNC) | 2.0 | (100.0 DNC) | (100.0 DNC) | 100.0 DNC | 100.0 DNC | 508.0 | 208.0 |
| 18th | 1396 | LLSC | Richard Catchpole | Gary Coop | 3.0 | (100.0 DNC) | (100.0 DNC) | (100.0 DNC) | 100.0 DNC | 6.0 | 100.0 DNC | 509.0 | 209.0 |
| 19th | 1441 | Portchester SC | Paul Oakey | Mark Oakey/Dan Martin | (100.0 DNC) | 4.0 | (100.0 DNC) | (100.0 DNC) | 6.0 | 100.0 DNC | 100.0 DNC | 510.0 | 210.0 |
| 20th | 1290 | Dalgety Bay SC | Peter Taylor | Ruary Williamson | (100.0 DNC) | (100.0 DNC) | 13.0 | 5.0 | (100.0 DNC) | 100.0 DNC | 100.0 DNC | 518.0 | 218.0 |
| 21st | 1124 | ASYC | Robert Yeamans | Nadia Yeamans | (100.0 DNC) | (100.0 DNC) | 17.0 | 6.0 | (100.0 DNC) | 100.0 DNC | 100.0 DNC | 523.0 | 223.0 |
| 22nd | 1450 | Bartley SC | Nick Eaves | Greg Pace | (100.0 DNC) | 7.0 | (100.0 DNC) | (100.0 DNC) | 100.0 DNC | 100.0 DNC | 16.0 | 523.0 | 223.0 |
| 23rd | 1484 | Bassenthwaite SC | Mark Somerville | Joe Roberts | 16.0 | (100.0 DNC) | 7.0 | (100.0 DNC) | (100.0 DNC) | 100.0 DNC | 100.0 DNC | 523.0 | 223.0 |
| 24th | 669 | South Shileds SC | Jacob Ainsworth | Kayliegh Roberts/Andrew Grieve | (100.0 DNC) | (100.0 DNC) | 16.0 | 9.0 | (100.0 DNC) | 100.0 DNC | 100.0 DNC | 525.0 | 225.0 |
| 25th | 1503 | Shoreham SC | Peter Snowden | Louise Carr | (100.0 DNC) | (100.0 DNC) | (100.0 DNC) | 100.0 DNC | 100.0 DNC | 18.0 | 9.0 | 527.0 | 227.0 |
| 26th | 770 | Grafham Water SC | Thomas Broatch | Ancel Davison | (100.0 DNC) | (100.0 DNC) | (100.0 DNC) | 100.0 DNC | 100.0 DNC | 14.0 | 14.0 | 528.0 | 228.0 |
| 27th | 1345 | Notts County SC | John Hobson | Rebecca Ogden | (100.0 DNC) | (100.0 DNC) | (100.0 DNC) | 100.0 DNC | 100.0 DNC | 17.0 | 12.0 | 529.0 | 229.0 |
| 28th | 1129 | Wormit Boating Club | David Webley | Fraser Mulford | (100.0 DNC) | (100.0 DNC) | 22.0 | 11.0 | (100.0 DNC) | 100.0 DNC | 100.0 DNC | 533.0 | 233.0 |
| 29th | 1395 | Shoreham SC | Peter Snowdon | Louise Carrr | (100.0 DNC) | (100.0 DNC) | 18.0 | (100.0 DNC) | 16.0 | 100.0 DNC | 100.0 DNC | 534.0 | 234.0 |
| 30th | 1445 | Dalgety Bay SC | Phil Britton | Mike Atkinson | (100.0 DNC) | (100.0 DNC) | 26.0 | 16.0 | (100.0 DNC) | 100.0 DNC | 100.0 DNC | 542.0 | 242.0 |
| 31st | 1342 | Queen Mary SC | Max Tosetti | Naomi Moran | (100.0 DNC) | (100.0 DNC) | (100.0 DNC) | 100.0 DNC | 18.0 | 29.0 | 100.0 DNC | 547.0 | 247.0 |
| 32nd | 1500 | Frencham/Burghfield | Nick Craig | Oli Wells | (100.0 DNC) | (100.0 DNC) | (100.0 DNC) | 100.0 DNC | 100.0 DNC | 100.0 DNC | 2.0 | 602.0 | 302.0 |
| 33rd | 1283 | Delph | Chris Pickles | Matt Sharman | 2.0 | (100.0 DNC) | (100.0 DNC) | (100.0 DNC) | 100.0 DNC | 100.0 DNC | 100.0 DNC | 602.0 | 302.0 |
| 34th | 1309 | RNSA/Stokes Bay | Russ Clark | Penny Clark | (100.0 DNC) | (100.0 DNC) | (100.0 DNC) | 100.0 DNC | 100.0 DNC | 3.0 | 100.0 DNC | 603.0 | 303.0 |
| 35th | 1370 | Dalgety Bay SC | Neil McLellan | Sarah Meldrum/Emily Robertson | (100.0 DNC) | (100.0 DNC) | (100.0 DNC) | 4.0 | 100.0 DNC | 100.0 DNC | 100.0 DNC | 604.0 | 304.0 |
| 36th | 1400 | Burghfield SC | Steve Middleton | Chris Rowland | (100.0 DNC) | (100.0 DNC) | (100.0 DNC) | 100.0 DNC | 5.0 | 100.0 DNC | 100.0 DNC | 605.0 | 305.0 |
| 37th | 1418 | QMSC | Howard Fairbrother | Louise Hosken | (100.0 DNC) | (100.0 DNC) | (100.0 DNC) | 100.0 DNC | 100.0 DNC | 100.0 DNC | 6.0 | 606.0 | 306.0 |
| 38th | 1355 | Warsash SC | Robin Kirby | Alex Horlock | (100.0 DNC) | (100.0 DNC) | (100.0 DNC) | 100.0 DNC | 7.0 | 100.0 DNC | 100.0 DNC | 607.0 | 307.0 |
| 39th | 891 | Helensburgh | Calum Rosie | Angus Lawson | (100.0 DNC) | (100.0 DNC) | (100.0 DNC) | 7.0 | 100.0 DNC | 100.0 DNC | 100.0 DNC | 607.0 | 307.0 |
| 40th | 1189 | Downs | Steve Restall | Chris Stubbs | (100.0 DNC) | (100.0 DNC) | (100.0 DNC) | 100.0 DNC | 100.0 DNC | 8.0 | 100.0 DNC | 608.0 | 308.0 |
| 41st | 1429 | Lee on Solent SC | Neil Bevington | Alan Skeens | (100.0 DNC) | (100.0 DNC) | (100.0 DNC) | 100.0 DNC | 8.0 | 100.0 DNC | 100.0 DNC | 608.0 | 308.0 |
| 42nd | 1073 | Yorkshire Dales SC | Jamie Rogers | Neil McLaren | (100.0 DNC) | (100.0 DNC) | (100.0 DNC) | 8.0 | 100.0 DNC | 100.0 DNC | 100.0 DNC | 608.0 | 308.0 |
| 43rd | 1383 | Carsington SC | Joe Scurrah | Phil Robinson | (100.0 DNC) | 8.0 | (100.0 DNC) | (100.0 DNC) | 100.0 DNC | 100.0 DNC | 100.0 DNC | 608.0 | 308.0 |
| 44th | 1184 | Army Sailing Association | Stuart Williams | Ross Southwell | (100.0 DNC) | 9.0 | (100.0 DNC) | (100.0 DNC) | 100.0 DNC | 100.0 DNC | 100.0 DNC | 609.0 | 309.0 |
| 45th | 1359 | Starcross YC | Richard Aswell | Trisha Clancy | (100.0 DNC) | (100.0 DNC) | (100.0 DNC) | 100.0 DNC | 100.0 DNC | 100.0 DNC | 10.0 | 610.0 | 310.0 |
| 46th | 1439 | Lymington Town SC | Kevin Podger | Heather Chipperfield | (100.0 DNC) | (100.0 DNC) | (100.0 DNC) | 100.0 DNC | 10.0 | 100.0 DNC | 100.0 DNC | 610.0 | 310.0 |
| 47th | 1455 | Dalgety Bay SC | John MacKenzie | Andy Box | (100.0 DNC) | (100.0 DNC) | (100.0 DNC) | 10.0 | 100.0 DNC | 100.0 DNC | 100.0 DNC | 610.0 | 310.0 |
| 48th | 1418 | Itchenor/QMSC | Mark Oakey | Louise Hosken | (100.0 DNC) | (100.0 DNC) | (100.0 DNC) | 100.0 DNC | 100.0 DNC | 11.0 | 100.0 DNC | 611.0 | 311.0 |
| 49th | 1480 | Parkstone YC | Andy Hadfield | Stirling Taylor | (100.0 DNC) | (100.0 DNC) | (100.0 DNC) | 100.0 DNC | 11.0 | 100.0 DNC | 100.0 DNC | 611.0 | 311.0 |
| 50th | 847 | South Shileds SC | Ian Martin | Liam Alcock | (100.0 DNC) | (100.0 DNC) | 11.0 | (100.0 DNC) | 100.0 DNC | 100.0 DNC | 100.0 DNC | 611.0 | 311.0 |
| 51st | 1399 | QMSC/Broadwater | Richard Gray | Jon Dyas | (100.0 DNC) | (100.0 DNC) | (100.0 DNC) | 100.0 DNC | 100.0 DNC | 12.0 | 100.0 DNC | 612.0 | 312.0 |
| 52nd | 1263 | Wimbleball SC | Dave Stockton | Sophie stockton | (100.0 DNC) | (100.0 DNC) | (100.0 DNC) | 100.0 DNC | 12.0 | 100.0 DNC | 100.0 DNC | 612.0 | 312.0 |
| 53rd | 370 | Dalgety Bay SC | Martin Booth | Oliver Milling Smith | (100.0 DNC) | (100.0 DNC) | (100.0 DNC) | 12.0 | 100.0 DNC | 100.0 DNC | 100.0 DNC | 612.0 | 312.0 |
| 54th | 1150 | Rotherham | Mett Velamail | Tim Brownell | 12.0 | (100.0 DNC) | (100.0 DNC) | (100.0 DNC) | 100.0 DNC | 100.0 DNC | 100.0 DNC | 612.0 | 312.0 |
| 55th | 1414 | Bartley SC | Caroline Whitehead | Adam Whitehead | (100.0 DNC) | (100.0 DNC) | (100.0 DNC) | 100.0 DNC | 100.0 DNC | 13.0 | 100.0 DNC | 613.0 | 313.0 |
| 56th | 1181 | Warsash SC | Bruce Mills | Andrea Jarman | (100.0 DNC) | (100.0 DNC) | (100.0 DNC) | 100.0 DNC | 13.0 | 100.0 DNC | 100.0 DNC | 613.0 | 313.0 |
| 57th | 768 | Dalgety Bay SC | Angus Marshall | Imogen Barnett | (100.0 DNC) | (100.0 DNC) | (100.0 DNC) | 13.0 | 100.0 DNC | 100.0 DNC | 100.0 DNC | 613.0 | 313.0 |
| 58th | 1461 | LLSC | Caroline Exley | Andy Dawson | 13.0 | (100.0 DNC) | (100.0 DNC) | (100.0 DNC) | 100.0 DNC | 100.0 DNC | 100.0 DNC | 613.0 | 313.0 |
| 59th | 1148 | Dalgety Bay SC | Hester Robertson | Richard Hope | (100.0 DNC) | (100.0 DNC) | (100.0 DNC) | 14.0 | 100.0 DNC | 100.0 DNC | 100.0 DNC | 614.0 | 314.0 |
| 60th | 603 | Bass SC & YDSC | Alex Leonard | Ben Murrell | (100.0 DNC) | (100.0 DNC) | 14.0 | (100.0 DNC) | 100.0 DNC | 100.0 DNC | 100.0 DNC | 614.0 | 314.0 |
| 61st | 1161 | LLSC | Louise McKeand | Joe Hartigan | 14.0 | (100.0 DNC) | (100.0 DNC) | (100.0 DNC) | 100.0 DNC | 100.0 DNC | 100.0 DNC | 614.0 | 314.0 |
| 62nd | 1425 | Eastbourne Sovereign SC | Mike Green | Sophie Green | (100.0 DNC) | (100.0 DNC) | (100.0 DNC) | 100.0 DNC | 100.0 DNC | 15.0 | 100.0 DNC | 615.0 | 315.0 |
| 63rd | 934 | Warsash SC | David Swift | Ian Clark | (100.0 DNC) | (100.0 DNC) | (100.0 DNC) | 100.0 DNC | 15.0 | 100.0 DNC | 100.0 DNC | 615.0 | 315.0 |
| 64th | 1294 | Largs SC | Michael Grant | Alan Birse | (100.0 DNC) | (100.0 DNC) | (100.0 DNC) | 15.0 | 100.0 DNC | 100.0 DNC | 100.0 DNC | 615.0 | 315.0 |
| 65th | 1479 | Eastbourne Sovereign SC | Mick Whitmore | Sarah Whitmore | (100.0 DNC) | (100.0 DNC) | (100.0 DNC) | 100.0 DNC | 100.0 DNC | 16.0 | 100.0 DNC | 616.0 | 316.0 |
| 66th | 875 | South Shileds SC | Jacob Ainsworth | Liam Alcock | (100.0 DNC) | (100.0 DNC) | (100.0 DNC) | 100.0 DNC | 100.0 DNC | 100.0 DNC | 17.0 | 617.0 | 317.0 |
| 67th | 1236 | Lymington Town SC | Mike Baker | June Baker | (100.0 DNC) | (100.0 DNC) | (100.0 DNC) | 100.0 DNC | 17.0 | 100.0 DNC | 100.0 DNC | 617.0 | 317.0 |
| 68th | 1401 | Budworth SC | Bill Kenyon | Ben Swinson | 17.0 | (100.0 DNC) | (100.0 DNC) | (100.0 DNC) | 100.0 DNC | 100.0 DNC | 100.0 DNC | 617.0 | 317.0 |
| 69th | 1043 | Oxford SC | Ian Watkins | Imagen Watkins | (100.0 DNC) | (100.0 DNC) | (100.0 DNC) | 100.0 DNC | 100.0 DNC | 100.0 DNC | 18.0 | 618.0 | 318.0 |
| 70th | 1257 | LLSC | Mark Dingsdale | Vanessa Evans | 18.0 | (100.0 DNC) | (100.0 DNC) | (100.0 DNC) | 100.0 DNC | 100.0 DNC | 100.0 DNC | 618.0 | 318.0 |
| 71st | 1430 | Lancing SC | Simon Matthews | Penny Matthews | (100.0 DNC) | (100.0 DNC) | (100.0 DNC) | 100.0 DNC | 19.0 | 100.0 DNC | 100.0 DNC | 619.0 | 319.0 |
| 72nd | 1123 | Filey SC | Carl Whitehead | Carol Millner | (100.0 DNC) | (100.0 DNC) | 19.0 | (100.0 DNC) | 100.0 DNC | 100.0 DNC | 100.0 DNC | 619.0 | 319.0 |
| 73rd | 828 | LLSC | Chris Williams | Martin Spencer | 19.0 | (100.0 DNC) | (100.0 DNC) | (100.0 DNC) | 100.0 DNC | 100.0 DNC | 100.0 DNC | 619.0 | 319.0 |
| 74th | 1292 | Royal Thames | Christopher Eames | Henry Morley | (100.0 DNC) | (100.0 DNC) | (100.0 DNC) | 100.0 DNC | 100.0 DNC | 20.0 | 100.0 DNC | 620.0 | 320.0 |
| 75th | 725 | South Shileds SC | Jason Riby | Nial Graham/David Cooke | (100.0 DNC) | (100.0 DNC) | 20.0 | (100.0 DNC) | 100.0 DNC | 100.0 DNC | 100.0 DNC | 620.0 | 320.0 |
| 76th | 1423 | Scammonden Water SC | Jeremy Child | Ian | 20.0 | (100.0 DNC) | (100.0 DNC) | (100.0 DNC) | 100.0 DNC | 100.0 DNC | 100.0 DNC | 620.0 | 320.0 |
| 77th | 1287 | Starcross YC | James Bowman | Jonathan Carr | (100.0 DNC) | (100.0 DNC) | (100.0 DNC) | 100.0 DNC | 100.0 DNC | 100.0 DNC | 21.0 | 621.0 | 321.0 |
| 78th | 1228 | Grafham Water SC | Andrew Johnson | Mark Warford/Marc Woolford | (100.0 DNC) | (100.0 DNC) | (100.0 DNC) | 100.0 DNC | 21.0 | 100.0 DNC | 100.0 DNC | 621.0 | 321.0 |
| 79th | 630 | York RI SC | Peter Craggs | Phil Nelson | (100.0 DNC) | (100.0 DNC) | 21.0 | (100.0 DNC) | 100.0 DNC | 100.0 DNC | 100.0 DNC | 621.0 | 321.0 |
| 80th | 703 | Welton SC | Richard Wharram | Richard Brameld | 21.0 | (100.0 DNC) | (100.0 DNC) | (100.0 DNC) | 100.0 DNC | 100.0 DNC | 100.0 DNC | 621.0 | 321.0 |
| 81st | 951 | Parkstone YC | George Kennedy | Hebe Hemming | (100.0 DNC) | (100.0 DNC) | (100.0 DNC) | 100.0 DNC | 100.0 DNC | 22.0 | 100.0 DNC | 622.0 | 322.0 |
| 82nd | 1325 | Notts County SC | James Logan | Pip Logan | 22.0 | (100.0 DNC) | (100.0 DNC) | (100.0 DNC) | 100.0 DNC | 100.0 DNC | 100.0 DNC | 622.0 | 322.0 |
| 83rd | 836 | Lymington Town SC | Steve Broomfield | Oliver Pettifer | (100.0 DNC) | (100.0 DNC) | (100.0 DNC) | 100.0 DNC | 23.0 | 100.0 DNC | 100.0 DNC | 623.0 | 323.0 |
| 84th | 505 | Welton SC | Richard Wharram | Todd Brameld | (100.0 DNC) | (100.0 DNC) | 23.0 | (100.0 DNC) | 100.0 DNC | 100.0 DNC | 100.0 DNC | 623.0 | 323.0 |
| 85th | 1103 | LLSC | Howard Green | Mike Baldwin | 23.0 | (100.0 DNC) | (100.0 DNC) | (100.0 DNC) | 100.0 DNC | 100.0 DNC | 100.0 DNC | 623.0 | 323.0 |
| 86th | 1493 | Locks SC | Geoffrey Holden | Bernice Holden | (100.0 DNC) | (100.0 DNC) | (100.0 DNC) | 100.0 DNC | 100.0 DNC | 24.0 | 100.0 DNC | 624.0 | 324.0 |
| 87th | 859 | Lancing SC | Robert Trevis | In Sykes | (100.0 DNC) | (100.0 DNC) | (100.0 DNC) | 100.0 DNC | 24.0 | 100.0 DNC | 100.0 DNC | 624.0 | 324.0 |
| 88th | 1118 | South Shileds SC | Nicholas Woodhouss | Miles Lilley | (100.0 DNC) | (100.0 DNC) | 24.0 | (100.0 DNC) | 100.0 DNC | 100.0 DNC | 100.0 DNC | 624.0 | 324.0 |
| 89th | 1453 | LLSC | Paul Heath | Anna Walsh | 24.0 | (100.0 DNC) | (100.0 DNC) | (100.0 DNC) | 100.0 DNC | 100.0 DNC | 100.0 DNC | 624.0 | 324.0 |
| 90th | 880 | Aldenham SC | James Le Couilliard | Tim Le Couilliard | (100.0 DNC) | (100.0 DNC) | (100.0 DNC) | 100.0 DNC | 100.0 DNC | 25.0 | 100.0 DNC | 625.0 | 325.0 |
| 91st | 445 | Roadford SC | Trevor Griffiths | Jono Griffiths | (100.0 DNC) | (100.0 DNC) | (100.0 DNC) | 100.0 DNC | 25.0 | 100.0 DNC | 100.0 DNC | 625.0 | 325.0 |
| 92nd | 521 | South Shileds SC | Nick Harrison | Chris Albert | (100.0 DNC) | (100.0 DNC) | 25.0 | (100.0 DNC) | 100.0 DNC | 100.0 DNC | 100.0 DNC | 625.0 | 325.0 |
| 93rd | 1157 | West Riding SC | Alsitair Banks | Anthony Wheatley | 25.0 | (100.0 DNC) | (100.0 DNC) | (100.0 DNC) | 100.0 DNC | 100.0 DNC | 100.0 DNC | 625.0 | 325.0 |
| 94th | 1101 | QMSC | Simon Baker | Chris Hopkins | (100.0 DNC) | (100.0 DNC) | (100.0 DNC) | 100.0 DNC | 100.0 DNC | 26.0 | 100.0 DNC | 626.0 | 326.0 |
| 95th | 1210 | Ribble SC | Martin Knott | Jon Schofield | 26.0 | (100.0 DNC) | (100.0 DNC) | (100.0 DNC) | 100.0 DNC | 100.0 DNC | 100.0 DNC | 626.0 | 326.0 |
| 96th | 676 | Thorpe Bay YC | Michael Marriott | Maurice Barnes | (100.0 DNC) | (100.0 DNC) | (100.0 DNC) | 100.0 DNC | 100.0 DNC | 30.0 | 100.0 DNC | 630.0 | 330.0 |
| 97th | 1382 | Eastbourne Sovereign SC | Andrew Hunt | Matt Hunt | (100.0 DNC) | (100.0 DNC) | (100.0 DNC) | 100.0 DNC | 100.0 DNC | 31.0 | 100.0 DNC | 631.0 | 331.0 |
| 98th | 1203 | West Riding SC | Johnny Limebear | Abi Morgan | (100.0 DNC) | (100.0 DNC) | (100.0 DNC) | 100.0 DNC | 100.0 DNC | 32.0 | 100.0 DNC | 632.0 | 332.0 |
| 99th | | | | | (100.0 DNC) | (100.0 DNC) | (100.0 DNC) | 100.0 DNC | 100.0 DNC | 100.0 DNC | 100.0 DNC | 700.0 | 400.0 |
Sailwave Scoring Software 2.19.8
www.sailwave.com