Results / Salcombe YC - 29/04/2023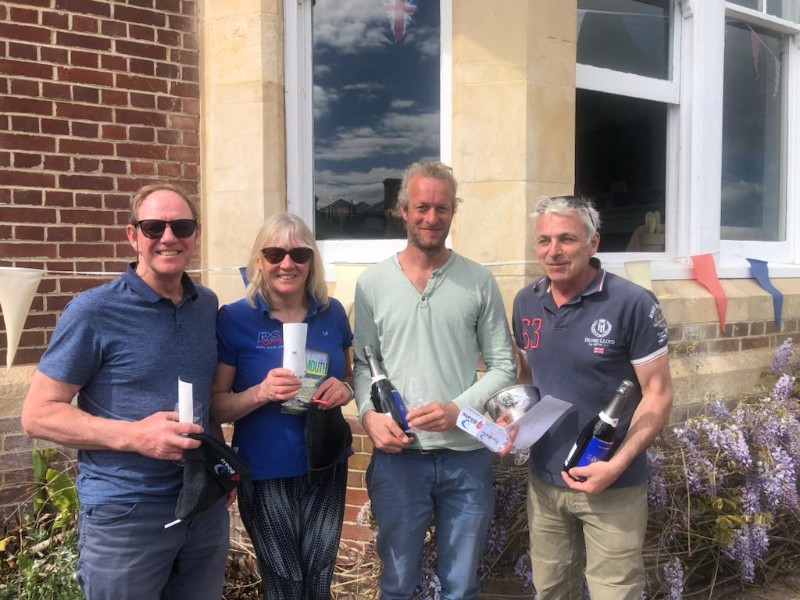 Rope4Boats RS400 Southern Tour, Salcombe
Over the early May bank holiday Salcombe yacht club hosted the RS400 fleet Southern tour event sponsored by Rope4Boats for three days of racing in varied conditions, two days of light airs and a final day of a reasonable breeze from the north that made for some huge direction changes.
Race one saw Figs Cain and Barney Dearsly take the win from Howard Farbrother and Louise Hosken with most travelled competitors Stewart and Sarah Robertson who made the long trek from Edinburgh in third.

Race 2 had Mick and Sarah Whitmore have a healthy lead from the fleet with with Figs and Barney in close pursuit only for the fleet to close right up again, Howard and Louise coming through to win with Mick and Sarah second, Stewart and Sarah third.
A third race shortened as the wind died and the fleet struggled to make it to the finish against the tide saw Figs and Barney take the win from locals John and Annie McLaren and Howard and Louise third.
With one more race on the final day the race officer sent us up to the furthest race mark, tacking up the narrow channel before reaching back down whilst dodging the National 12 fleet and 30 yawls coming back upwind made for some exciting racing. Stewart and Sarah taking the race win from Figs and Barney, Howard and Louise third and Mike and June Baker fourth.
Overall Figs and Barney were well-deserved event winners, with Howard and Louise in second, Stewart and sarah in third and Mick and Sarah in fourth.
So a really good event helped by some welcome warmer weather and even some sunshine.
Next stop on the tour is Lee on Solent, 6/7 May, where RS400 sailors will be welcomed to join the club's Coronation celebrations. Online entry closes at 1200 on 6th May.
Details here
Mick Whitmore
RS400 Open 2023
Salcombe Yacht Club
Bartons RS 400 Open
Overall
| Rank | Extra info (1) | Boat | Boat type | Sail number | Extra label (1) | Helm | Crew Name | R1 | R2 | R3 | R4 | Total | Nett |
| --- | --- | --- | --- | --- | --- | --- | --- | --- | --- | --- | --- | --- | --- |
| 1st | | Aries | RS 400 | 411 | | Figs Cain | Barney Dearsly | 1.0 | (4.0) | 1.0 | 2.0 | 8.0 | 4.0 |
| 2nd | | Chaos Monket Too | RS 400 | 1481 | | Howard Farbrother | Louise Hoskin | 2.0 | 1.0 | (3.0) | 3.0 | 9.0 | 6.0 |
| 3rd | | Hedgehog | RS 400 | 1463 | | Stewart Robertson | Sarah Robertson | 3.0 | 3.0 | (5.0) | 1.0 | 12.0 | 7.0 |
| 4th | | Mr Ifty Shifty | RS 400 | 1479 | | Mick Whitmore | Sarah Whitmore | 4.0 | 2.0 | 4.0 | (16.0 DNF) | 26.0 | 10.0 |
| 5th | | Oki Doki | RS 400 | 1471 | | John McLaren | Annie McLaren | 6.0 | 5.0 | 2.0 | (8.0) | 21.0 | 13.0 |
| 6th | | 1448 | RS 400 | 1448 | | Mike Baker | June Baker | 5.0 | 6.0 | (9.0) | 4.0 | 24.0 | 15.0 |
| 7th | | Dark SIde | RS 400 | 1533 | | Paul Engelmann | Katy Engelmann | 7.0 | 7.0 | 6.0 | (9.0) | 29.0 | 20.0 |
| 8th | | RS-e | RS 400 | 1078 | | Peter Jackson | Freddie Smithers | 8.0 | (11.0) | 8.0 | 5.0 | 32.0 | 21.0 |
| 9th | | 506 | RS 400 | 506 | | Alex Zamaria | Rob Staines | (9.0) | 8.0 | 7.0 | 7.0 | 31.0 | 22.0 |
| 10th | | | RS 400 | 1329 | | Peter Colclough | Tris Squire | 10.0 | 9.0 | (11.0) | 11.0 | 41.0 | 30.0 |
| 11th | | 1287 | RS 400 | 1287 | | James Bowman | Jonathan Carr | 12.0 | 10.0 | (13.0 DNF) | 10.0 | 45.0 | 32.0 |
| 12th | | RS400 | RS 400 | 880 | | Tim Le Couilliard | James Le Couilliard | 11.0 | (16.0 DNC) | 16.0 DNC | 6.0 | 49.0 | 33.0 |
| 13th | | Thunderbird 4 | RS 400 | 799 | | Martin Weston | Mike Webb | (13.0) | 12.0 | 10.0 | 12.0 | 47.0 | 34.0 |
| 14th | | 1184 | RS 400 | 1184 | | Edward Smith | Christopher Spencer | (16.0 DNC) | 16.0 DNC | 16.0 DNC | 16.0 DNS | 64.0 | 48.0 |
| 14th | | Cool Runnings | RS 400 | 1382 | | Andrew Hunt | Matthew | (16.0 DNC) | 16.0 DNC | 16.0 DNC | 16.0 DNF | 64.0 | 48.0 |