Results / Salcombe Gin RS Summer Regatta & Ball (RS400 Southern Champs) Hayling Island SC - 24/06/2023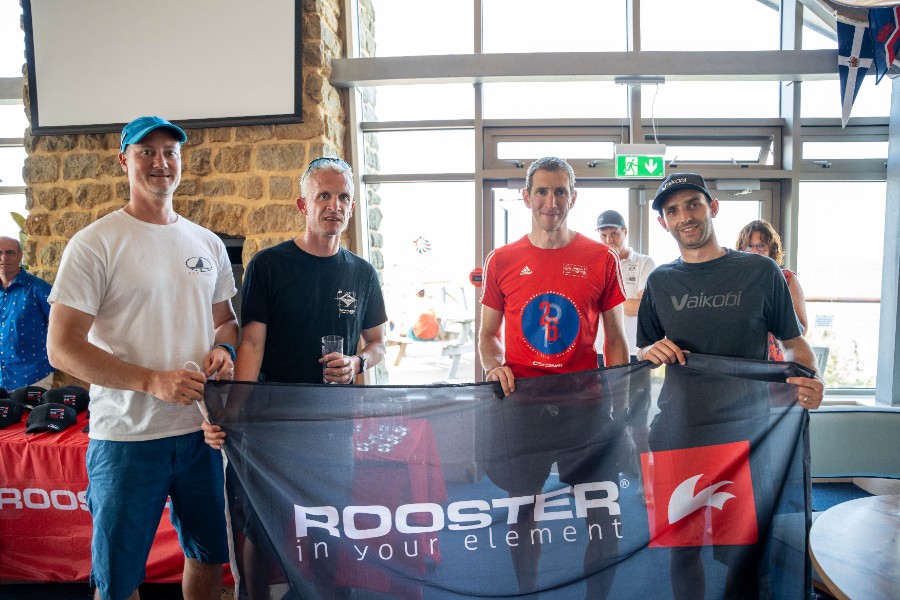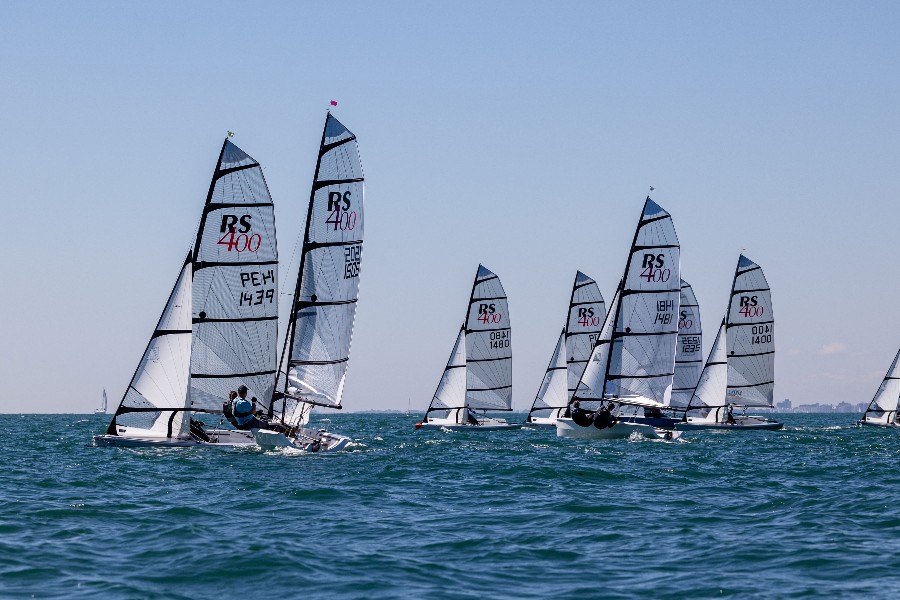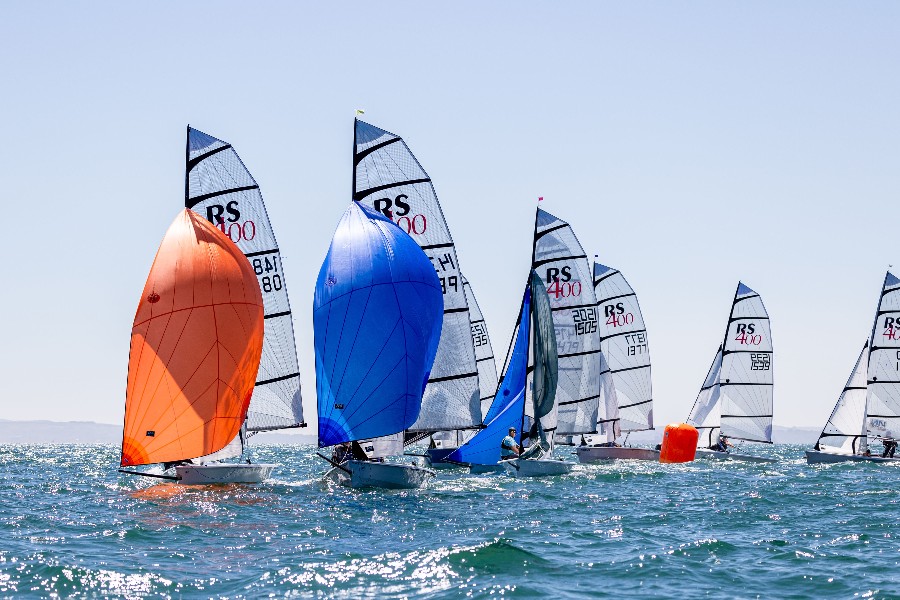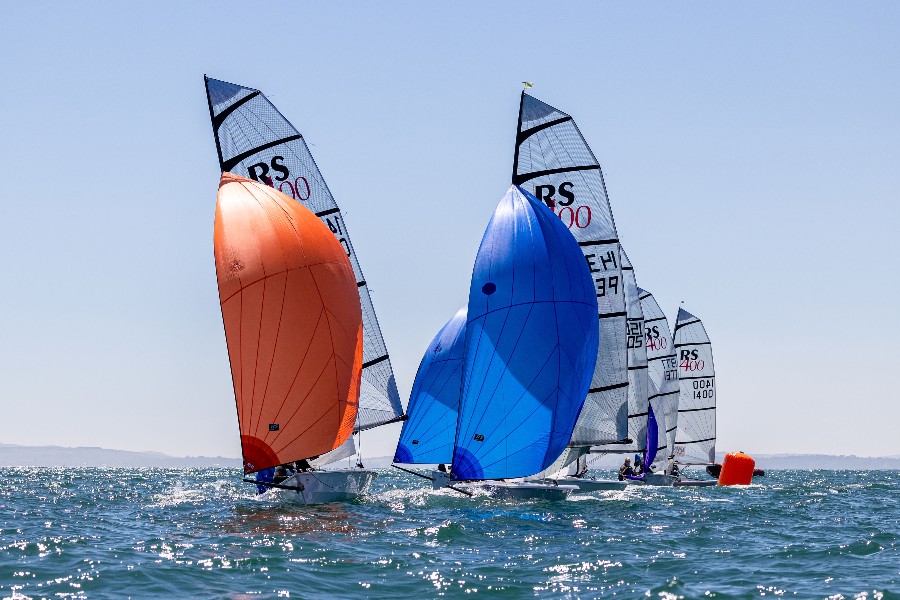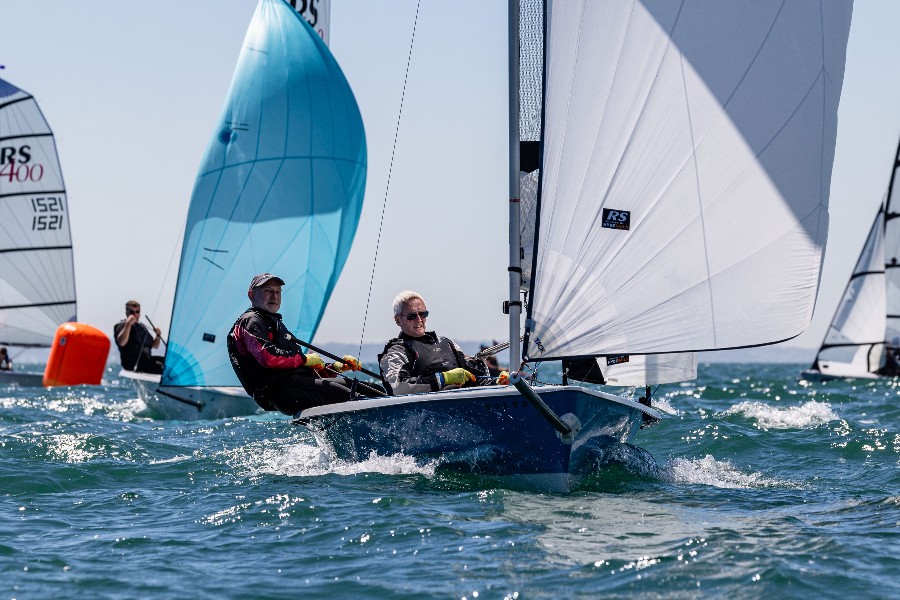 The Salcombe Gin Summer Regatta, Hayling Island Sailing Club - the flagship RS multiclass event organised by the RS Class Association
What a fantastic weekend!
130 boats
235 sailors
The inaugural Salcombe Gin RS200 Masters Championship
The Noble Marine RS500 UK National Championships
A Rooster National Tour event for the RS100, RS400, RS700 and RS800
Champagne conditions throughout
Wonderful Salcombe Gin RS Summer Ball
Over £800 raised for the Ellen MacArthur Cancer Trust
Michiel Geerling announces 30th Anniversary Celebration of RS Sailing, 18-19 May 2024
Huge thanks to the Race Officers Tim Hancock and David Hitchcock, the massive team of professionals and volunteers at HISC, our valued sponsors, the sailors and particularly to Izzy and Adam, volunteers at the Ellen MacArthur Cancer Trust - so brave, so inspiring, so humbling.
Huge thanks to generous event sponsor Salcome Gin and to fleets National Tour sponsor Rooster
Amazing event vid thanks to Digital Sailing here
Great photos thanks to Digital Sailing. You will find the full Digital Sailing event gallery here Please use the discount code RSCHAMPS at checkout for 50% off prints and downloads. Valid until 15th July.
See Peter Hickson's HISC Smug Mug photo gallery here
Reports from individual fleets will be added as they arrive:
RS100 report here
RS200 Main Fleet report here
RS200 Masters report here
RS400 Southerns report here
RS500 Nationals report
RS700 report here
RS800 report here
RS100s at Salcombe Gin RS Summer Regatta at Hayling Island SC, 24 - 25 June 2023
Gather, fair sailors, and lend thine ears,
For the tale of the Salcombe Gin RS Summer Regatta draws near.
In this noble Hayling SC event of yore,
The RS100 fleet did grace the shore.
Race one, the voyage did commence,
With Nils Jolliffe, a man of great sense.
With nimble skills and speed unseen,
He claimed victory in race one, his sailing a dream.
Race two, a battle waged with wind's slight,
Clive Eplett, a warrior bold, took flight.
Like a tempest, he conquered the (light to moderate!) gales,
Navigating the tumultuous trails.
Nigel Wakefield manoeuvred, fearless and bright,
Sailed with grace, a close second in sight.
Amidst the intense racing's fervent pace,
A moment unfolded, adding a twist to the chase.
Mark Harrison, skilled and bold,
Found himself in a predicament untold.
The RS100 fleet surged through the race,
But Mark, caught in the frenzy, missed the trace.
The leeward gate, a crucial sight,
Escaped his notice, lost in the fight.
The racing's intensity, a captivating force,
Led him astray, off his planned course.
Alas, the sea's mischievous hand was dealt,
And Mark, capsizing, in the waters he felt.
But in his misfortune, let us not forget,
The spirit he displayed, a trait hard to forget.
For in the face of challenges unforeseen,
He rose again, like a phoenix, serene.
Race three, a drama unfolded on the deep,
Andy Jones, a maverick, led up the first beat.
But with cunning strategy and daring grace,
Nils conquered the challengers, winning the race.
And Eplett, again a tempest unleashed,
With determination, second position reached.
Oh, the second day brought trials anew,
A strengthening sea breeze, that much is true.
With persistent shifts on each beat,
The RS100 fleet stayed resilient and fleet.
And though the challenges were at times tough,
They persevered, sailing strong and rough.
With every gust and subtle change,
The RS100 sailors embraced the range.
Their sails billowed, catching the wind,
As they raced, their determination chinned.
Through shifting tides and uncertain course,
They displayed their prowess, without remorse.
Race four, a test of skill and nerve,
Matt Johnson, a daredevil, did serve.
With audacious manoeuvres and bold might,
He claimed victory, shining so bright.
Behind him, canny navigators true,
Jollife and Troughton glided skilfully through.
Race five, to great heights they soared,
James Ross, a sirens' song, he roared.
With speed unmatched and elegance rare,
He left spectators in awe and despair.
Behind was Nils, a flash, swift and bright,
Securing second, in this glorious sight.
Race six, the grand finale drew near,
And Nils again set out with no fear.
With tactical brilliance, he seized the day,
Sailing triumphantly, beating Clive away.
Behind them, Dave Smart, a speed demon untamed,
Finally showed the prowess for which he is famed.
Steve Jones, steady and true,
Crossed the line next, his journey through.
Thus, the RS100 fleet displayed their might,
In the Salcombe Gin RS Summer Regatta's light.
Nils Jolliffe, crowned the champion, supreme,
Followed by Clive Eplett and Andy Jones, a memorable team.
In this tale of sailing and daring race,
They etched their names, leaving a trace.
Fair sailors, heed this wondrous tale,
Of the RS100 fleet, where heroes prevail.
In the spirit of Shakespeare, their deeds we share,
For in Hayling's waters, they created an affair.
Let their exploits inspire, both young and old,
As we celebrate their triumphs, stories untold.
So, let us bid adieu, with gratitude profound,
To Hayling Sailing Club, we are forever bound.
For the Salcombe Gin RS Summer Regatta's glory,
And the volunteers who crafted this story.
May the winds forever fill your sails,
As we embark on new adventures, with joyful tales.
By Mnsr ChatGPT (in the style of Shakepeare) - other bards are available
Thank you to event sponsor Salcombe Gin and RS100 National Tour sponsor Rooster.
Report by Andrew Jones
Up on Y&Y here
Salcombe Gin RS200 Masters at HISC 23-25 June 2023
RS200 sailors "of a certain age" were treated to a fantastic weekend on and off the water at Hayling Island Sailing Club, for the inaugural Salcombe Gin RS200 Masters Championship. "Champagne Sailing" can be a bit of a cliché but, as you can see from Digital Sailing's superb photos, it was Hayling Bay at its very best! The race team, led by Tim Hancock, very efficiently delivered seven great races in a range of conditions, three on Friday especially for the Masters, followed by two on Saturday and Sunday shared with the main RS200 Summer Regatta. The fleet's love of general recalls and black flags continues, eventually leading to the RS200s being an entire race behind the RS100s and RS500s on the shared course.
There was good close racing throughout the fleet, with Andy and Jill Peters vying with Lee and Anne Sydenham for the lead, followed by Ollie and Sarah Holden and Ian Pickard and Laurie Callaghan. Andy and Jill became the first winners of the RS200 Masters trophy, including bagging an impressive race win for the oldies in the main RS200 Summer Regatta. The Masters also put in a solid social performance on Friday and Saturday night - last out of the bar after Friday's curry. Saturday night saw multiple RS fleets come together for the 2023 RS Summer Ball, including a great band and fundraising for the Ellen Macarthur Cancer Trust.
Huge thanks to Hayling Island for laying on such a great event, both on and off the water, to Salcombe Gin for their generous sponsorship, with a special mention to Sally Campbell from the RS Class Association for all her efforts before and during the event. After such a successful inaugural event, the Masters will have their creaking knees and zimmer frames at the ready for the inevitable 2024 RS200 Masters Championship!
Report by Ian Pickard
Up on Y&Y here
RS200s at Salcombe Gin RS Summer Regatta at HISC 24-25 June 2023
With the Masters RS200 fleet having got warmed up on Friday to begin their series, the rest of the fleet amassed at a sun-baked Hayling Island to form a red-hot fleet of 44 boats – the largest of the season so far.
I've been told to keep this report brief as there were so many RS classes at this regatta, however the weekend had it all and I love talking about RS200 sailing, so we'll see how we go (shut up and get on with it!)
This regatta was a high-scorer. 22 teams scored at least one top ten result, and there were eighteen UFD/BFD scored.
We were treated to a South Coast classic of weather. The locals would call it "glamour" – sunshine and building sea breezes each day, with big puffs and changes in wind direction to keep things open and exciting.
As the breeze built each day and the letters kept appearing on teams' scorecards, several protagonists fell away. Brendan Lynch and Ellen Clark were the epitome of calm focus throughout the weekend. They were easily the furthest travelled visitors, having driven down from East Lothian last week for the Itchenor Southern Championships. Clearly in the mood, Brendan and Ellen were the only team to score top five results, allowing them to discard their obligatory BFD. This was an impressive weekend of sailing in a range of conditions and resulted in them becoming RS200 Summer Champions.
Andy and Jill Peters followed them in second overall and Masters Champions – another fine example of consistent sailing.
Mat and I managed to have a strong Sunday in the windier and wavier conditions to move from ninth to third overall.
The RS200 fleet showed its calibre this weekend, with all teams crossing the line on one another's transoms in every race.
Thanks must be given to the Race Team who, on both days, had to handle big shifts in the breeze on a tight schedule. We were very pleased to have got the final race in before the deadline, despite the fleet's penchant for general recalls. The event was impeccably managed by all involved on the shore as well – thank you.
Thanks must also go to event sponsors, Salcombe Gin (delicious!), and RS200 Championnship Tour sponsors Rooster Sailing with some very generous prizes of great sailing gear.
Report by Rob Henderson
Up on Y&Y here
RS400 Southern Championship at the Salcombe Gin RS Summer Regatta HISC 24-25 June 2023
So, very much thanks to the highly literate contingent of the RS100 fleet it seems a new dimension in efficient event reporting has been opened… great write up Andy but surely no mere mortal could cram that much Shakespeare in and make it rhyme – apparently not: cue ChatGPT.
Well, with Rooster sponsoring the tour, Salcombe Gin sorting the bar and RS the drinks on the beach in an all-action weekend the style of choice had to be Top Gun, so pointing our AI "friend" in the direction of the results and asking for a little bit of script we find ourselves with:
Narrator (in a charismatic voice): "In the heart of the sailing battleground, where the wind meets the water, a fearless fleet of RS400s set their sights on glory. This is the RS400 Southern Championships, where champions are made and legends are born."
Narrator: "The competition was fierce right from the start. Sailors pushed their boats to the limit, maneuvering through the turbulent waters like true Mavericks."
[Cut to Sam Knight and Chris Bownes from Bartley Sailing Club, dominating the race.]
Sam Knight (confidently): "I feel the need... the need for first place!"
Chris Bownes (grinning): "You're the best, Sam! Nobody can touch us!"
[Cut to Ollie Groves and Esther Parkhurst from Beaver Sailing Club, chasing closely behind.]
Ollie Groves (determined): "I'm not gonna let them walk away with this one! Time to kick the tyres and light the fires!"
Esther Parkhurst (nodding): "That's the spirit, Ollie! Let's give them a run for their money!"
Narrator: "With every race, the battle grew more intense. Sailors pushed their limits, their skills tested under the watchful eyes of their competitors. It was a dogfight on the water, a clash of titans."
[Cut to Tom Halhead and Paul Hilliar from Llandegfedd Sailing Club, demonstrating their resilience.]
Tom Halhead (gritted teeth): "I won't let one mistake define us. It's time to engage full throttle!"
Paul Hilliar (determined): "That's the spirit, Tom! We'll show them what we're made of!"
[Cut to Christopher Eames and Rachel Tilley from QMSC, sailing with precision.]
Rachel Tilley (focused): "We're not just spectators, Christopher. We're gonna take the highway to the danger zone!"
Christopher Eames (grinning): "Damn right! Let's bring the heat and leave them in our wake!"
Narrator: "In the end, Sam Knight and Chris Bownes soared to victory, their skill and teamwork unmatched. They were the kings of the sky, the true Top Guns of the RS400 Southern Championships."
7/10 I reckon… disappointing lack of reference to anyone having lost that loving feeling but outside of that top marks to robo-writer for having Sam and Chris as the clear speed kings of the weekend, Ollie and Esther pushing them hard with a hat-trick of wins too, Tom and Paul kicking themselves for getting a bit excited at the start of race four (finishing first to no hoot) and Chris and Rachel for going consistently quick amongst some brave tactical plays.
Huge thanks to the Hayling Island SC, the RS Class Association and the race team in particular for running a brilliant event and ordering up 10-20 knots of breeze and some waves to play with. Hopefully a bit more of that at Arun SC in a couple of weeks' time before we all decamp to Mounts Bay for the Noble Marine Rooster National Championship to find out whose egos are writing cheques that their body can cash. Still time to enter and with over 60 already in it's going to be a target rich environment.
By Tom Halhead
Up on Y&Y here
RS700s at Salcombe Gin RS Summer Regatta at Hayling Island SC, 24 - 25 June 2023
The RS700 fleet at HISC were treated to glorious weather over the weekend. We sailed out to the starting area in the bay in a good moderate Southerly breeze and a cloudless sky. Astonishingly however a sea mist rolled in resulting in a short postponement.
Race one got underway in 8 - 10 knots with a three lap course set. The first lap saw Matt Carter and Rob Higgins lead the way with Pete Purkiss in third. Matt rounded first only to be overtaken by Rob downwind. On the second beat Pete went hard left and picked up a shift and more tide to round in first. At the leeward gate, however, Pete, whilst trying to drop the kite, was presented with hooting and shouting from a patrol boat displaying a completely mystifying change of course. By the time Pete realised he needed to proceed to a new windward mark, both Matt and Rob had headed off upwind.
The new mark resulted in a shorter lap and the fleet finishing with the RS400 fleet. At the leeward mark Matt was leading from Pete, but then got stuck in the lee of a RS400 right on the line allowing Pete to steal the win by a boat length. Rob came in 3rd with Nathan Steffenoni in fourth. Fortunately that was the last we saw of three lap races.
The close racing theme continued in race two which was sailed in similar conditions and was extremely tight all the way around the course. Rob took the win from Matt by a pole length on the line in a photo finish with Pete third and Tom Porter showing good speed in fourth.
Race three was sailed in slightly more breeze. Rob showed us the way with Nathan taking second despite a sabotage attempt by Matt when tacking to clear his air off the line and clipping Nathan's wing. Pete came in third ahead of Matt who had done his penalty turns then had chosen the wrong side of the course.
Overnight leaders were Rob in first, with Pete second, and Matt in third place.
Sunday gave us the predicted sunshine and a building, veering Southerly breeze.
Race four was sailed in a good 12-14 knots with Rob and Matt battling for the win. The RS400 start was delayed following a general recall which meant the fleet started upwind just as the RS700s were rounding the leeward gate. Rob, Matt and Nathan rounded ahead of the melee leaving Tom, Pete and the rest of the fleet in an impossible battle for clear air. Rob crossed ahead of Matt in second, and Nathan took third after Pete's flyer seeking to avoid dirty wind went awry.
By race five, the wind and waves had built and Matt Carter found his fifth gear and charged away only to have his kite fall down with a faulty halyard cleat downwind. He recovered to stay just ahead of Rob who chased a bit too hard and capsized trying to retrieve his kite on the last leg. Tom Porter was clearly enjoying himself with much whooping on the port downwind legs and came in second. Matt Conner was now able to stretch his legs and revelled in the conditions to take third. Pete finished in fourth.
The final race was a battle for the championship between Rob Higgins and Matt Carter. By now it was beginning to blow and there were many capsizes. The downwind legs were particularly fruity, with much nose-diving and swinging around forestays. Matt took the win with Rob close behind. Nathan came in third with Pete in fourth following a capsize.
The fleet headed for home trying to work out if Rob or Matt Carter had won overall. It turned out that both were equal on points. Rob Higgins took the event with one more race win than Matt Carter. Pete Purkiss took third, with Nathan Steffenoni in fourth, and Tom Porter in fifth.
The fleet congratulated HISC on a superb event and we all went home happy, tired, and sunburnt! Thank you to event sponsor Salcombe Gin and RS700 National Tour sponsor Rooster.
Report by Pete Purkiss and Matt Carter
Up on Y&Y here
RS800 Salcombe Gin Summer Championships 2023 at HISC
It's been a surprisingly long time since the RS800 Rooster National Tour has come to Hayling Island, mainly due to the Covid years, so it was great to be back with a bang for the Salcombe Gin RS Summer Regatta and catch up with friends in the other RS fleets. Hayling delivered its best: sun, sea, sand, slick race management and… some inventive party games that would make your granny blush, led by the inimitable James Curtis, on Saturday evening. Actually James' grandparents would surely have approved since the main props were his granny's tights and some beautiful wooden boats made by his grandad. HISC then laid on a black-tie party with a delicious dinner and dancing to a great band into the small hours.
Anyway back to the sailing: tricky and choppy on Saturday, windier and maybe even more choppy on Sunday so lots of pitchpoling opportunities. And very sunny. The twenty-two RS800s were out in the shallow Bracklesham Bay, to the East of Chichester harbour entrance, which made the waves stand up in strange ways and always seemed to favour the left. Or the right, if we went left.
Duncan Gregor and Sam Jones showed great promise, leading the first race by a mile but perhaps weren't ready for a position of such responsibility in the fleet; they tried to finish after only two of the three laps, letting Monique Vennis-Ozanne and John Mather through to win with rapid upwind speed and blistering downwind pace (perhaps aided by being about 15kg less fat than the rest of us). By the end of Saturday's three races Maria Stanley and Tommy Darling had a narrow lead, tied with Monique and John. Meg Brickwood and Steph Orton, taking a holiday from their 49er FX campaign, were also showing great pace.
Sunday proved a bit harder for Monique and John when the wind increased and Steph and Meg broke all but two strands of their forestay (still managing a whole race in that state, and the lively sail back to HISC) which gave the boy helms a chance to catch up. Tom Morris and Guy Fillmore finally found their feet in the stronger breeze, banging in two bullets to snatch the event on countback from Maria and Tommy. Luke and Emma McEwen were also in the running until Luke slithered out of the back at one of the windward marks (who designed these boats with no transom?), so settled for third overall just ahead of Monique and John.
It was great to see lots of new faces in the fleet and three of the top seven places going to female helms.
The next RS800 Rooster National Tour events are at Castle Cove on 8-9 July and Lymington on 12-13 August, then it's the Noble Marine Nationals at Brightlingsea in September. See you there!
By Luke McEwen
Up on Y&Y here
RS100 Summer Regatta

Hayling Island Sailing Club
Results are provisional as of 15:36 on June 25, 2023
Overall
| Rank | Sail No | Helm | Crew | Club | Tally No | R1 | R2 | R3 | R4 | R5 | R6 | Total | Nett |
| --- | --- | --- | --- | --- | --- | --- | --- | --- | --- | --- | --- | --- | --- |
| 1st | 370 | Nils Jolliffe | | Netley SC | 38 | 1.0 | 4.0 | 1.0 | 2.0 | (5.0) | 1.0 | 14.0 | 9.0 |
| 2nd | 509 | Clive Eplett | | Frensham Pond | 42 | 2.0 | 1.0 | 2.0 | (16.0 UFD) | 8.0 | 2.0 | 31.0 | 15.0 |
| 3rd | 172 | Andrew Jones | | Chew Valley Lake SC | 32 | 4.0 | 3.0 | 3.0 | 5.0 | 2.0 | (7.0) | 24.0 | 17.0 |
| 4th | 145 | Nigel Wakefield | | Netley SC | 30 | 5.0 | 2.0 | 4.0 | 8.0 | (10.0) | 6.0 | 35.0 | 25.0 |
| 5th | 523 | David Smart | | Chew Valley Lake SC | 43 | 8.0 | 7.0 | (10.0) | 7.0 | 6.0 | 3.0 | 41.0 | 31.0 |
| 6th | 130 | Stephen Jones | | Chew Valley Lake SC | 29 | (12.0) | 8.0 | 8.0 | 9.0 | 4.0 | 4.0 | 45.0 | 33.0 |
| 7th | 373 | James Ross | | Netley SC | 39 | 11.0 | 6.0 | 11.0 | 6.0 | 1.0 | (16.0 UFD) | 51.0 | 35.0 |
| 8th | 239 | Matt Johnson | | Weirwood SC | 33 | 7.0 | 5.0 | 7.0 | 1.0 | (16.0 DNC) | 16.0 DNC | 52.0 | 36.0 |
| 9th | 268 | Bart Bridgen | | Netley SC | 35 | 10.0 | 11.0 | 5.0 | 4.0 | 7.0 | (16.0 DNC) | 53.0 | 37.0 |
| 10th | 379 | Mark Harrison | | Gurnard SC | 40 | 3.0 | 13.0 | 6.0 | (16.0 UFD) | 3.0 | 16.0 DNC | 57.0 | 41.0 |
| 11th | 156 | Nick Creak | | Netley SC | 31 | (13.0) | 12.0 | 13.0 | 10.0 | 9.0 | 5.0 | 62.0 | 49.0 |
| 12th | 421 | Jeremy Troughton | | Netley SC | 41 | 9.0 | 10.0 | 12.0 | 3.0 | (16.0 DNC) | 16.0 DNC | 66.0 | 50.0 |
| 13th | 259 | Ian Gregory | | Frensham Pond | 34 | 6.0 | 9.0 | 9.0 | (16.0 UFD) | 11.0 | 16.0 UFD | 67.0 | 51.0 |
| 14th | 366 | Tom Hirst | | Downs SC | 37 | 14.0 | 14.0 | 14.0 | 11.0 | (16.0 DNC) | 16.0 DNC | 85.0 | 69.0 |
| 15th | 364 | Duncan Barr | | Netley SC | 36 | (16.0 DNC) | 16.0 DNC | 16.0 DNC | 16.0 DNC | 16.0 DNC | 16.0 DNC | 96.0 | 80.0 |
RS200 Masters Championship 2023

Hayling Island Sailing Club
Results are provisional as of 15:37 on June 25, 2023
Overall
| Rank | Sail No | Helm | Crew | Club | Tally No | R1 | R2 | R3 | R4 | R5 | R6 | R7 | Total | Nett |
| --- | --- | --- | --- | --- | --- | --- | --- | --- | --- | --- | --- | --- | --- | --- |
| 1st | 1708 | Andrew Peters | Jill Peters | Castle Cove SC | 27 | 2.0 | 1.0 | 1.0 | 1.0 | 1.0 | 1.0 | (3.0) | 10.0 | 7.0 |
| 2nd | 1540 | Lee Sydenham | Anne Sydenham | HISC | 23 | 1.0 | 4.0 | 2.0 | (14.0 BFD) | 2.0 | 2.0 | 1.0 | 26.0 | 12.0 |
| 3rd | 1670 | Ollie Holden | Sarah Holden | HISC | 26 | 5.0 | 3.0 | 3.0 | 2.0 | 3.0 | 3.0 | (9.0) | 28.0 | 19.0 |
| 4th | 1301 | Ian Pickard | Laurie Callaghan | Bowmoor SC | 20 | 3.0 | 2.0 | (9.0) | 7.0 | 5.0 | 5.0 | 4.0 | 35.0 | 26.0 |
| 5th | 1721 | Mike Warwicker | Joe Warwicker | Bough Beech/Shoreham | 28 | (9.0) | 7.0 | 7.0 | 3.0 | 6.0 | 6.0 | 2.0 | 40.0 | 31.0 |
| 6th | 1635 | Andrew Barnett | Lynne Radcliffe | Island Barn RSC | 25 | 7.0 | 5.0 | 4.0 | (9.0) | 4.0 | 9.0 | 5.0 | 43.0 | 34.0 |
| 7th | 997 | Nev Watson | Claude Young / Clare Jones | HISC | 17 | (11.0) | 8.0 | 6.0 | 4.0 | 8.0 | 8.0 | 6.0 | 51.0 | 40.0 |
| 8th | 1562 | Andy Le Grice | William Le Grice | Warsash SC | 24 | 4.0 | 10.0 | (11.0) | 8.0 | 10.0 | 4.0 | 7.0 | 54.0 | 43.0 |
| 9th | 888 | Nick Sandison | Vicky Taylor | Netley SC | 16 | 6.0 | 6.0 | (14.0 UFD) | 5.0 | 7.0 | 10.0 | 10.0 | 58.0 | 44.0 |
| 10th | 1152 | Emily Davis | Jo Tribe | Draycote Water SC | 19 | 10.0 | 9.0 | 8.0 | 6.0 | 9.0 | (11.0) | 8.0 | 61.0 | 50.0 |
| 11th | 1356 | Andrew Chapman | Melissa Chapman | Netley SC | 21 | 8.0 | 11.0 | 10.0 | 10.0 | 12.0 | 7.0 | (14.0 BFD) | 72.0 | 58.0 |
| 12th | 88 | Ian Jubb | Katherine Palmer Ward | HISC | 15 | 12.0 | 12.0 | 5.0 | 11.0 | 11.0 | 12.0 | (14.0 BFD) | 77.0 | 63.0 |
| 13th | 1047/1510? | James Nicholls | Antigone Bracken | Chelmarsh SC | 18 | 13.0 | (14.0 RET) | 14.0 DNC | 12.0 | 14.0 RET | 14.0 DNC | 14.0 DNC | 95.0 | 81.0 |
RS200 Summer Regatta

Hayling Island Sailing Club
Results are provisional as of 16:00 on June 25, 2023
Overall
| Rank | Sail No | Helm | Crew | Club | Tally No | R1 | R2 | R3 | R4 | R5 | R6 | Total | Nett |
| --- | --- | --- | --- | --- | --- | --- | --- | --- | --- | --- | --- | --- | --- |
| 1st | 1510 | Brendan Lynch | Ellen Clark | East Lothain YC | 61 | 3.0 | 4.0 | 1.0 | 4.0 | (45.0 BFD) | 2.0 | 59.0 | 14.0 |
| 2nd | 1708 | Andrew Peters | Jill Peters | Castle Cove SC | 27 | 5.0 | 1.0 | (13.0) | 3.0 | 9.0 | 6.0 | 37.0 | 24.0 |
| 3rd | 629 | Rob Henderson | Mat Currell | HISC/Parkstone SC | 46 | 10.0 | (13.0) | 8.0 | 5.0 | 1.0 | 1.0 | 38.0 | 25.0 |
| 4th | 1698 | Tom Goodey | Richard Thomas | RNSA | 66 | (22.0) | 3.0 | 2.0 | 2.0 | 18.0 | 3.0 | 50.0 | 28.0 |
| 5th | 1702 | Hamish Walker | Emma Hivey | RNSA/ASA/Netley SC | 69 | 8.0 | 2.0 | (12.0) | 9.0 | 4.0 | 5.0 | 40.0 | 28.0 |
| 6th | 1521 | Matt Venables | Bethan Matthew | Sutton/QMSC/RTYC | 62 | 2.0 | (20.0) | 7.0 | 7.0 | 11.0 | 8.0 | 55.0 | 35.0 |
| 7th | 1634 | Cam Stewart | Georgia Booth | HISC | 129 | 11.0 | (24.0) | 3.0 | 13.0 | 8.0 | 4.0 | 63.0 | 39.0 |
| 8th | 1667 | Owen Bowerman | Annabelle Orme | HISC | 64 | 6.0 | 8.0 | 9.0 | 6.0 | 12.0 | (45.0 BFD) | 86.0 | 41.0 |
| 9th | 880 | James Hammett | Jess Hammett | HISC | 49 | 4.0 | 11.0 | 17.0 | 10.0 | 3.0 | (45.0 BFD) | 90.0 | 45.0 |
| 10th | 1270 | Alex Smallwood | Callum Farnden | Oxford & Cambridge Sailing Society | 57 | 1.0 | 10.0 | 6.0 | 12.0 | 24.0 | (45.0 BFD) | 98.0 | 53.0 |
| 11th | 1729 | Scott Wallis | Morgan Dibb | HISC | 70 | 14.0 | 15.0 | 10.0 | (20.0) | 10.0 | 9.0 | 78.0 | 58.0 |
| 12th | 1540 | Lee Sydenham | Anne Sydenham | HISC | 23 | (45.0 BFD) | 5.0 | 5.0 | 8.0 | 2.0 | 45.0 DNC | 110.0 | 65.0 |
| 13th | 1700 | Ben Whaley | Evie Snedker | Parkstone SC | 68 | 9.0 | 7.0 | 4.0 | 1.0 | (45.0 BFD) | 45.0 BFD | 111.0 | 66.0 |
| 14th | 1721 | Mike Warwicker | Joe Warwicker | Bough Beech/Shoreham | 28 | 18.0 | (27.0) | 11.0 | 27.0 | 5.0 | 20.0 | 108.0 | 81.0 |
| 15th | 1173 | Alice Davis | Alastair Brown | Draycote Water SC | 54 | 20.0 | 25.0 | 15.0 | (31.0) | 7.0 | 14.0 | 112.0 | 81.0 |
| 16th | 439 | Paris Thomas | Marta Uncio Ribera | Royal Thames YC | 44 | 12.0 | 18.0 | 21.0 | 24.0 | (45.0 BFD) | 7.0 | 127.0 | 82.0 |
| 17th | 1670 | Ollie Holden | Sarah Holden | HISC | 26 | 17.0 | 9.0 | 14.0 | 18.0 | 28.0 | (45.0 DNC) | 131.0 | 86.0 |
| 18th | 785 | Andrew Wishart | Nina Luckmann | QMSC | 48 | 13.0 | 26.0 | 29.0 | 14.0 | 6.0 | (45.0 BFD) | 133.0 | 88.0 |
| 19th | 830 | Jake Hardman | Abi Tuttle | HISC | 53 | 16.0 | 21.0 | 24.0 | 16.0 | 13.0 | (26.0) | 116.0 | 90.0 |
| 20th | 1694 | Bruce Grant | Coco Carter | Itchenor SC | 65 | 15.0 | (28.0) | 25.0 | 22.0 | 14.0 | 18.0 | 122.0 | 94.0 |
| 21st | 1301 | Ian Pickard | Laurie Callaghan | Bowmoor SC | 20 | (30.0) | 22.0 | 23.0 | 21.0 | 16.0 | 13.0 | 125.0 | 95.0 |
| 22nd | 1617 | Alex Curtis | Raffi Gracie | HISC | 63 | (27.0) | 12.0 | 20.0 | 25.0 | 19.0 | 24.0 | 127.0 | 100.0 |
| 23rd | 1358 | Charlie Whitaker | Lucy Gates | QMSC | 59 | 23.0 | 14.0 | 27.0 | (30.0) | 21.0 | 15.0 | 130.0 | 100.0 |
| 24th | 1699 | Douglas Calder | Elizabeth Galloway | RNSA/Burghfield SC | 67 | 26.0 | (31.0) | 22.0 | 26.0 | 17.0 | 10.0 | 132.0 | 101.0 |
| 25th | 1415 | Chris Witty | Clare Whitehill | HISC | 60 | 19.0 | 6.0 | 16.0 | 17.0 | (45.0 BFD) | 45.0 DNC | 148.0 | 103.0 |
| 26th | 1395 | Ian Bird | Andy Bird | RYA | 22 | 7.0 | 17.0 | (45.0 BFD) | 15.0 | 45.0 DNC | 21.0 | 150.0 | 105.0 |
| 27th | 1562 | Andy Le Grice | William Le Grice | Warsash SC | 24 | 31.0 | (36.0) | 28.0 | 19.0 | 23.0 | 11.0 | 148.0 | 112.0 |
| 28th | 997 | Nev Watson | Claude Young / Clare Jones | HISC | 17 | 21.0 | (30.0) | 30.0 | 29.0 | 22.0 | 16.0 | 148.0 | 118.0 |
| 29th | 1635 | Andrew Barnett | Lynne Radcliffe | Island Barn RSC | 25 | 33.0 | 16.0 | 18.0 | 32.0 | 20.0 | (45.0 BFD) | 164.0 | 119.0 |
| 30th | 533 | James Cunnison | Alice Smith | Itchenor SC | 45 | 24.0 | 34.0 | (35.0) | 33.0 | 15.0 | 19.0 | 160.0 | 125.0 |
| 31st | 1235 | Mike Calvert | Sophie Harris | HISC | 55 | 32.0 | (35.0) | 33.0 | 23.0 | 26.0 | 17.0 | 166.0 | 131.0 |
| 32nd | 297 | Mark Thomas | Chris Thomas | | 131 | 25.0 | 19.0 | 31.0 | (45.0 UFD) | 45.0 BFD | 12.0 | 177.0 | 132.0 |
| 33rd | 1458 | Gus Dixon | Charlie Darling | HISC | 127 | (45.0 BFD) | 23.0 | 19.0 | 11.0 | 45.0 BFD | 45.0 DNC | 188.0 | 143.0 |
| 34th | 1152 | Emily Davis | Jo Tribe | Draycote Water SC | 19 | 29.0 | 32.0 | 34.0 | (37.0) | 25.0 | 23.0 | 180.0 | 143.0 |
| 35th | 888 | Nick Sandison | Vicky Taylor | Netley SC | 16 | 28.0 | 29.0 | 26.0 | 35.0 | 30.0 | (45.0 DNC) | 193.0 | 148.0 |
| 36th | 1296 | Ben Nicoll | James Nicoll | West Oxfordshire SC | 58 | (38.0) | 38.0 | 38.0 | 38.0 | 27.0 | 22.0 | 201.0 | 163.0 |
| 37th | 1009 | Dan Shillaker | Katie Shillaker | Hill Head SC | 50 | 40.0 | (41.0) | 37.0 | 40.0 | 29.0 | 27.0 | 214.0 | 173.0 |
| 38th | 736 | Madeline Bilbrough | Ed Rolstone | HISC | 47 | 39.0 | 40.0 | 36.0 | 36.0 | (45.0 BFD) | 25.0 | 221.0 | 176.0 |
| 39th | 1262 | Giles Kuzyk | Krystal Law | QMSC | 56 | 34.0 | 33.0 | 32.0 | 34.0 | (45.0 DNC) | 45.0 DNC | 223.0 | 178.0 |
| 40th | 1356 | Andrew Chapman | Melissa Chapman | Netley SC | 21 | 35.0 | 39.0 | 40.0 | 28.0 | (45.0 BFD) | 45.0 DNC | 232.0 | 187.0 |
| 41st | 80 | Ian Jubb | Katherine Palmer Ward | HISC | 15 | 36.0 | 37.0 | 39.0 | 39.0 | (45.0 BFD) | 45.0 DNC | 241.0 | 196.0 |
| 42nd | 1017 | Matthew Riley | Miranda Cook | Eastbourne Sovereign SC | 51 | 37.0 | 43.0 | 41.0 | 42.0 | (45.0 DNC) | 45.0 DNC | 253.0 | 208.0 |
| 43rd | 1094 | Leon Stein | Matt Stein | HISC | 52 | 41.0 | 42.0 | 42.0 | 41.0 | (45.0 DNC) | 45.0 DNC | 256.0 | 211.0 |
| 44th | 1047/1510? | James Nicholls | Antigone Bracken | Chelmarsh SC | 18 | 42.0 | (45.0 RET) | 45.0 DNC | 45.0 DNC | 45.0 DNC | 45.0 DNC | 267.0 | 222.0 |
RS400 Southern Champs 2023

Hayling Island Sailing Club
Results are provisional as of 15:37 on June 25, 2023
Overall
| Rank | Sail No | Helm | Crew | Club | Tally No | R1 | R2 | R3 | R4 | R5 | R6 | Total | Nett |
| --- | --- | --- | --- | --- | --- | --- | --- | --- | --- | --- | --- | --- | --- |
| 1st | 1376 | Sam Knight | Chris Bownes | Bartley SC | 76 | 1.0 | 1.0 | 4.0 | 2.0 | 1.0 | (27.0 DNC) | 36.0 | 9.0 |
| 2nd | 1526 | Ollie Groves | Esther Parkhurst | Beaver SC | | (11.0) | 3.0 | 1.0 | 1.0 | 5.0 | 1.0 | 22.0 | 11.0 |
| 3rd | 1535 | Tom Halhead | Paul Hilliar | Llandegfedd SC | 89 | 3.0 | 4.0 | 2.0 | (27.0 BFD) | 2.0 | 3.0 | 41.0 | 14.0 |
| 4th | 1528 | Christopher Eames | Rachel Tilley | QMSC | 87 | 2.0 | 8.0 | 3.0 | (9.0) | 3.0 | 2.0 | 27.0 | 18.0 |
| 5th | 1400 | James Stewart | Sam Parker | Netley | 133 | 4.0 | 2.0 | (12.0) | 4.0 | 11.0 | 4.0 | 37.0 | 25.0 |
| 6th | 1505 | Steve Wilson | Becky Wilson | | 85 | 6.0 | 5.0 | 6.0 | 5.0 | (12.0) | 12.0 | 46.0 | 34.0 |
| 7th | 1235 | Sam Pickering | Emily Heath | Chichester YC | 73 | 8.0 | 10.0 | 8.0 | 3.0 | 6.0 | (27.0 UFD) | 62.0 | 35.0 |
| 8th | 1377 | Neil Bevington | Alan Skeens | Lee on Solent SC | 77 | 10.0 | 11.0 | (27.0 RET) | 7.0 | 7.0 | 7.0 | 69.0 | 42.0 |
| 9th | 1479 | Chris Webber | Nicola Webber | Pevensey Bay SC | 82 | 7.0 | 12.0 | 5.0 | (16.0) | 14.0 | 11.0 | 65.0 | 49.0 |
| 10th | 1469 | Martin Powell | Arun Powell | Parkstone YC | 81 | (17.0) | 13.0 | 13.0 | 12.0 | 4.0 | 8.0 | 67.0 | 50.0 |
| 11th | 1480 | Andy Jefferies | Allyson Jefferies | | 130 | 14.0 | (18.0) | 9.0 | 8.0 | 9.0 | 10.0 | 68.0 | 50.0 |
| 12th | 1481 | Howard Farbrother | Louise Hoskin | Lymington Town SC | 83 | 5.0 | 9.0 | 16.0 | 11.0 | 16.0 | (27.0 DNC) | 84.0 | 57.0 |
| 13th | 854 | Sam Watson | Geoff Edwards | Budworth | 134 | 16.0 | (22.0) | 17.0 | 10.0 | 8.0 | 6.0 | 79.0 | 57.0 |
| 14th | 1189 | Steve Restall | Chris Stubbs | Downs SC | 72 | 9.0 | 7.0 | 10.0 | 15.0 | 19.0 | (27.0 DNC) | 87.0 | 60.0 |
| 15th | 1439 | Kevin Podger | Heather Chipperfield | Lymington Town SC | 80 | 13.0 | 6.0 | 14.0 | 6.0 | 25.0 | (27.0 DNC) | 91.0 | 64.0 |
| 16th | 1548 | Mick Whitmore | Sarah Whitmore | Eastbourne Sovereign SC | 92 | 12.0 | 15.0 | 11.0 | 13.0 | 13.0 | (27.0 DNC) | 91.0 | 64.0 |
| 17th | 1529 | Clive Everest | Helen Everest | HISC | 128 | 15.0 | 14.0 | 7.0 | 19.0 | 10.0 | (27.0 UFD) | 92.0 | 65.0 |
| 18th | 1539 | Steve Broomfield | Jenni Lewis | Lymington Town SC | 90 | (22.0) | 19.0 | 15.0 | 14.0 | 17.0 | 5.0 | 92.0 | 70.0 |
| 19th | 1493 | Geoffrey Holden | Bernice Holden | Locks SC | 84 | 18.0 | 17.0 | (19.0) | 18.0 | 18.0 | 13.0 | 103.0 | 84.0 |
| 20th | 1435 | Matt Sheahan | Ellie Sheahan | Warsash SC | 79 | (26.0) | 21.0 | 21.0 | 17.0 | 15.0 | 14.0 | 114.0 | 88.0 |
| 21st | 1547 | John Hobson | Rebecca Ogden | Notts County SC | 91 | 19.0 | 16.0 | 18.0 | (27.0 BFD) | 23.0 | 15.0 | 118.0 | 91.0 |
| 22nd | 870 | Matt Sargent | Chris Brown | RORC | 93 | 20.0 | 20.0 | 20.0 | (27.0 BFD) | 20.0 | 16.0 | 123.0 | 96.0 |
| 23rd | 1432 | James Alsop | Simon Edwards | QMSC | 78 | (24.0) | 24.0 | 22.0 | 21.0 | 22.0 | 9.0 | 122.0 | 98.0 |
| 24th | 1521 | Andy Powell | Chris Rolfe | Warsash SC | 86 | 23.0 | 23.0 | (24.0) | 20.0 | 21.0 | 17.0 | 128.0 | 104.0 |
| 25th | 1324 | Grant Shoebridge | Richard Watney | HISC | 71 | 25.0 | 25.0 | 23.0 | 22.0 | 24.0 | (27.0 DNC) | 146.0 | 119.0 |
| 26th | 1342 | Max Tosetti | Jitka Zenatova | QMSC | 74 | 21.0 | 26.0 | 25.0 | (27.0 DNC) | 27.0 DNC | 27.0 DNC | 153.0 | 126.0 |
RS500 National Championship 2023

Hayling Island Sailing Club
Results are provisional as of 15:48 on June 25, 2023
Overall
| Rank | Sail No | Helm | Crew | Club | Tally No | R1 | R2 | R3 | R4 | R5 | R6 | R7 | R8 | R9 | R10 | Total | Nett |
| --- | --- | --- | --- | --- | --- | --- | --- | --- | --- | --- | --- | --- | --- | --- | --- | --- | --- |
| 1st | 1040 | Edd Whitehead | Ian Mairs | Parkstone YC | 10 | 1.0 | 1.0 | 2.0 | (4.0) | 1.0 | (4.0) | 3.0 | 1.0 | 2.0 | 1.0 | 20.0 | 12.0 |
| 2nd | 529 | Paul Cullen | Fresh Abendstern | Weirwood/R.D.N.B.YC | 2 | 2.0 | 2.0 | 1.0 | 2.0 | 2.0 | 1.0 | 1.0 | 3.0 | (6.0) | (14.0 DNC) | 34.0 | 14.0 |
| 3rd | 1756 | Steve Cockerill | Sarah Cockerill | Stokes Bay SC | 14 | 4.0 | 4.0 | (6.0) | (6.0) | 4.0 | 2.0 | 5.0 | 2.0 | 1.0 | 2.0 | 36.0 | 24.0 |
| 4th | 971 | Hylke Kooistra | Thomas Holewijn | | 9 | 6.0 | 3.0 | (8.0) | 1.0 | 5.0 | 3.0 | 6.0 | (9.0) | 3.0 | 6.0 | 50.0 | 33.0 |
| 5th | 710 | Simon Horsfield | Katie Horsfield | Thorney Island SC | 4 | 7.0 | (8.0) | 3.0 | 3.0 | 3.0 | (9.0) | 8.0 | 4.0 | 7.0 | 5.0 | 57.0 | 40.0 |
| 6th | 1746 | Hugh Watson | Helen Watson | Emsworth SC | 12 | 5.0 | (11.0) | 4.0 | 5.0 | (10.0) | 5.0 | 4.0 | 6.0 | 8.0 | 4.0 | 62.0 | 41.0 |
| 7th | 1681 | Peter Curtis | James Curtis | Grafham Water SC | 11 | 3.0 | 6.0 | (7.0) | 7.0 | 6.0 | 6.0 | 7.0 | 5.0 | 5.0 | (14.0 UFD) | 66.0 | 45.0 |
| 8th | 518 | Fleur Leijs | Viktor Haaksman | WV Braassemermeer | 1 | 8.0 | 7.0 | 5.0 | 10.0 | (11.0) | 8.0 | (11.0) | 10.0 | 4.0 | 3.0 | 77.0 | 55.0 |
| 9th | 857 | Bob Preston | Isla Preston | Gurnard SC | 6 | 9.0 | 9.0 | (10.0) | (11.0) | 8.0 | 7.0 | 2.0 | 8.0 | 10.0 | 7.0 | 81.0 | 60.0 |
| 10th | 922 | Thomas Leather | Maeve Hall | Gurnard SC | 7 | (10.0) | 5.0 | 9.0 | 8.0 | 7.0 | (11.0) | 9.0 | 7.0 | 9.0 | 8.0 | 83.0 | 62.0 |
| 11th | 652 | Robin Leather | Illy Taylor Burns | Gurnard SC | 3 | (11.0) | 10.0 | (11.0) | 9.0 | 9.0 | 10.0 | 10.0 | 11.0 | 11.0 | 10.0 | 102.0 | 80.0 |
| 12th | 1750 | Nigel Davis | Aaron Davis | Draycote Water SC | 13 | 12.0 | 12.0 | 12.0 | 12.0 | 12.0 | 12.0 | (13.0) | 12.0 | (14.0 DNC) | 9.0 | 120.0 | 93.0 |
| 13th | 968 | Fiona Rudolph | Simon Rudolph | N/A | 8 | (14.0 DNC) | (14.0 DNC) | 14.0 DNC | 14.0 DNC | 13.0 | 13.0 | 12.0 | 13.0 | 12.0 | 14.0 DNC | 133.0 | 105.0 |
RS700 Summer Regatta

Hayling Island Sailing Club
Results are provisional as of 15:38 on June 25, 2023
Overall
| Rank | Sail No | Helm | Club | Tally No | R1 | R2 | R3 | R4 | R5 | R6 | Total | Nett |
| --- | --- | --- | --- | --- | --- | --- | --- | --- | --- | --- | --- | --- |
| 1st | 1029 | Rob Higgins | Chew Valley Lake SC | 98 | 3.0 | 1.0 | 1.0 | 1.0 | (5.0) | 2.0 | 13.0 | 8.0 |
| 2nd | 1062 | Matt Carter | Lancing SC | 102 | 2.0 | 2.0 | (4.0) | 2.0 | 1.0 | 1.0 | 12.0 | 8.0 |
| 3rd | 1042 | Peter Purkiss | Brightlingsea | 99 | 1.0 | 3.0 | 3.0 | (4.0) | 4.0 | 4.0 | 19.0 | 15.0 |
| 4th | 710 | Nathan Steffenoni | Weston SC | 94 | 4.0 | 5.0 | 2.0 | 3.0 | (6.0) | 3.0 | 23.0 | 17.0 |
| 5th | 1055 | Tom Porter | HISC | 100 | 5.0 | 4.0 | 5.0 | 5.0 | 2.0 | (13.0 DNC) | 34.0 | 21.0 |
| 6th | 1060 | Matt Conner | QMSC | 101 | 6.0 | 6.0 | (7.0) | 6.0 | 3.0 | 6.0 | 34.0 | 27.0 |
| 7th | 1068 | Roland Smith | HISC | 104 | 7.0 | 9.0 | 6.0 | 7.0 | 7.0 | (13.0 DNC) | 49.0 | 36.0 |
| 8th | 871 | Curtis Drew | HISC | 96 | 10.0 | 7.0 | 9.0 | 8.0 | (13.0 DNC) | 5.0 | 52.0 | 39.0 |
| 9th | 1063 | Elliot Booley | Chew Valley Lake SC | 103 | 8.0 | 8.0 | (10.0) | 9.0 | 8.0 | 7.0 | 50.0 | 40.0 |
| 10th | 931 | Malcolm Streeton | HISC | 97 | 9.0 | 10.0 | 8.0 | 10.0 | (13.0 DNC) | 8.0 | 58.0 | 45.0 |
| 11th | 801 | Stephen Carr | Brightlingsea | 95 | (13.0 RET) | 11.0 | 11.0 | 11.0 | 9.0 | 9.0 | 64.0 | 51.0 |
| 12th | 755 | Martyn Humphries | HISC | 132 | (13.0 DNC) | 13.0 DNC | 13.0 DNC | 13.0 DNC | 13.0 DNC | 13.0 DNC | 78.0 | 65.0 |
RS800 Summer Regatta

Hayling Island Sailing Club
Results are provisional as of 15:39 on June 25, 2023
Overall
| Rank | Sail No | Helm | Crew | Club | Tally No | R1 | R2 | R3 | R4 | R5 | R6 | Total | Nett |
| --- | --- | --- | --- | --- | --- | --- | --- | --- | --- | --- | --- | --- | --- |
| 1st | 1144 | Tom Morris | Guy Fillmore | HISC | 117 | 2.0 | (5.0) | 4.0 | 2.0 | 1.0 | 1.0 | 15.0 | 10.0 |
| 2nd | 1234 | Maria Stanley | Tommy Darling | HISC | 125 | (4.0) | 3.0 | 1.0 | 1.0 | 3.0 | 2.0 | 14.0 | 10.0 |
| 3rd | 1220 | Luke McEwen | Emma McEwen | Royal Lymington YC | 121 | 3.0 | 1.0 | 6.0 | 3.0 | (17.0) | 4.0 | 34.0 | 17.0 |
| 4th | 1207 | Monique Vennis-Ozanne | John Mather | HISC | 120 | 1.0 | 4.0 | 3.0 | 4.0 | (13.0) | 9.0 | 34.0 | 21.0 |
| 5th | 1129 | Duncan Gregor | Sam Jones | WPNSA | 116 | (8.0) | 7.0 | 5.0 | 6.0 | 2.0 | 5.0 | 33.0 | 25.0 |
| 6th | 1204 | Martin Orton | Ian Brooks | Chichester YC | 119 | 5.0 | 2.0 | 7.0 | 7.0 | 7.0 | (11.0) | 39.0 | 28.0 |
| 7th | 1045 | Claire Lasko | Edward Dyer | HISC | 114 | (15.0) | 6.0 | 10.0 | 10.0 | 5.0 | 7.0 | 53.0 | 38.0 |
| 8th | 1231 | Joe Bradley | Hugh Shone | Swanage SC | 123 | 6.0 | 9.0 | 9.0 | 12.5 | (15.0) | 3.0 | 54.5 | 39.5 |
| 9th | 1008 | Ben Palmer | Bruna de Queiroz | HISC | 113 | 7.0 | 10.0 | 8.0 | 5.0 | 12.0 | (23.0 DNC) | 65.0 | 42.0 |
| 10th | 985 | Chris Feibusch | Freddie Covell | HISC | 112 | 12.0 | (13.0) | 12.0 | 8.0 | 4.0 | 10.0 | 59.0 | 46.0 |
| 11th | 1232 | Cameron Moss | Darrol Moss | Lyme Regis SC | 124 | 11.0 | 11.0 | (16.0) | 12.5 | 8.0 | 6.0 | 64.5 | 48.5 |
| 12th | 1203 | Tim Gratton | Ben Gratton | Royal Thames | 118 | 9.0 | (19.0) | 13.0 | 15.0 | 6.0 | 8.0 | 70.0 | 51.0 |
| 13th | 1124 | Megan Brickwood | Stephanie Orton | Netley SC | 105 | (23.0 DNC) | 8.0 | 2.0 | 11.0 | 9.0 | 23.0 DNC | 76.0 | 53.0 |
| 14th | 907 | Alice Masterman | Ollie Dixon | HISC | 107 | 10.0 | (14.0) | 11.0 | 9.0 | 14.0 | 13.0 | 71.0 | 57.0 |
| 15th | 820 | Bryan Ormond | Anna Prescott | QMSC | 106 | 13.0 | 12.0 | (17.0) | 14.0 | 10.0 | 12.0 | 78.0 | 61.0 |
| 16th | 1122 | Blake Tudor | Brett Tudor | Brightlingsea SC | 115 | 19.0 | 18.0 | 14.0 | (21.0) | 11.0 | 14.0 | 97.0 | 76.0 |
| 17th | 905 | Chris Doe | Nick Prince | Thorney Island | 111 | 14.0 | 17.0 | 15.0 | 18.0 | 19.0 | (23.0 DNC) | 106.0 | 83.0 |
| 18th | 1225 | Liz Watton | Christopher Williams | Leigh & Lowton SC | 122 | 17.0 | 15.0 | 20.0 | 19.0 | 16.0 | (23.0 DNC) | 110.0 | 87.0 |
| 19th | 1057 | Mark Oakey | Jamie Pidduck | HISC | 126 | 16.0 | 20.0 | 19.0 | 16.5 | 18.0 | (23.0 DNC) | 112.5 | 89.5 |
| 20th | 1239 | Josh Poat | Hattie Field | HISC | 108 | 20.0 | 16.0 | 18.0 | 16.5 | (23.0 DNC) | 23.0 DNC | 116.5 | 93.5 |
| 21st | 883 | Angus Marshall | Imogen Marshall | Dalgety Bay SC | 110 | 18.0 | 21.0 | 21.0 | (23.0 RET) | 23.0 DNC | 23.0 RET | 129.0 | 106.0 |
| 22nd | 862 | Josh Adams | Alejandra Gutierrez | QMSC | 109 | (23.0 RET) | 23.0 DNC | 23.0 RET | 20.0 | 23.0 DNC | 23.0 DNC | 135.0 | 112.0 |