Results / Lord Birkett Ullswater YC - 01/07/2023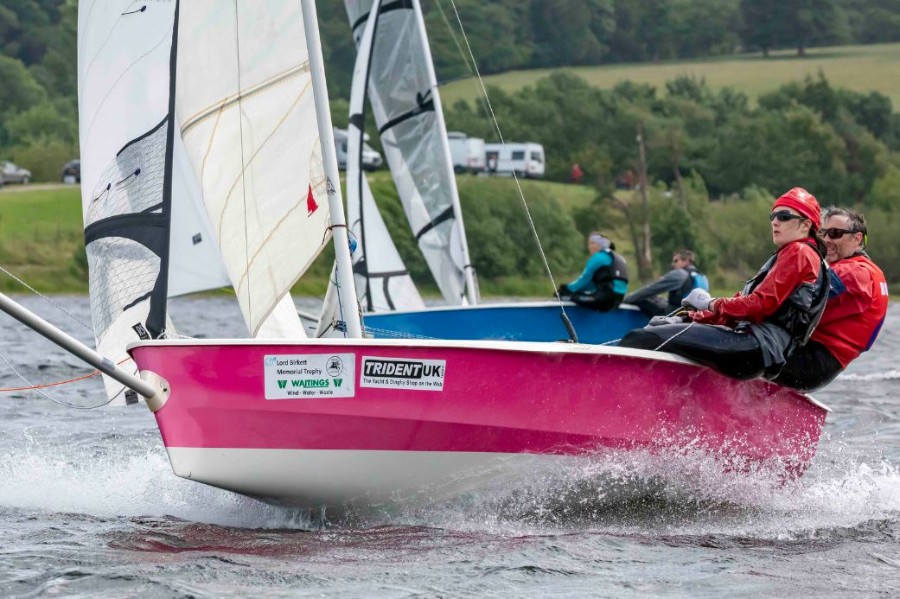 TridentUK Northern Tour at the Lord Birkett Trophy at Ullswater YC – 1st and 2nd July.
Report by Alistair Coates
The latest round of the RS400 Northern Tour was held as part of the iconic Lord Birkett Trophy at Ullswater Yacht Club on the 1st and 2nd of July. There were 207 entrants this year, including a whopping 20 RS400's, with a mixture of Northern Tour regulars and others making a very welcome first appearance.
So – what to say about this years' Birkett? Epic! Would be a good start. Windguru said it would be windy and Ullswater did not disappoint. The Birkett teases you with a few naff years where the breeze might be ok on one day but not the other. This year was one of the special ones. It was fairly breezy at the club to start with so, when the Principal Race Officer informed competitors on Saturday that he'd had a look down the lake and it was twice as windy(!) there were a few slightly worried expressions.
We had a couple of practice starts before the black flag was unfurled on Saturday and everyone settled down. Making the early running were Stewart and Sarah Robertson (Royal Forth) who were first 400 to the narrows, at which point their kicker gave up the fight. They tried to carry on but to no avail – it was too windy. It was over to Keith Escritt & Phil Priestly (YDSC), Alistair & Thomas Coates (Budworth), Richard and Heather Marsh, Chris & Andy McKee (both from Hollingworth), Alex Leonard & Ben Murrell (Bass) and Jacob Ainsworth & Philip Cowans (Tynemouth) to try to keep Chris Pickles & Matt Sharman (Bass) at bay. To no avail. Pickles & Sharman worked their way through and led handsomely at Norfolk Island. Getting that far was quite an achievement for everyone. Some of the gusts were in excess of 30 knots so helms and crews had their work cut out popping the sheets and cranking them back in again, over and over. It was worth it though – planning upwind in a 400 is special.
The sleigh ride downhill did not disappoint either. The wind by Norfolk Island was quite affected by the mountains and 30 degree shifts in that pressure meant hoisting was pretty sketchy. Coates & Coates had a quick swim but it wasn't as expensive as it could have been. The rest of the downhill was just awesome – carve gybing without coming of the plane, going so low in the big gusts that the jib was collapsing behind the main – followed by the kite doing the same! After all that, Pickles & Sharman led the 400s home by some 4 minutes even whilst nursing a rather broken foredeck. 6 further 400s finished within 2 minutes of each other after 2 hours of racing. What a class!
Of the 200 entrants, 150 took to the water and only 100 finished. It was brutal. Saturday night was spent exchanging tall tales, rehydrating and persuading hands and thighs that doing it all again the next day was a good idea.
Sunday dawned looking a bit lighter, which it was briefly, before honking again for the duration. The Robertson's had fixed their problem, the Coates' decided a functioning outhaul was a sensible upgrade and Mike Saul worked his customary magic on Pix's boat to have him ready to go.
Coates & Coates and Pickles & Sharman had good starts and converged at the narrows after 20 minutes before spending the next hour crossing tacks in 25+ knots. You know its' windy when you have to time tacking in between the really nasty bits. Only just behind were the usual suspects from Saturday. Pickles & Sharman escaped just before Norfolk Island which, bizarrely was in a complete calm patch! Coates & Coates gave chase, themselves chased all the way by Marsh & Marsh, Leonard & Murrell, Massey & McKee and Robertson & Robertson. Pickles & Sharman had a mere 2 minute lead by the end, with another 7 400s within 4 minutes.
The weather conditions were not favourable to a hiking boat winning overall, but the 400s acquitted themselves very well, with 6 boats in the top 20, headed by Pickles & Sharman in 4th.
Roll on the next round of the Trident UK Northern Tour at Yorkshire Dales on 23/23 July. The 2024 Birkett will be held on the first full weekend in July – 6th and 7th – put it in your diary now!
Rank

SailNo

HelmName

CrewName

Club

R1

R2

Total

1st

4th

1453

PICKLES Chris

Matt Sharman

Bassenthwaite Sailing Club

9

3

12

2nd

10th

498

COATES Alistair

Thomas Coates

Budworth Sailing Club

17

10

27

3rd

14th

145

LEONARD Alex

Ben Murrell

Bassenthwaite Sailing Club

21

11

32

4th

15th

1347

MASSEY Chris

Andy McKee

Hollingworth Lake Sailing Club

19

14

33

5th

16th

8

ESCRITT Keith

Phil Priestly

Yorkshire Dales Sailing Club

15

20

35

6th

18th

1150

MARSH Richard

Heather Marsh

Hollingworth Lake Sailing Club

20

23

43

7th

21st

1410

AINSWORTH Jaccob

Phillip Cowans

Tynemouth Sailing Club

22

29

51

8th

28th

1492

PENTY Martin

David Grice

Budworth Sailing Club

43

21

64

9th

50th

1277

TULLETT Graham

Gavin Tullett

Royal Windermere Yacht Club

68

46

114

10th

52nd

1136

SMITH Justin

Sarah Batchelor

Tynemouth Sailing Club

57

58

115

11th

53rd

1524

HALMAN Stuart

Anna Walsh

Leigh and Lowton Sailing Club

61

56

117

12th

77th

1463

ROBERTSON Stewart

Sarah Robertson

Royal Forth Yacht Club

208.0
RET

13

221

13th

94th

563

JONES Sam

Rob Jones

Staunton Harold Sailing Club

208.0
RET

63

271

14th

105th

1216

BOYCE Rick

Sam Smith

Ullswater Yacht Club

208.0
RET

80

288

15th

122nd

1069

MULHOLLAND Chris

Harriott Pulman

Ullswater Yacht Club

208.0
RET

208.0
RET

416

16th

122nd

1024

KINDON Nick

Paul Munro

Staunton Harold Sailing Club

208.0
RET

208.0
DNS

416

17th

122nd

440

SCOTT Keith

David Parry

Aberdeen & Stonehaven Yacht Club

208.0
RET

208.0
DNS

416

18th

122nd

1281

SMITH Steve

Matt Butler

Yorkshire Dales Sailing Club

208.0
DNS

208.0
DNS

416

19th

122nd

1455

KNOTT Gary

Amy Hinsliff-Smith

Notts County Sailing Club

208.0
DNS

208.0
DNS

416

20th

122nd

1326

UPTON Frankie

Debbie Woodcock

Exe Sailing Club

208.0
DNS

208.0
RET

416