Results / Arun YC - 08/07/2023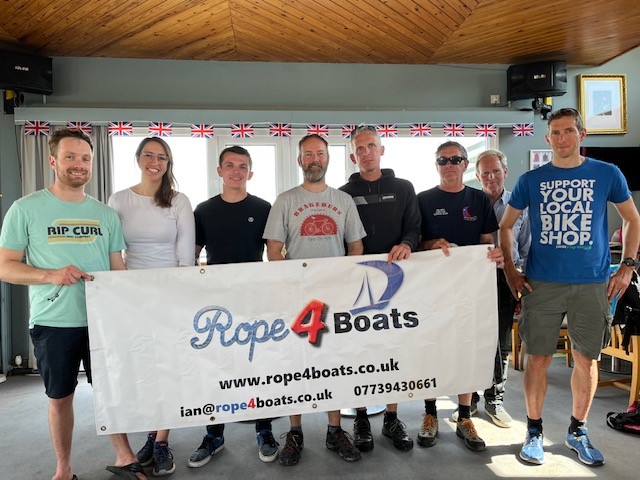 A very high level field at Arun, getting some practice in for the Nationals!
An eager group of twenty RS400 sailors congregated at Arun Yacht Club at 9am on 8 July 2023 for the final instalment of the Rope4Boats Southern Tour before the nationals. Eagle eyed readers will note that was two fewer than expected as this author, delayed by a combination of traffic and the previous evenings frivolities, rolled in 1 minute before the briefing commenced at 9.29am.
The fleet launched promptly at 1030am to catch the final ebb of tide taking the fleet to the racecourse. For those who haven't been to Arun the fairway out to sea is no more than 10 metres wide, the perfect place for tacking practice. The only catch: the tacking has to be completed with foils up to avoid hitting the bottom!
Out on the racecourse there was an ominous feel in the air as dark clouds started to roll in. Initially this was mistaken for excitement at the start of a day on the water, but the unmistakable boom of thunder quickly and torrential downpour dispelled that myth. Never have I been more relieved to return to shore with no races completed.
Back at the club there was time for a quick bite of lunch before returning to the water for a second go. A steady 12 knots and sunshine beaconed but no sooner had the fleet reached the racecourse than any whiff of breeze promptly disappeared. Clearly the RS400 fleet had scorned the sailing God that day. Before too long it was time for the pub.
Sunday dawned to the sight of a millpond in the harbour. Cue more boat bimbling. Mercifully wind arrived along with the sun and the esteemed Race Officer, Paisley Thompson, squeezed every drop out of the day managing to fit in three quick fire races. It was RS400 newbies, Edd Whitehead and Ben Whaley, who took the fleet by storm winning the first race. In the second race it was the turn of Chris Eames and Rachel Tilley to take the bullet. In the third Tom Hallhead and Paul Hilliar snatched victory on the final run.
Back ashore (again) all agreed over coffee and cake that the team from Arun Yacht Club are second to none. A thoroughly friendly and dedicated bunch of volunteers, without whom these events simply would not happen. A huge thanks must also go to the Southern Tour's sponsor, Rope4Boats, who provided brilliant prizes.
The next event on the Rope4Boats Southern Tour is the unofficial post-nationals party at Lymington Town Regatta ! Entry is limited to 120 boats across all classes, so best enter early.
Christopher Eames
RS 400 Southern Tour 8th & 9th July 2023
Arun Yacht Club
Overall
| Rank | SailNo | Club | HelmName | CrewName | PY | R1 | R2 | R3 | Total | Nett |
| --- | --- | --- | --- | --- | --- | --- | --- | --- | --- | --- |
| 1st | 1541 | Parkstone YC | Edd Whitehead | Ben Whaley | 940 | 1.0 | 2.0 | 2.0 | 5.0 | 5.0 |
| 2nd | 1535 | Llandefedd Sailing Club | Paul Hiliar | Tom Halhead | 940 | 2.0 | 3.0 | 1.0 | 6.0 | 6.0 |
| 3rd | 1528 | Queen Mary SC | Chris Eames | Rachel Tilley | 940 | 3.0 | 1.0 | 3.0 | 7.0 | 7.0 |
| 4th | 1481 | LTSC | Howard Farbrother | Jack Munnelly | 940 | 4.0 | 4.0 | 5.0 | 13.0 | 13.0 |
| 5th | 1377 | Lee on Solent | Neil Bevington | Alan Skeens | 940 | 5.0 | 5.0 | 4.0 | 14.0 | 14.0 |
| 6th | 1479 | Pevensey Bay SC | Chris Webber | Nicki Webber | 940 | 6.0 | 6.0 | 6.0 | 18.0 | 18.0 |
| 7th | 1435 | Warsash SC | Matthew Sheahan | Ellie Sheahan | 940 | 8.0 | 7.0 | 7.0 | 22.0 | 22.0 |
| 8th | 1521 | Warsash SC | Andy Powell | Chris Rolfe | 940 | 7.0 | 8.0 | 8.0 | 23.0 | 23.0 |
| 9th | 814 | Pevensey Bay SC | Michael Tanner | Duncan Tanner | 940 | 9.0 | 9.0 | 9.0 | 27.0 | 27.0 |
| 10th | 1362 | Arun YC | Charles Taylor | Harley / Steve | 940 | 10.0 | 10.0 | 10.0 | 30.0 | 30.0 |
| 11th | 1539 | Lymington Town SC | Steven Broomfield | Jenni Lewis | 940 | 12.0 DNC | 12.0 DNC | 12.0 DNC | 36.0 | 36.0 |
R1
| Rank | SailNo | Club | HelmName | CrewName | PY | Place | Points |
| --- | --- | --- | --- | --- | --- | --- | --- |
| 1 | 1541 | Parkstone YC | Edd Whitehead | Ben Whaley | 940 | 1 | 1.0 |
| 2 | 1535 | Llandefedd Sailing Club | Paul Hiliar | Tom Halhead | 940 | 2 | 2.0 |
| 3 | 1528 | Queen Mary SC | Chris Eames | Rachel Tilley | 940 | 3 | 3.0 |
| 4 | 1481 | LTSC | Howard Farbrother | Jack Munnelly | 940 | 4 | 4.0 |
| 5 | 1377 | Lee on Solent | Neil Bevington | Alan Skeens | 940 | 5 | 5.0 |
| 6 | 1479 | Pevensey Bay SC | Chris Webber | Nicki Webber | 940 | 6 | 6.0 |
| 7 | 1521 | Warsash SC | Andy Powell | Chris Rolfe | 940 | 7 | 7.0 |
| 8 | 1435 | Warsash SC | Matthew Shean | Ellie Shean | 940 | 8 | 8.0 |
| 9 | 814 | Pevensey Bay SC | Michael Tanner | Duncan Tanner | 940 | 9 | 9.0 |
| 10 | 1362 | Arun YC | Charles Taylor | Harley / Steve | 940 | 10 | 10.0 |
| 11 | 1539 | Lymington Town SC | Steven Broomfield | Jenni Lewis | 940 | DNC | 12.0 |
R2
| Rank | SailNo | Club | HelmName | CrewName | PY | Place | Points |
| --- | --- | --- | --- | --- | --- | --- | --- |
| 1 | 1528 | Queen Mary SC | Chris Eames | Rachel Tilley | 940 | 1 | 1.0 |
| 2 | 1541 | Parkstone YC | Edd Whitehead | Ben Whaley | 940 | 2 | 2.0 |
| 3 | 1535 | Llandefedd Sailing Club | Paul Hiliar | Tom Halhead | 940 | 3 | 3.0 |
| 4 | 1481 | LTSC | Howard Farbrother | Jack Munnelly | 940 | 4 | 4.0 |
| 5 | 1377 | Lee on Solent | Neil Bevington | Alan Skeens | 940 | 5 | 5.0 |
| 6 | 1479 | Pevensey Bay SC | Chris Webber | Nicki Webber | 940 | 6 | 6.0 |
| 7 | 1435 | Warsash SC | Matthew Shean | Ellie Shean | 940 | 7 | 7.0 |
| 8 | 1521 | Warsash SC | Andy Powell | Chris Rolfe | 940 | 8 | 8.0 |
| 9 | 814 | Pevensey Bay SC | Michael Tanner | Duncan Tanner | 940 | 9 | 9.0 |
| 10 | 1362 | Arun YC | Charles Taylor | Harley / Steve | 940 | 10 | 10.0 |
| 11 | 1539 | Lymington Town SC | Steven Broomfield | Jenni Lewis | 940 | DNC | 12.0 |
R3
| Rank | SailNo | Club | HelmName | CrewName | PY | Place | Points |
| --- | --- | --- | --- | --- | --- | --- | --- |
| 1 | 1535 | Llandefedd Sailing Club | Paul Hiliar | Tom Halhead | 940 | 1 | 1.0 |
| 2 | 1541 | Parkstone YC | Edd Whitehead | Ben Whaley | 940 | 2 | 2.0 |
| 3 | 1528 | Queen Mary SC | Chris Eames | Rachel Tilley | 940 | 3 | 3.0 |
| 4 | 1377 | Lee on Solent | Neil Bevington | Alan Skeens | 940 | 4 | 4.0 |
| 5 | 1481 | LTSC | Howard Farbrother | Jack Munnelly | 940 | 5 | 5.0 |
| 6 | 1479 | Pevensey Bay SC | Chris Webber | Nicki Webber | 940 | 6 | 6.0 |
| 7 | 1435 | Warsash SC | Matthew Shean | Ellie Shean | 940 | 7 | 7.0 |
| 8 | 1521 | Warsash SC | Andy Powell | Chris Rolfe | 940 | 8 | 8.0 |
| 9 | 814 | Pevensey Bay SC | Michael Tanner | Duncan Tanner | 940 | 9 | 9.0 |
| 10 | 1362 | Arun YC | Charles Taylor | Harley / Steve | 940 | 10 | 10.0 |
| 11 | 1539 | Lymington Town SC | Steven Broomfield | Jenni Lewis | 940 | DNC | 12.0 |