Results / Rope4Boats Inland Championships Grafham Water SC - 30/09/2023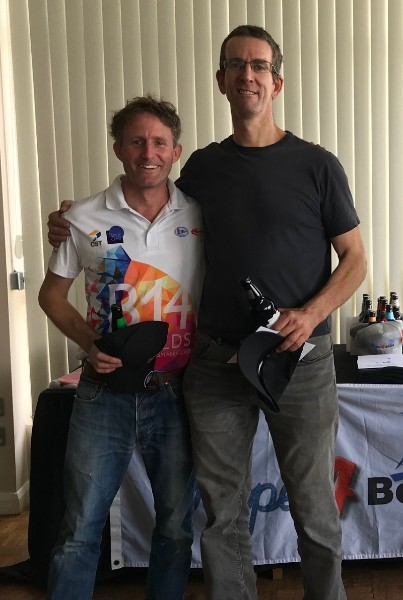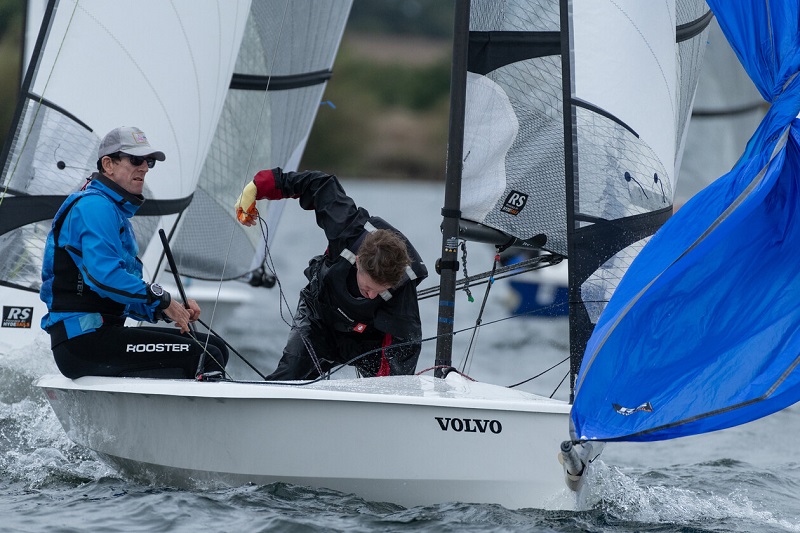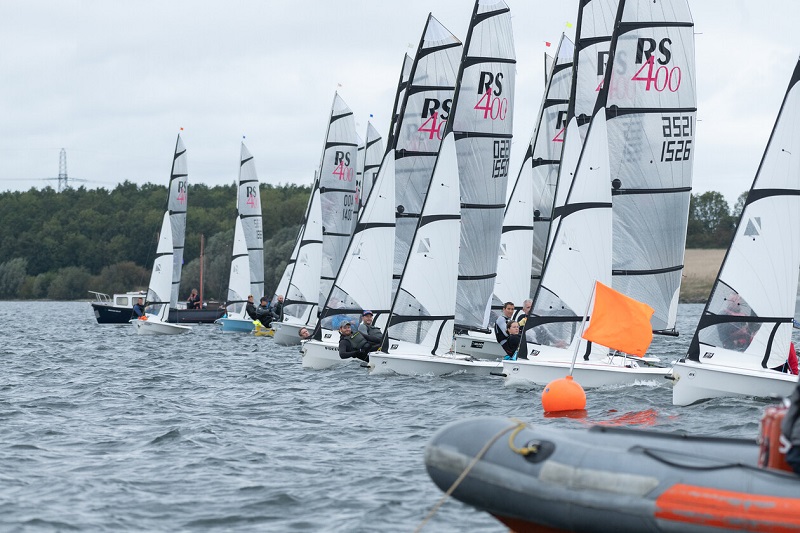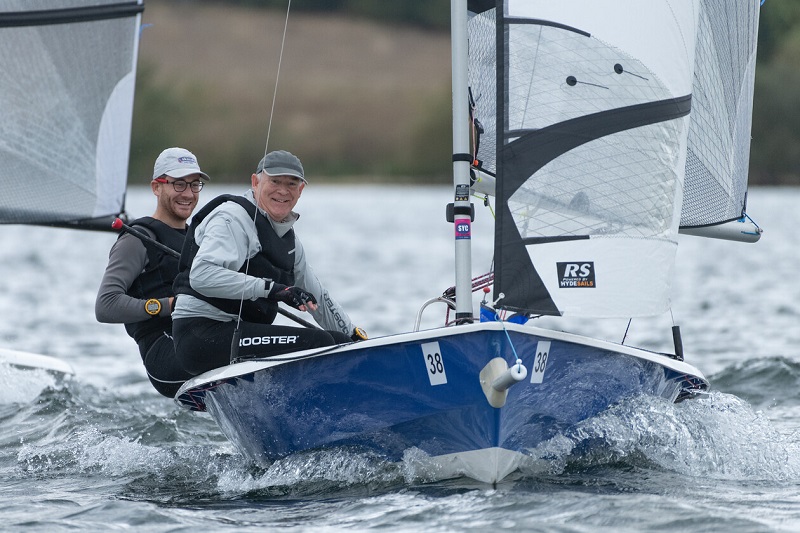 CONGRATULATIONS TO OUR 2023 ROPE FOR BOATS INLAND CHAMPIONS!
RS200: Ben Whaley and Lorna Glen
RS400: Nick Craig and Toby Lewis
RS800: Luke McEwen and Hugh Shone
Thank you to Grafham Water Sailing Club for hosting a fabulous racing weekend. Thank you to generous event sponsor Rope4Boats. Thank you to Rooster for sponsoring the fleet National Tours.
Click on the event report name below to be taken directly to it:
The event gallery thanks to Paul Sanwell/OPP is available to view and purchase from here
RS400 RS800 prize giving photos thanks to Anna Prescott. RS200 prize giving photos thanks to Lynne Clarke.
RS200 Rope4Boats Inland Championship at Grafham Water sailing Club 30 Sept - 1 Oct 2023
Ever since the RS200 became the boat of choice for the prestigious "champion of champions" Endeavour Trophy, the RS200 Inlands, held at Grafham WSC on the preceding weekend, has been the ideal warm-up regatta for the country's national champions to test themselves against the established fleet. As such, the depth and quality of competition is top tier, and the racing is close and intense.
With a Southerly breeze coming over the village of Perry, the conditions were challenging, with irregular 30° shifts, gusts and holes to contend with on both days, meaning consistency was key - sail clean, pick which shifts to tack on and which to sail through, and avoid getting stuck in a hole.
At the end of day one, nobody had strung a perfect series together; overnight leaders and winners of race one were brother-sister pairing JJ and Jess Hammett from HISC. Most consistent, but not yet hitting their stride with a 6,6,3 were Ben Whaley and Lorna Glen of Parkstone YC, while the veteran SB3 sailor (and 2005 RS200 National Champion) Craig Burlton sailing with daughter Hennie sat 3rd.
Being at the heavier end of the fleet, we were looking forward to the forecast of more wind on Sunday, but the promised 20kts never materialised and we had an even trickier day of marginal planing conditions, still with the same patchy and fickle wind direction. Huge gains and losses were made on every downwind, with the top mark being so close to the windward shore that picking a side was a lottery as the gusts were only visible from a ⅓ of the way down the course.
An impatient fleet and a change in wind direction meant there were a number of black flags in race five, but going into the final race, the event was wide open. Leaders after five races, counting 1,1,2,8 were new pairing David Jessop and Richard Thomas, but with some quick mental arithmetic they knew that JJ and Jess (with 1,3,3,6) and Ben and Lorna (also counting 1,3,3,6) were only one point behind. So, the stage was set for a three-way scrap for the win.
A punchy start from the starboard end saw David and Richard take an early lead, and they rounded the top mark in 3rd with Ben and Lorna right on their transom. JJ and Jess were somewhere in the bunch behind, but with their lightning downwind pace and cunning overtook both boats and stormed ahead. David and Ben closed up on the next beat, but James extended down the penultimate run to take a 10-boat length lead over David who followed to the favoured right, and Ben who rolled the dice and went left.
Slowly, slowly the gap reduced; every cross was a little closer, and approaching the final windward mark JJ led David by a small margin. With a big lull in the middle of the course, Ben had committed to the far left, and every shift swung the pendulum one way then the other. A last-gasp left shift at the top of the course allowed Ben to pop out just at the front of the bunch, with six tightly-packed boats following close behind including James and David.
Somewhere well ahead, Simon and Katie Horsfield became the 5th different winner in six races, but it was Ben and Lorna coming home in 3rd who clinched the event win, followed by JJ and Jess, and then David and Richard. The prizegiving highlighted just how consistent Ben and Lorna have been this year as they swept up all the series prizes, and a big congratulations to them on a well-deserved defence of their Inlands crown. We don't have the space in our house for the trophy anyway… maybe we will next year!
Thank you very much to Grafham WSC for hosting a fabulous event, to Rope4Boats for being the generous event sponsor, and to Rooster for the RS200 Championship Tour.
By David Jessop
Up on Y&Y here
RS200 Rooster Championship Tour results here
RS400 Rope4Boats Inland Championship at Grafham Water Sailing Club 30 Sept – 1 Oct 2023
The Rope4Boats RS400 Inland national championship kicked off under sunny skies with a shifty 6-8 knots of breeze. After a recall, the first race started under a black flag with start line bumper cars and barely avoidable contact putting some contenders into an early spin. Huge first beat wind shifts switched up the pecking order, launching Chris Massey/Charlotte Graham into a giant lead at the first mark. While they were busy extending their lead, the fleet behind were tightly bunched. However, the wind shifts hadn't had their final say and as the leading group closed up down the final leg, Massey/Graham just, just held on from a fast charging (or just plain fast) Ollie Groves/Esther Parkhurst, who were having a final downwind 'getting to know you' session with class LegEnds Nick Craig/Toby Lewis. Amazingly the entire fleet finished within two minutes – some super close racing.
The wind built slightly for race two and Groves/Parkhurst showed the fleet how it was done despite the wind regularly shifting through 30 degrees. This time they were chased by Mike Simms/Jack Holden, who managed to regain their balance after so much first race spinning. Craig/Lewis fought hard for third.
Another notch more wind, so it was now 8 knots gusting 12 but still with massive shifts scything through the fleet. Dave Exley/Alistair Coates showed their faces at the front but behind them it was still super tight in the bunch. Groves/Parkhurst mystifyingly recovered from a first mark spin to storm through and win the race ahead of Exley/Coates. The ominously consistent Craig/Lewis fought their way in third yet again, foreshadowing what would happen the following day.
Most of the competitors rolled out to the local pub for an excellent meal and a friendly social before rolling back into bed to get some much needed beauty sleep for the next day of racing.
Sunday dawned with less sunshine but plenty more wind – now 12 knots gusting 18 and a lot steadier in direction than the previous day. Not content with the previous day's 'getting to know you' session, Craig/Lewis had a good sniff at Simms/Holden at the start, but after some handbags they somehow avoided contact, gave a cheery wave and went on with the racing. Up front, Jon Heissig/Nicky Griffin had clearly had plenty of beauty sleep and were smashing it downwind into the lead, closely followed by Tom Halhead/Paul Hilliar. Huge gusts down the final run splintered the leaders, taking Halhead/Hilliar well clear and bringing the chasing three all into the final leeward mark together – Craig/Lewis somehow squeezing through to second ahead of Heissig/Griffin in a blanket finish.
Into the penultimate race and Sam Knight/Chris Bownes looked to be in a league of their own, sailing into a huge lead until….. Craig/Lewis went from zeros to downwind heroes in one gust that simultaneously buried Knight/Bownes and turned the bunch inside out. Craig/Lewis finally got to hear the winning hooter, with Jamie Morgan/Oliver Davenport playing second fiddle.
Scores on the doors going into the final race meant the overall result was going to come down to a duel between Groves/Parkhurst and Craig/Lewis. Craig/Lewis somehow avoided a last minute change of their mucky mainsail and got on with match racing Groves/Parkhurst for the title. The fleet were treated to the sight of the two fastest boats getting in a proper spin. Groves/Parkhurst got shepherded way over towards the RS200 course while the rest of the fleet got on with the actual race. ……in which Knight/Bownes and Morgan/Davenport did an absolute horizon job.
Groves/Parkhurst finally escaped the clutches of their adversaries to start the race and they made a great effort to claim the title by sailing fast through the fleet. Close but alas not close enough by only 50 yards, it left Craig/Lewis as the deserved champions.
The Rope4Boats RS400 Inland championship had provided an excellent standard of friendly but tight racing - there were five different winners from the six races. Grafham WSC really delivered at being a welcoming club with superbly run racing, great facilities and on-site camping, which is a massive win and really helps the event atmosphere. Thank you very much to generous event sponsors Rope4Boats and RS400 National Tour sponsors Rooster.
Looking forward to seeing you at the last event on the RS400 Rooster National Tour which is the RS End of Seasons Regatta at Rutland SC 4-5 Nov 2023.
By Paul Hilliar
Up on Y&Y here
The Rope4Boats RS800 Inland Championships at Grafham Water SC 30 Sept – 1 Oct 2023
On a beautiful Saturday morning, reminiscent of a perfect mid-Summer sail, a gentle breeze and sunshine, we all headed towards the starting area in displacement mode.
In the first race, the fleet split into two groups, with half heading left and the other half going right, making it anyone's guess who would prevail. The shifting winds created a challenging course, but Bryan Ormond and Anna Prescott (1198) skillfully navigated every shift, taking a commanding lead at the first windward mark and sailed into the distance securing first place. Downwind, it was all about finding the gusts and riding them as long as possible. Although most boats favoured the right side of the course at the leeward gate, Martin Orton and Ian Brookes (1204) made a clearing tack heading left which gifted huge advantages securing second place. Luke McEwen and Hugh Shone (1) tried to catch up but settled for third.
In the second race, a bit more breeze filled the course, and all the boats got off to a clean start. Liz Watton and Christopher Williams (1225) displayed exceptional wind-reading skills, leading from the windward mark to the finish. Peter and James Curtis (825) secured second place, while Luke and Hugh (1) maintained their consistency with another third-place finish.
Race three saw some early challenges, with the starboard end of the line being favoured. James Penty and Eddie Grayson (1245) had to tack away to the right, initially losing ground. However, this unpopular move turned out to be a tactical advantage, granting them a substantial lead that they held until the finish. Luke and Hugh (1) secured second place, putting them in the overall lead overnight, with Bryan and Anna (1198) in third.
Sunday morning brought unexpectedly warm weather for October's start, coupled with a steady breeze of 12-15 knots, setting the stage for race four. The fleet remained closely matched, likely due to the steadier winds. As the race unfolded, the right side of the course seemed to offer more breeze. Luke and Hugh (1) claimed victory, followed by Bryan and Anna (1198), and James and Eddie (1245) rounding out the top three.
Race five began with a noticeable port bias, and Martin and Ian (1204) took advantage by winning the pin and heading right into the stronger wind. James and Eddie (1245) led around the windward mark but encountered a mishap (James fell off the back), capsizing and allowing the entire fleet to pass. Luke and Hugh (1) capitalised on this opportunity to secure their second win of the day.
In race six, a well-balanced start line provided an even playing field. Luke and Hugh (1) established an early lead and maintained it throughout the race, securing a perfect score for day two. Blake and Brett Tudor (1043), and James and Eddie (1245) battled for second and third places, respectively.
We look forward to seeing you all at Rutland for the RS End of Seasons Regatta on 4th-5th November - the grand finale of the 2023 RS800 Rooster National Tour!
Entry here
(Get your name on the list early so we can see who is intending to come)
Many thanks to Paul Sanwell/OPP for the photos from the Inlands. Thank you to Grafham Water SC for running a smashing event. Thank you to Rope4boats.co.uk for their generous event prize sponsorship. Thank you to Rooster for our RS800 Rooster National Tour.
Report by James Penty
Up on Y&Y here
RS 200, 400 and 800 Inlands
Grafham Water Sailing Club
Results are provisional as of 14:58 on October 1, 2023
RS200 Class
| Rank | Class | Sail No | Helm | Crew | Club | R1 | R2 | R3 | R4 | R5 | R6 | Total | Nett |
| --- | --- | --- | --- | --- | --- | --- | --- | --- | --- | --- | --- | --- | --- |
| 1st | RS200 | 1700 | Ben Whaley | Lorna Glen | Parkstone YC | (6.0) | 6.0 | 3.0 | 1.0 | 3.0 | 3.0 | 22.0 | 16.0 |
| 2nd | RS200 | 880 | JJ Hammett | Jess Hammett | HISC | 1.0 | 3.0 | (10.0) | 3.0 | 6.0 | 5.0 | 28.0 | 18.0 |
| 3rd | RS200 | 1564 | David Jessop | Richard Thomas | Grafham Water SC | (16.0) | 1.0 | 1.0 | 8.0 | 2.0 | 9.0 | 37.0 | 21.0 |
| 4th | RS200 | 1439 | Jamie Harris | Ellen Main | HISC/Netley SC | 2.0 | 14.0 | (22.0) | 2.0 | 4.0 | 7.0 | 51.0 | 29.0 |
| 5th | RS200 | 8 | Craig Burlton | Hennie Burlton | Royal Southern YC | 4.0 | 9.0 | 2.0 | (12.0) | 12.0 | 6.0 | 45.0 | 33.0 |
| 6th | RS200 | 1237 | Tom Ahleid | Tristan Ahlheid | Frensham Pond SC | 7.0 | 13.0 | (14.0) | 6.0 | 1.0 | 8.0 | 49.0 | 35.0 |
| 7th | RS200 | 1211 | Brendan Lynch | Ellen Clark | East Lothian YC | 19.0 | 5.0 | 4.0 | 5.0 | (33.0 BFD) | 2.0 | 68.0 | 35.0 |
| 8th | RS200 | 1699 | Simon Horsfield | Katie Horsfield | Thorney Island SC/RNSA | 11.0 | 4.0 | (20.0) | 13.0 | 7.0 | 1.0 | 56.0 | 36.0 |
| 9th | RS200 | 1621 | Henry Hallam | Ashley Hill | Restronguet SC | 17.0 | 2.0 | (18.0) | 14.0 | 5.0 | 4.0 | 60.0 | 42.0 |
| 10th | RS200 | 439 | Paris Thomas | Marta Uncio Ribera | Royal Thames YC | (15.0) | 11.0 | 12.0 | 4.0 | 11.0 | 12.0 | 65.0 | 50.0 |
| 11th | RS200 | 1635 | Andrew Barnett | Lynne Ratcliffe | Island Barn RSC | 5.0 | 10.0 | 6.0 | (16.0) | 14.0 | 16.0 | 67.0 | 51.0 |
| 12th | RS200 | 1295 | Andrew Wishart | Nina Luckmann | QMSC | 3.0 | (25.0) | 15.0 | 10.0 | 15.0 | 11.0 | 79.0 | 54.0 |
| 13th | RS200 | 1716 | Ollie Evans | Zoe Nieveen | Southampton Uni SC | 13.0 | (19.0) | 5.0 | 9.0 | 9.0 | 18.0 | 73.0 | 54.0 |
| 14th | RS200 | 994 | Dylan Creighton | Joseph Jones | Cardiff Bay/Burghfield SC | 8.0 | (18.0) | 16.0 | 7.0 | 16.0 | 17.0 | 82.0 | 64.0 |
| 15th | RS200 | 1421 | Ed Bradburn | Holly Evans | South Staffs SC | 21.0 | 8.0 | 8.0 | 18.0 | (33.0 BFD) | 10.0 | 98.0 | 65.0 |
| 16th | RS200 | 1021 | Cameron Harris | Archie Goodhead | Waldringfield SC/OYC | 12.0 | 12.0 | 11.0 | (25.0) | 19.0 | 14.0 | 93.0 | 68.0 |
| 17th | RS200 | 1078 | Merrick Stanley | Victoria Upton | Warsash SC | 9.0 | 7.0 | (21.0) | 20.0 | 20.0 | 13.0 | 90.0 | 69.0 |
| 18th | RS200 | 297 | Mark Thomas | Alex Ling | HISC | (29.0) | 16.0 | 9.0 | 15.0 | 13.0 | 21.0 | 103.0 | 74.0 |
| 19th | RS200 | 1526 | Ben Hazeldine | Hebe Hemming | Frensham Pond SC | 10.0 | 22.0 | 13.0 | 21.0 | 17.0 | (23.0) | 106.0 | 83.0 |
| 20th | RS200 | 211 | Jamie Morson | Fiona Harrington | SBSC/WWSC | (25.0) | 17.0 | 17.0 | 23.0 | 8.0 | 20.0 | 110.0 | 85.0 |
| 21st | RS200 | 1740 | Mark Oakey | Jess Smith | Cardiff Bay YC | 20.0 | 20.0 | (25.0) | 17.0 | 10.0 | 19.0 | 111.0 | 86.0 |
| 22nd | RS200 | 433 | Adam Fuller | Aaron Woolf | Orwell YC/WSC/RHYC | 26.0 | 24.0 | 27.0 | 11.0 | (33.0 BFD) | 15.0 | 136.0 | 103.0 |
| 23rd | RS200 | 1358 | Lucy Gates | Amy Sanderson | QMSC | 27.0 | (29.0) | 7.0 | 24.0 | 23.0 | 26.0 | 136.0 | 107.0 |
| 24th | RS200 | 1277 | Stewart Walker | Martin Walker | Yorkshire Dales SC | 18.0 | 21.0 | 23.0 | (27.0) | 21.0 | 24.0 | 134.0 | 107.0 |
| 25th | RS200 | 1617 | Alex Curtis | Raffi Gracie | HISC | 23.0 | 15.0 | 19.0 | 29.0 | 24.0 | (33.0 DNC) | 143.0 | 110.0 |
| 26th | RS200 | 1666 | Ben Dearden | Alice Carter | Yorkshire Dales SC | 24.0 | 23.0 | 24.0 | (26.0) | 18.0 | 22.0 | 137.0 | 111.0 |
| 27th | RS200 | 1173 | Emily Davis | Flynn Davies | Draycote Water SC | 14.0 | 28.0 | 26.0 | 19.0 | (33.0 BFD) | 25.0 | 145.0 | 112.0 |
| 28th | RS200 | 1709 | Ross Southwell | Katie Byne | LLSC/YDSC | 22.0 | 26.0 | 29.0 | 22.0 | (33.0 BFD) | 27.0 | 159.0 | 126.0 |
| 29th | RS200 | 1152 | Jo Tribe | Marcus Collingbourne | Burnham SC | (32.0) | 27.0 | 28.0 | 28.0 | 22.0 | 29.0 | 166.0 | 134.0 |
| 30th | RS200 | 854 | Bailey Coulson-Bland | Grace Muldoon | Haversham SC | 28.0 | 30.0 | (31.0) | 30.0 | 25.0 | 30.0 | 174.0 | 143.0 |
| 31st | RS200 | 909 | James Hobson | Alex Barker | Warsash SC | 30.0 | (31.0) | 30.0 | 31.0 | 26.0 | 28.0 | 176.0 | 145.0 |
| 32nd | RS200 | 985 | Tilly Jones | Chris Jones | Waldringfield SC | 31.0 | 32.0 | 32.0 | 32.0 | 27.0 | (33.0 DNC) | 187.0 | 154.0 |
RS400 Class
| Rank | Class | Sail No | Helm | Crew | Club | R1 | R2 | R3 | R4 | R5 | R6 | Total | Nett |
| --- | --- | --- | --- | --- | --- | --- | --- | --- | --- | --- | --- | --- | --- |
| 1st | RS400 | 1500 | Nick Craig | Tobytastic Lewis | Frensham/Burfield SC | 3.0 | 3.0 | 3.0 | 2.0 | 1.0 | (13.0) | 25.0 | 12.0 |
| 2nd | RS400 | 1526 | Ollie Groves | Esther Parkhurst | Beaver SC | 2.0 | 1.0 | 1.0 | 4.0 | (7.0) | 6.0 | 21.0 | 14.0 |
| 3rd | RS400 | 1535 | Tom Halhead | Paul Hilliar | Llandegfedd SC | 4.0 | 7.0 | (10.0) | 1.0 | 5.0 | 5.0 | 32.0 | 22.0 |
| 4th | RS400 | 1460 | Dave Exley | Alistair Coates | Leigh & Lowton SC | (8.0) | 8.0 | 2.0 | 5.0 | 3.0 | 7.0 | 33.0 | 25.0 |
| 5th | RS400 | 1537 | Jamie Morgan | Oliver Davenport | Rutland SC | 10.0 | 6.0 | 7.0 | (11.0) | 2.0 | 1.0 | 37.0 | 26.0 |
| 6th | RS400 | 1504 | Sam Knight | Chris Bownes | Bartley SC | 7.0 | 9.0 | 5.0 | (10.0) | 4.0 | 2.0 | 37.0 | 27.0 |
| 7th | RS400 | 1550 | Mike Sims | Jack Holden | Chichester YC | 9.0 | 2.0 | (24.0 DSQ) | 6.0 | 6.0 | 4.0 | 51.0 | 27.0 |
| 8th | RS400 | 1502 | Jon Heissig | Nicky Griffin | Llangorse SC | 6.0 | 4.0 | 12.0 | 3.0 | (17.0) | 8.0 | 50.0 | 33.0 |
| 9th | RS400 | 1400 | James Stewart | Sam Parker | Netley SC | (12.0) | 5.0 | 8.0 | 8.0 | 10.0 | 3.0 | 46.0 | 34.0 |
| 10th | RS400 | 1347 | Chris Massey | Charlotte Graham | Hollingworth Lake SC | 1.0 | 14.0 | 9.0 | (20.0) | 9.0 | 15.0 | 68.0 | 48.0 |
| 11th | RS400 | 1513 | Neil Parkhurst | Richard Hanby | Beaver SC | 11.0 | 11.0 | 4.0 | (24.0 UFD) | 8.0 | 17.0 | 75.0 | 51.0 |
| 12th | RS400 | 1548 | Mick Whitmore | Sarah Whitmore | Eastbourne Sovereign SC | 13.0 | 13.0 | 6.0 | 9.0 | 16.0 | (18.0) | 75.0 | 57.0 |
| 13th | RS400 | 1399 | Richard Gray | Jon Dyas | QMSC | (17.0) | 17.0 | 11.0 | 13.0 | 11.0 | 9.0 | 78.0 | 61.0 |
| 14th | RS400 | 1461 | Charlie Exley | Caroline Exley | Leigh & Lowton SC | (18.0) | 18.0 | 16.0 | 7.0 | 12.0 | 10.0 | 81.0 | 63.0 |
| 15th | RS400 | 1492 | Martin Penty | Archie Burton | Beaver SC | 5.0 | 15.0 | 14.0 | (16.0) | 14.0 | 16.0 | 80.0 | 64.0 |
| 16th | RS400 | 1524 | Stuart Halman | Anna Walsh | Leigh & Lowton SC | 14.0 | 12.0 | (19.0) | 15.0 | 15.0 | 12.0 | 87.0 | 68.0 |
| 17th | RS400 | 1189 | Steve Restall | Chris Stubbs | Downs/Rutland | 15.0 | 10.0 | (18.0) | 14.0 | 18.0 | 14.0 | 89.0 | 71.0 |
| 18th | RS400 | 1546 | David Nicklin | Anne Nicklin | Beaver SC | 19.0 | (20.0) | 17.0 | 17.0 | 13.0 | 11.0 | 97.0 | 77.0 |
| 19th | RS400 | 438 | Alastair Rimmer | Ciaran McKettrick | Bassenthwaite SC/Southport SC | 16.0 | 19.0 | 15.0 | 12.0 | 19.0 | (21.0) | 102.0 | 81.0 |
| 20th | RS400 | 880 | Tim Le Couilliard | James Le Couilliard | King George SC | (20.0) | 16.0 | 13.0 | 18.0 | 20.0 | 19.0 | 106.0 | 86.0 |
| 21st | RS400 | 1521 | Andy Powell | Chris Rolfe | Warsash SC | 21.0 | (23.0) | 20.0 | 19.0 | 21.0 | 20.0 | 124.0 | 101.0 |
| 22nd | RS400 | 747 | Matt Godbold | Richard Turner | Branchaster Staite SC | (24.0 NSC) | 21.0 | 21.0 | 22.0 | 22.0 | 24.0 DNC | 134.0 | 110.0 |
| 23rd | RS400 | 1382 | Andrew Hunt | Matt Hunt | Eastbourne Sovereign SC | (24.0 NSC) | 22.0 | 24.0 DNS | 21.0 | 24.0 DNC | 24.0 DNC | 139.0 | 115.0 |
RS800 Class
Rank
Class
Sail No
Helm
Crew
Club
R1
R2
R3
R4
R5
R6
Total
Nett
1st
RS800
1
Luke McEwen
Hugh Shone
Royal Lymington YC
(3.0)
3.0
2.0
1.0
1.0
1.0
11.0
8.0
2nd
RS800
1043
Blake Tudor
Brett Tudor
Brightlingsea SC
5.0
6.0
4.0
(12.0 NSC)
2.0
2.0
31.0
19.0
3rd
RS800
1245
James Penty
Eddie Grayson
Beaver SC
9.0
(10.0)
1.0
3.0
5.0
3.0
31.0
21.0
4th
RS800
1204
Martin Orton
Ian Brooks
Chichester YC
2.0
5.0
8.0
4.0
3.0
(12.0 DNC)
34.0
22.0
5th
RS800
1198
Bryan Ormond
Anna Ormond
QMSC
1.0
8.0
3.0
2.0
(10.0)
9.0
33.0
23.0
6th
RS800
1225
Liz Watton
Christopher Williams
LLSC
6.0
1.0
(7.0)
6.0
7.0
6.0
33.0
26.0
7th
RS800
825
Peter Curtis
James Curtis
Grafham Water SC
4.0
2.0
(10.0)
7.0
4.0
10.0
37.0
27.0
8th
RS800
1224
Fred Lord
Louise Gale
Carsington SC
7.0
(9.0)
5.0
5.0
8.0
4.0
38.0
29.0
9th
RS800
1099
Alistair Hodgson
Ella Spain
Draycote Water SC
8.0
4.0
6.0
8.0
(9.0)
5.0
40.0
31.0
10th
RS800
1211
Rob Mawdsley
Oscar Morgan Harris
HISC
(10.0)
7.0
9.0
9.0
6.0
8.0
49.0
39.0
11th
RS800
1241
Stephen Brown
Philip Bairstow
Ullswater YC
(12.0 DNF)
12.0 DNS
11.0
10.0
11.0
7.0